Do you think your parent's house got mad at you when you moved out? Do you have a gadget dad, an analog dad, a nautical dad, and would you trade him in for another model if the price was right? Is there more than one correct pronunciation of "aunt?" Why is it that your family never talks about sex or cancer? If you'd like to explore these possibilities, then Chicago Slam Works Ensemble Theatre's world premiere of "Carrier" is for you.
"Carrier" is an inter-disciplinary exploration of family, identity, and legacy.  Through performance poetry, drama, and movement, in a series of vignettes, the players seek answers to an age-old question: Are we the sum of our family genes and experiences, or do we each have control over our ultimate identity?
Carrier never quite reaches any conclusions, but is terrific at asking the questions. The performance begins with a complex creation myth for the universe involving a lot of movement, and an apple tree, but quickly becomes more personal and accessible. Many of the sketches are humorous. The group shares the stories of their parent's meeting. Various dads are sold in late-night television commercials. Jeff Ensemble Award nominee, Rashaad Hall, plays a youngest brother taunted by his older siblings over a magic television remote.
Some are sad and evocative. Teagan Walsh-Davis, a graduate of Chicago's Columbia College, and the Head Writer of "Carrier," plays an adult child returning to her parents' home tend to her dying father in a recurring role. As she agonizes over her family relationships, someone forces her into conversation, and it turns out to be the house itself, played by Spencer Miller of the web series "Tenants." The house wants to know if she'll stay, what will happened to him if she doesn't, and why no one ever included him in the family decisions. Then, two friends, sharing their happy childhood memories, are mocked by a couple of contemporaries who weren't as lucky. Also, a girl describes her grandmother's suicide.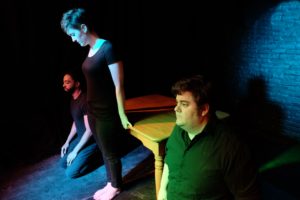 In one of the more personal and moving vignettes, Chicago actress, comedian, writer and producer, Whitney LaMora Currier describes the background of her many tattoos, having to do with friends, pets and family. Currier also plays a mom who isn't quite satisfied with her daughter's looks, and later a prospective adoptive mom put off by all the choices in test tube babies. In another section, Chicago actress and playwright, Samantha Dedian is the step-mother ecstatic over accidentally being called "mom."
While the dialogue of "Carrier" is rhythmic and poetic, if not pure poetry, and the stories are fresh and thought-provoking, the movement and performance art are a bit lacking. Walsh-Davis writhes on a table, and up the wall for reasons not immediately apparent, and the cast members move their arms, breath, and sigh in unison, but to no particular end. However, with some serious, professional choreography, "Carrier" could be placed in a category with "The Curious Incident of the Dog in the Night-Time" as a ground-breaking piece of drama, movement, and performance art.
"Carrier" is produced by J.W. Basilo, the Executive Director of Chicago Slam Works, and Founder and Artistic Director of its Ensemble Theatre. It's directed by Chicago Slam Works company member, Dru Smith.
"Carrier" is playing through June 9 at Stage 773 at 1225 W. Belmont Ave., Chicago. The very intimate space is perfect for such a personal work. It also includes a large bar area perfect for relaxing, and conversing with members of the cast and audience after the show.
Photos by J.W. Basilo