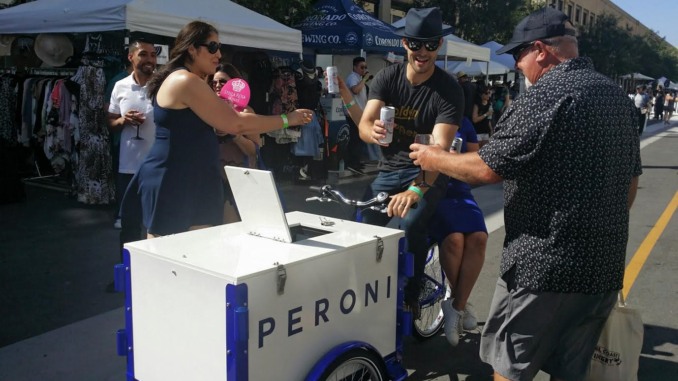 Recently people flocked to downtown Los Angeles for the 12th Annual LA Wine Festival! Bringing the best of the best in terms of craft brews, local vintners, as well as additional vendors showcasing yummy products and chic clothing.
Created by Dr. Joel M. Fisher the LA WineFest took place on Row DTLA, which served as the perfect location for the occasion, the weekend was spread with cheer as guests tried many different wines under the beautiful sunny skies of Los Angeles. The best part was that the festival went to benefit The Sunshine Kids, a non-profit organization that is dedicated to children with cancer. Not a care in the world, attendees flocked to the street which was lined with about 40 wineries, brews, and more.
Tasting wine can be very complex yet fulfilling. Every region creates different sensations, different key notes, which makes each and every wine unique from its neighboring wine. Many of the wines on site were from popular regions in California such as: Santa Ynez, Santa Barbara, Temecula, Paso Robles just to name a few. Cordant Winery, from the Paso Robles region, was onsite and poured a wine that delivered a very full fruit forward finish. "One of the things that make Paso so great is the youthful aspect. There are a lot of great wines being made here by people in their 30's. Which means there are many great years ahead of world class wine," stated Tyler Russell, Owner and Winemaker of Cordant Winery. "We get the best fruit we can and make sound decisions during fermentation. Paso Robles wines are most known for being in the bigger side. Fruit driven, structured wines."
Peroni was on site literally delivering beer samples to consumers. Bringing the fun, the Peroni team rode their Peroni designed bike through the streets to interact with attendees as well as serve as the perfect photo opportunity! "This (event) is young, fun, and hip. It's in a great neighborhood and this is going to be the next best thing so why not bring something unique to it," exclaimed Cole Gerdes, Senior Peroni Brand Developer for the US.
"They always come back," is the mantra from Laguna Salt Company, and boy is she right! The display was stacked with incredible and unique seasonings such as: "black truffle salt, ghost pepper, lemon flake, roasted garlic, and more." Attendees lined up to sample all of the handcrafted sea salt products that made you instantly want to try them for dinner.
If that wasn't enough Sogno Toscano sampled its unique Tuscan inspired olive oils while Leonardo and Robert displayed their gourmet blends of olive oil. From 'blood orange olive oil, black currant balsamic vinegar to sriracha mango glaze – this booth had it all. The oils could be combined to taste like popular favorites as well such as: caprese, funyuns, and more. These vendors definitely brought the heat and amped up the wow factor to add depth to any of your favorite dishes.
Champagne lovers – rejoice – Wilson Creek Winery is here! The famed champagne brand showcased their beloved almond flavor, as well as introducing a few newer members to the family – peach and coconut! Coconut was exactly what it sounds like – heaven! Similar to refreshing coconut water the coconut flavor has that undertone flavoring with a bit of spritz! Attendees weren't the only ones excited to be at the fest! "The festival was absolutely wonderful. I was so happy to see so many members of the LA community out in the sunshine enjoying a day of great local food and wine! I think everyone was excited to see a familiar winery, and our new flavors were a hit," exclaimed Natasha Melnick Regional Sales Manager for Wilson Creek. Don't worry you can pick up a bottle of their latest, coconut and Tahitian Vanilla at the winery in Temecula and in select stores in San Diego!
Local bands such as "Will and the Wont's" took to the stage to keep the energy high and keep the crowd entertained as guests went from booth to booth trying all of the deliciousness on site. Guests were also able to play in classic favorite games like Jenga – which always gathers a crowd. Additional vendors included: Leese + Fitch, Laguna Salt Company, Uber Eats, BluCollectionLA, and more.
Whether it was a nice cold brew, a glass of champagne, or picking up on unique goodies for the kitchen the LA WineFest had it all. Until next time, cheers!