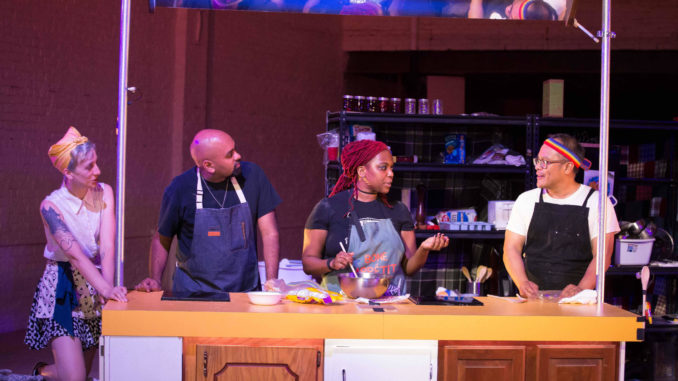 The culture of food, both in its macro and micro forms, so permeates our daily lives that it is nearly invisible. That is, unless you're sitting in the audience of The Food Show, a new site-specific Neo-Futurist performance created by Dan Kerr-Hobert with the help of his cousin Caitlin Stainken, which explores the ways in which what we eat and how we cook influence us as individuals, as families, and as a society.
In a warehouse a few doors down from Metropolitan Brewing (purveyors of excellent German-style beer and the Neo-Futurists' partner in this and other projects), audience members sit on bleachers and wear nametags announcing any food restrictions they might have: "Hello, my name is VEGETARIAN." "Hello, my name is NO ONIONS." The set is an enchanting mixture of whitewashed walls, fairy lights, kitchen kitsch, two working stove tops, and a live "set dressing fish" in tank downstage.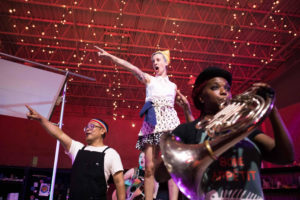 The show's program is designed like a menu, complete with lamination and a list of dishes that will be cooked throughout the seventy-minute performance (taking the Neo-Futurist late night shows' idea of theatrical "menus" to an entirely different level). The inviting atmosphere is completed by the show's five-person cast, who possess in droves that unique Neo-Futurist charm that comes from utter honesty and vulnerability onstage.
The cast features a diverse cross-section of eaters, from devoted home chefs to chronic carryout customers. Family recipes are at the heart of the performance—the ways they inevitably change and what those changes mean for each generation. Vegetarianism and the environmental impact of our eating habits are running themes as well, but so too are food's intersections with romantic love, social acceptance, mental health, religious and cultural identity, and more.
The Food Show is beautiful in its simplicity. The performers cook; they eat; they share, individually, in pairs, and as ensemble, personal stories of food and connection (or lack thereof). There is music, provided mostly by Spencer Meek on the piano, and there is dancing, provided by the whole cast. There is audience participation, of course, and lunchboxes and butter churning and a mirror that turns into a screen and can reflect what's happening in any part of the room at any given moment. Sometimes the performers climb into the bleachers; sometimes the friend you're sitting next to is suddenly holding two orange slices.
No matter what's happening in the room, though—whether it's glibly funny or softly heartbreaking or perspective-shifting in a way that can only be described as an unmooring of something you didn't realize was there—all of it is lovely and brilliant and utterly engaging. The Neo-Futurists have issued an open invitation to come and share a family meal with them. Take a seat at the table; you'll be surprised at how much you might discover.
Ticket Information
Location: 3031 N. Rockwell, Chicago
Dates: July 27 – September 2, 2017
Times: Thursdays through Saturdays at 7:30 p.m.
Ticket Prices: Thursdays Pay-What-You-Can, Run $10-$25. Tickets and information are available at The Neo-Futurists website or 773.275.5255.
All photos by Joe Mazza at Brave Lux.