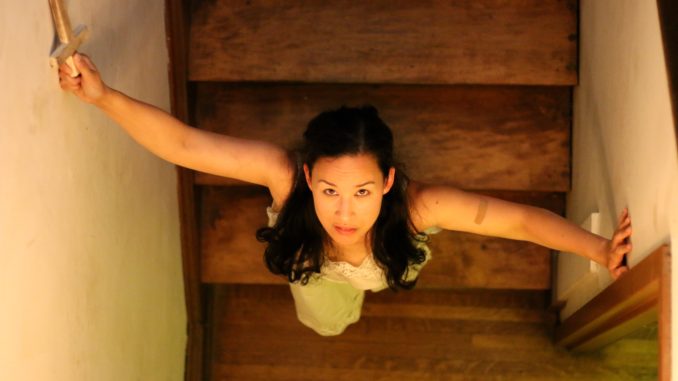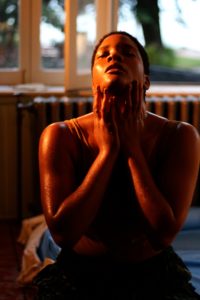 (re)discover theatre presents For One, a series of short plays each designed for an audience of one person. Set in historic Gunder Mansion in Berger Park, this unique collection of work offers a kaleidoscope of deeply personal, wildly varied experiences that allow audience members to make choices that affect the outcome of the stories.
Each of nine rooms in the mansion contains a unique and intimate theatrical experience. A maximum audience of ten people is divided into two tracks, titled "Up Close" and "Personal," respectively. Each audience member selects a stack of tarot-style cards, which will determine the order in which they experience the plays on their track. Each card's symbol matches with a door; once everyone has found their door, a bell is rung, the audience members slide their cards under the door, and the plays begin. This ritual is repeated until each audience member has seen all five plays on their track.
My cards took me first to a stairwell, where a ritual performed by Christian teenage girls made my skin crawl. Next I enjoyed the only play that was designed for a two-person audience and was experienced by everyone present, regardless of which track they were on. I became "the Leader" and my companion "the Artist"; she painted my portrait while a journalist asked us a series of questions and a devoted assistant fed me Skittles. It was remarkable how easy it was to slide into the role of a world leader when everyone around me unquestioningly treated me as such.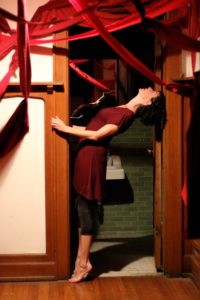 My favorite performance of the evening, Woman in Waiting, devised by Melissa McNamara,  brought me into a room draped with red cloth, where a woman (the understudy for the role, Nelia Miller) performed a movement piece in a small bathroom before sitting down to chat and share snacks with me as we waited for a timer to wind down and let her know the results of her pregnancy test were ready. At the end of this emotionally heavy scene, I offered her a hug, which she accepted. That moment of embrace with a stranger was fraught with the powerful, beautiful connection that intimate theatre like this can create.
My remaining two rooms took me to the workspace of a woman obsessed with memory and controlled by ominously cheerful "tech support" and a calm, soothing room, where I choose a guided meditation, led by actor Selene Perez, from among several options for relaxation. It was a delightful way to end the evening. My boyfriend, who followed the other of the two tracks, relayed to me afterward his experiences with a corporate quarterly review, a séance, a conversation with a man with multiple personalities, and a dance piece performed based on a single word of his choosing.
The plays of For One are haunting, soothing, unsettling, heartfelt, sad, and so much more. The varied flavors of the pieces mean that no two rooms and no two audience members' experiences are alike, except that each iteration of each play is bound by a uniquely intimate connection between actors and audience. This opportunity is not to be missed.
Ticket Information
Location: Gunder Mansion, 6219 N Sheridan Rd. Chicago, IL 60660
Dates: August 30 – September 30, 2017
Times: Wednesdays – Friday 7:30pm and 8:30pm. Saturday – 6:30pm, 7:30pm, and 8:30pm
Tickets: $25-$30 (student, group, and other discounts available). Tickets and additional information are available at the (re)discover theatre website.
All photos by Cody Jolly Photography.