By Kathy Carpenter
Welk Theatre Resorts presents Tony Award Winning, Kiss of The Spider Woman written by Manuel Puic, with special permission from Samuel French. Directed and choreographed by Ray Limon. Music by John Lander and Fred Ebb, The music director Justin Gray. A fresh departure for theatre goers in San Diego. Not my usual fun loving fluff, but surprise I enjoy prison plays too. Well-acted, over the top dramatization at it's finest. Welk Resort knows how to do theatre productions.
Natalie Nucci as Aurora and cast photo by Ken Jacues Kiss of The Spider Woman is a statement of love, friendship, and loyalty. Molina a cross-dressing, sexual offender, window dresser, who spins fantasies about his favorite movie actress Aurora. He is three years into his sentence in a Latin America prison, Valentine, is a new prisoner. a Marxist revolutionary, brutally beaten. Molina nurses him back to health and they share a cell.
=
At first Valentin is closed off. Driven mad by Molina's endless inane chatter, of movies and a star named Aurora. He comes around slowly and is soon looking forward to Molina tales.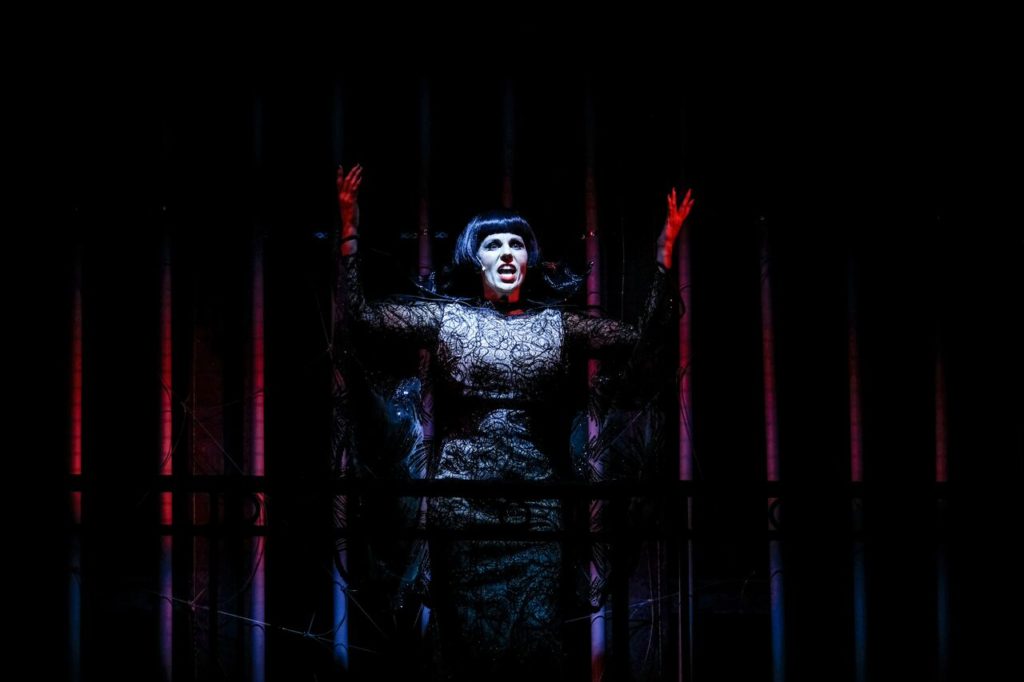 The Spider Woman is a movie role played by Aurora. The only movie Molina did not like. It scares him, as The Spider Woman comes for a Kiss when someone is going to die. The kiss eases away their pain. Throughout the play, a musical, Natalie Nucci, alternates between her personas, The scary Spider woman/ and the glamorous Aurora.
Basically, a three man cast. Three leads. Jeffrey Scott Parsons, as Molina. He was magnificent in his role last year as the Mc in Cabaret. He is equally brilliant as Molina. Parsons has found his niche, and his masterful in his performance.. Richard Bermudez, plays Valentin. Strong. passionate, and powerful/ With a beautiful baritone voice I could listen to all night. Even the non romantic songs. Natalie Nucci, dark and tortured, sexy and ethereal., handled with true talent.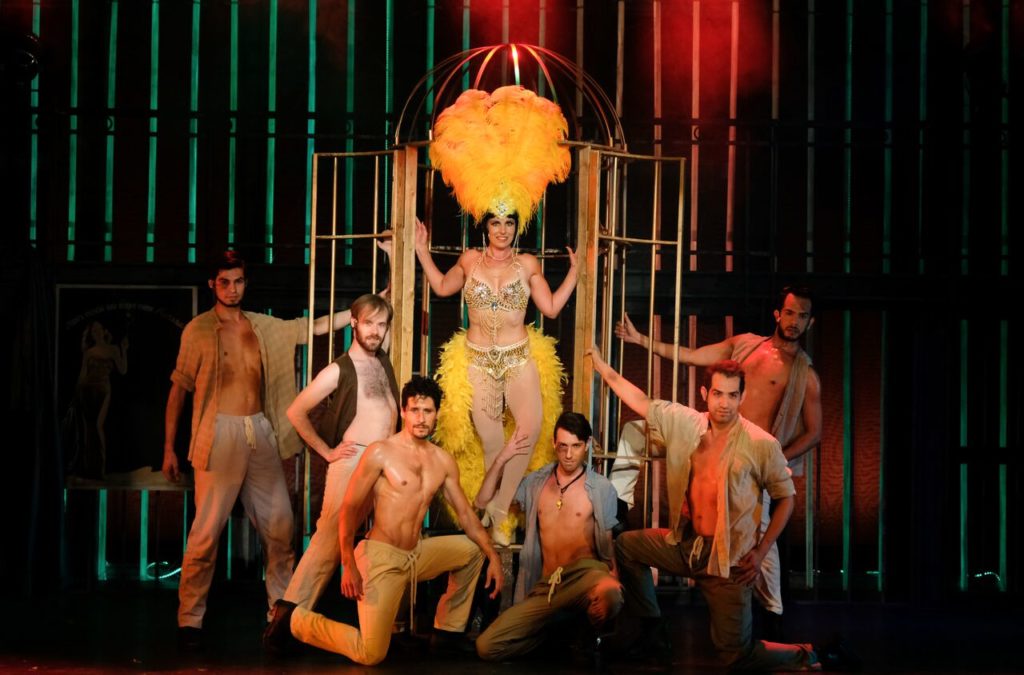 Robert Holt, made a great Warden. Tough but likable. Lisa Dyson had a lovely voice as Molina's mother. The cast rounded out with Kylie Molnar, as Marta, and Colden Lamb, Collin Rand, Max Herzfield, Sergio David Salinas, Justin Matthew Segura, John Pauil Baptista,Sean Kiralla, and Matthew Ryan, as the prisons/dancers, and extra roles. Let's face it this would not be a production without the fabulous ensemble showcasing the talent.
The way they created the web totally cool. Among the dull drab prison outfits, and Spider Woman black, Aurora sparkled in her colorful costumes. Bringing moments of lightness into the dark.
Twenty-five songs or song breaks. My favorite "Over the Wall," sung by the prisoners, that repeated throughout the musical. The music played flawlessly in the background as music should. You may not think this is important but I've been there where bad music interrupts the flow.
For a change of pace come see –
KISS OF THE SPIDER WOMAN
Welk Resort theatre
September 1 – October 22, 2017
1.888.802.show
welkresorts.com
UP NEXT = A Christmas Carol
Nov. 17 – Dec. 31, 2017