On Sunday, October 22, 2017, pianist Piotr Anderszewski, "recognized for the intensity and originality of his interpretations", appeared at Symphony Center, 220 S. Michigan as part of the Symphony Center Presents Piano series. The program was a display of the pianist's assured and elegant command of the instrument as well as a fine journey through the musical choices.
The program included:
– 2 of the English suites by Johann Sebastian Bach," English Suite No. 3 in G Minor", BWV 808, and "English Suite No. 6 in D Minor", BWV 811, 1715, with which Anderszewski began and ended the program are part of a set of six "composed for music lovers, to refresh their spirits". The 2 suites were engaging and technically challenging works, requiring Anderszewski to explore the full range of the concert grand, sometimes focused on absolute stillness, sometimes embracing delicate tones, sometimes providing a thoroughly "muscular" treatment.
Each suite (of the 6) follows the same plan: they are comprised of 7 movements, a prelude, allemande, courante, sarabande, a double dance, and a concluding gigue.
Suite No. 3 contains a "grand, 'almost orchestral' opening prelude" and 2 gavottes. Here it was performed with a fine balance, simplicity and directness.
Suite No. 6, more thematically complex, contains a solemn prelude "exploding into a manic gigue". The second gavotte was an expanded version of the first. The fingering calls for much counterpoint; Anderszewski maintained total control of all the dynamics, concluding with an important and dramatic flourish.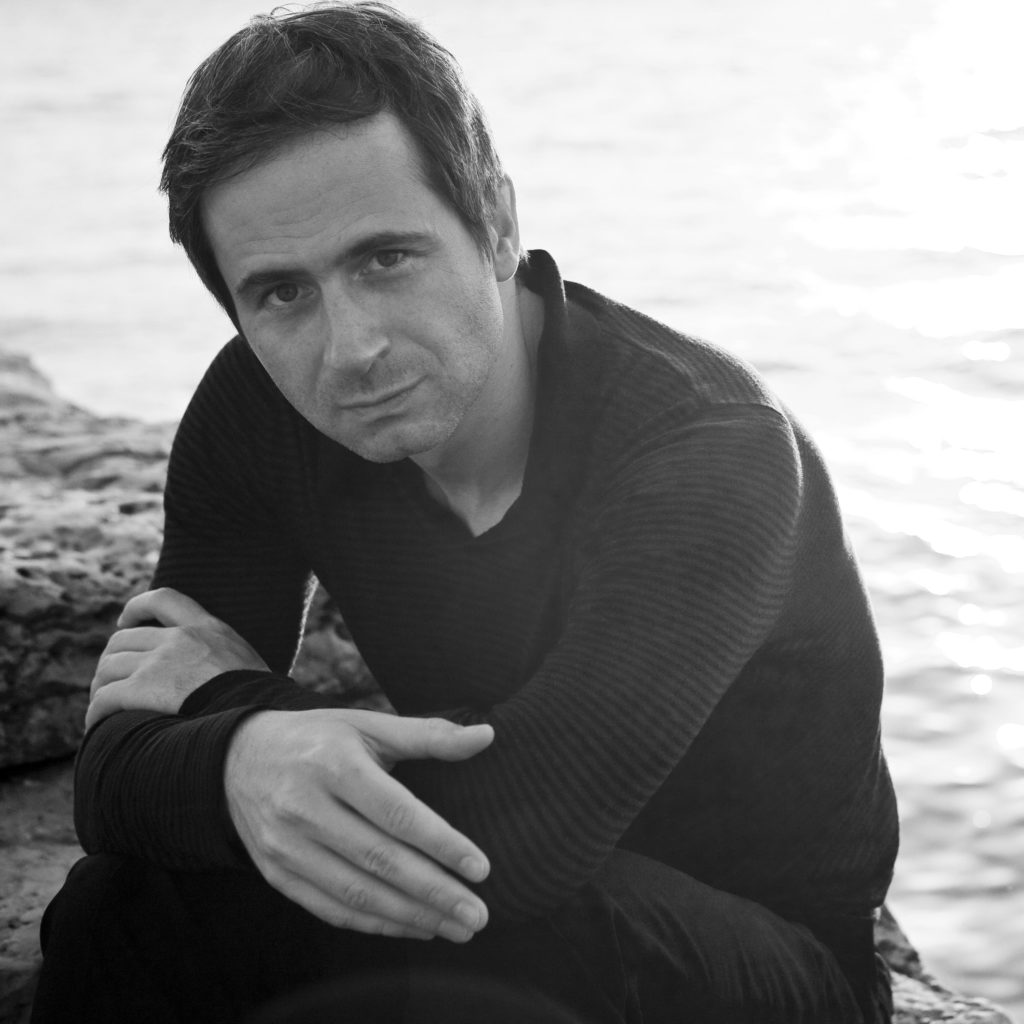 -After the first Bach suite were 2 works by Frédéric Chopin, "Three Mazurkas", Op. 59, 1845, and "Polonaise-Fantasy in A-flat Major", Op. 61, 1846.
The first mazurka was presented as a warm and welcoming work, concluding on an uplifting melody. The second and shortest mazurka has a variable main theme, and resolves from unusual harmonic variations into a repeated tonal chord.
The final dance is actually faster than a traditional mazurka, beginning with a very strong and well-defined melody that remains in place even as the piece moves through unusual harmonies.
In this dignified and glorious work, there is a distinctly melancholy element, a serious and contemplative spirit that transcends via the developing expressive rhythm of the dance. Anderszewki's command of the extraordinarily complex piece delivered a sense of improvisation, of passionate intensity, via the shifts of rhythm and "adventurous harmony" that define this as one of Chopin's most effective works.
–After the intermission came the showstopper work, the second book of Leoš Janáček's "On an Overgrown Path", 1911, described as "a very private musical statement", as it was written while the composer was recovering from the death of his daughter. There are fifteen pieces in the total suite for piano, all bearing the influence of folk music and dance. The 5 "commemorative miniatures" in Book Two proceed from the disturbing andante through a sad allegretto to a quiet yet intense più mosso. Finally, a dramatic and vibrant allegro brings the cycle to its final spirited and folksy vivo. Subtle presentation and accomplished interpretative technique rendered the piece lyrically memorable.
– In encore, the pianist performed "Three Hungarian Folksongs from Csik", 1907, by Béla Bartók, a simple, charming and expressively innocent collection. The first is a lovely and appealing tune, the second alike in that it is pastorally serene although even slower, while the third is "celebratory" and lively. Played together, they were a sweet and lovely ending to a strong and moving concert.
After the concert, there was a free post-concert documentary screening of Anderszewski's 36 minute film "Je M'Appelle Varsovie", or "Warsaw Is My Name", and a Q&A with Piotr Anderszewski open to all ticketholders in Buntrock Hall.
A fine description by Anthony Tommasini for The New York Times of this stark and well-filmed work finds the film "unfolds in lingering shots of contrasting places and people: swirling traffic, dingy stonewalled buildings with peeling paint, commercial signs in downtown areas, a rumpled street musician with a long white beard playing the accordion, an old solitary woman sitting on a street bench. There are slow pans across the gray walls of Soviet-style housing units and lovely images of fall foliage in almost empty parks."
Lacking narrative except for an early questioning text exploring Anderszewski's personal reasons for the creation, and some interjected dialogue of pedestrians near the end, the film was graced with a glorious score performed by the pianist, including works by Chopin, Szymanowski and Webern.
For information and tickets to all the fine programs of the Chicago Symphony Orchestra, go to CSO website
Photos courtesy of the Chicago Symphony Orchestra