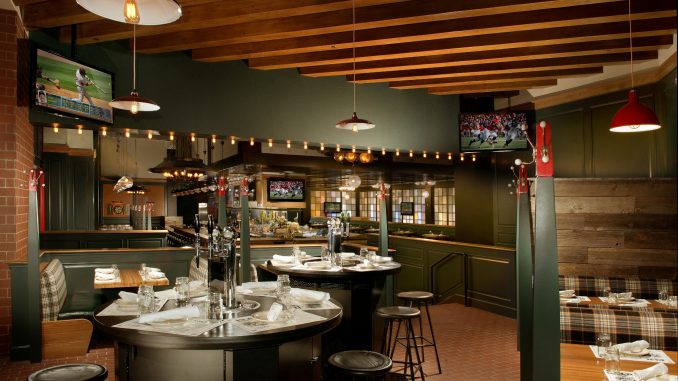 Winter is upon us and with that comes an endless lineup of sporting events. From college bowl games to the NFL and basketball from every angle a trip to Las Vegas usually means taking in a few games and finding a place to eat and drink while you do just that. Micheal Mina Pub 1842 at MGM Grand Hotel & Casino has taken the dining experience to such a high level you might just forget about who is on the many televisions at Pub 1842.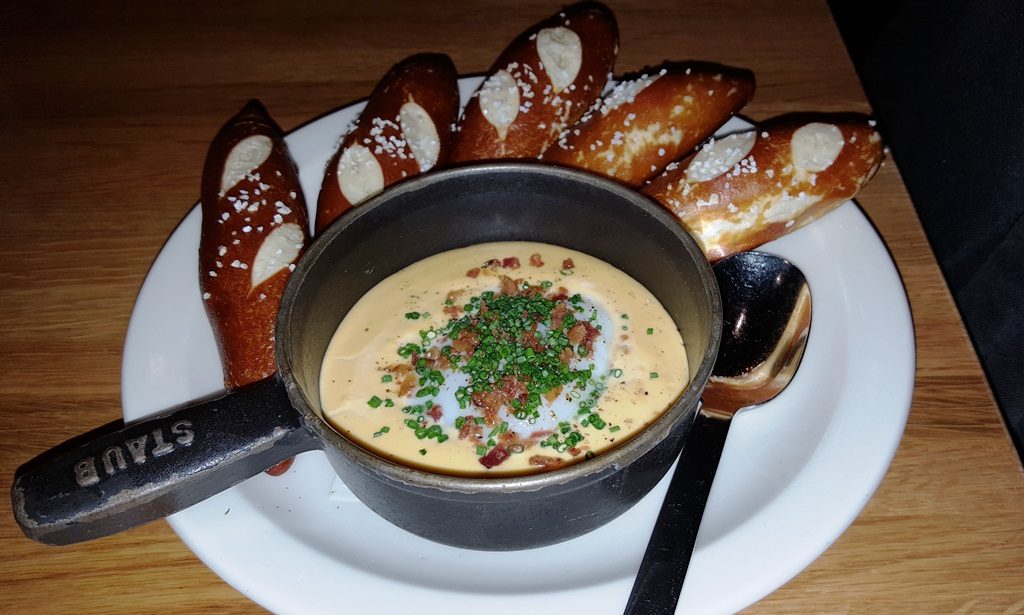 The menu at Pub 1842 can be a little dizzying if you are in the mood for comfort food as they have perfected that type of delicacy. A great way to experience this venue is with a group of friends and simply order a table of appetizers, order some beers and dig in for an afternoon of binge sports viewing. Pretzels and cheese are a nice combination, but in the hands of Pub 1842 you have an appetizer masterpiece. The 'merican beer cheese is created with Newcastle beer, giving it the richness of the ale beer and the creaminess of the cheese that is brought to perfect consistency to allow it to be enjoyed with the fresh and hot soft pretzels. If that was not enough, it is topped off with bacon and a poached egg, which when broken open and mixed with the cheese makes for an even richer flavor. Another favorite to share is the calamari. It is prepared with just a light breading so you can enjoy all of the fresh flavor of the calamari. But what really makes the calamari pop is Pub 1842 created one of the better sauces around with the lemon garlic aioli dipping sauce. The lemon really comes through with the acidic and fresh flavor and it pairs beautifully with the powerful garlic flavor, a perfect match for calamari. Finally if you have never tried a deep-fried pickle, this is the place to do so. The homemade frickles bring the crispiness of a homemade pickle and they wrap it in a heavy batter, creating a very indulgent appetizer that everyone will love.
The typical pub dining experience of a beer and burger is a great direction to go at Pub 1842, but as you can guess you are going to get a lot more than typical. To start off with, whatever burger you order it will it is going to be prepared to perfection as Pub 1842 uses American Wagyu beef and cooks the burger over a wood-fired grill. Just don't destroy the flavor of this delicacy by ordering it any higher than medium-rare. The burger that brings the best all flavors together is the "PB Crunch Burger." Pimento cheese The best thing about this burger is that the Wagyu still is the centerpiece; the peanut butter is layered nicely to let you know it is there, without being overpowering. The sweet and salty combination is then accentuated by the addition of a bacon jam. Each bite is an experience! The burger menu seems endless but don't stop there, the St. Louis ribs and beef brisket can be put up against any smokehouse in the country. While most people in Las Vegas are asleep or just getting back to their room after a long night, someone at Pub 1842 is coming into the restaurant to make sure the ribs and brisket are cooking to perfection. The hours of slow-cooking pays off as the brisket falls apart with a poke of your fork and the ribs come in true St. Louis style, a perfect blend of sweet and spicy.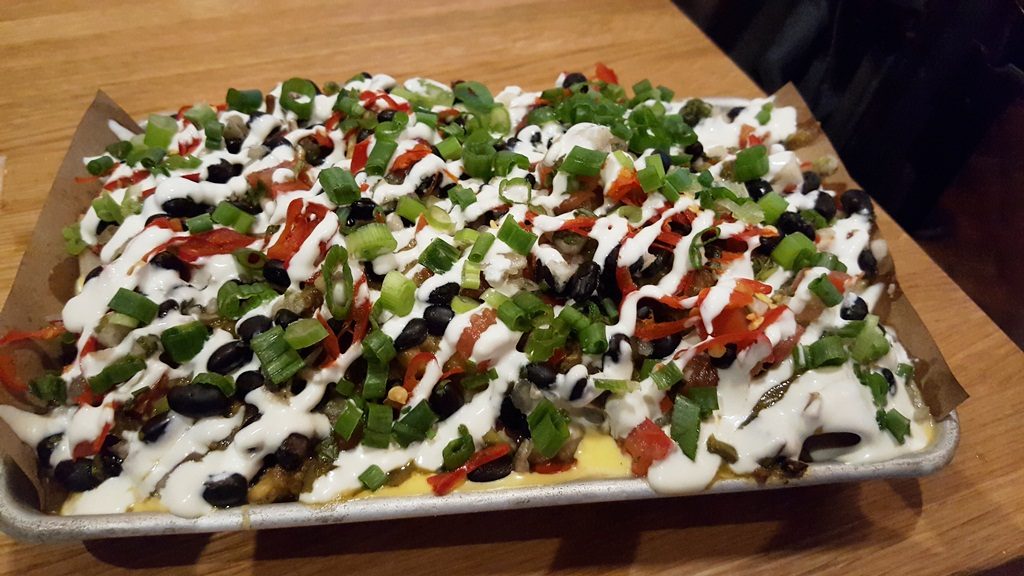 Onto to the beer, as this is a pub. You are not going to be limited in terms of selections as Pub 1842 has over 50 selections and you can do a beer flight to get a taste of an assortment of beers that might be new to you. If you are little overwhelmed by all of this beer no need to worry, the Pub 1842 knows their beer and they seem to never fail when it comes to making the right selection based on what type of beer you enjoy. At Pub 1842 you are going to find beers as local as Las Vegas to beers from all over the world as is exemplified by the fact that they are one of the few places in the United States that you can find Samuel Smith on tap. If you have a group of people you can also get a table that has its very own tap, allowing you to pour as much or as little as your group likes.
Finally two more items that show off the creativity of Pub 1842 are ones that you know, but not this way, nachos and s'mores. The 1842 nachos come to your table looking like a piece of art, it is almost too perfect to eat. But trust me, they are well worth eating as they taste as good as they look. Pub 1842 took what would be your typical nachos and decided to elevate every ingredient. The heritage pork chili again shows off the quality of the slow cooking in the kitchen as the pork is tender and flavorful, then you get a plethora of cheddar cheese, black bean & jicama relish, Fresno chilies and crema. A little spicy but not too hot and so very flavorful and ingredients on every chip. Finally the campfire s'mores bar is exactly what a dessert should be, sweet and decadent. Pub 1842 uses devil's food cake in their masterpiece and they toast the marshmallows flawlessly. Without question this is the best version of a s'more you will ever have.
Beer, sports and certainly food, whatever you are looking to experience, . At the end of your trip you want to leave Las Vegas with a memorable experience and Pub 1842 has the food and atmosphere that will leave you and your friends with exactly that.
For more information, visit: Pub 1842