The Florentine, the Chicago Loop's dining destination for elegant, yet approachable Italian cuisine, has announced its menu for autumn, with the spotlight on the season's best ingredients. With new menus for breakfast, lunch and dinner, Executive Chef Zach Walrath invites guests to satisfy palates with thoughtful Italian-inspired dishes incorporating foods such as pumpkin, apple, squash, and more.
Owned by ESquared Hospitality, The Florentine reinterprets seasonal Italian cuisine offering an accessible, elegant dining experience, and a menu characterized by simplicity and premium ingredients. Located in Chicago's JW Marriott at 151 W. Adams, diners are wowed with a beautiful interior of contemporary designs and art, along with a scenic window view of West Adams street.
A mouthwatering dinner menu awaits diners. Whether settling in for a four-course meal with family, friends and colleagues, or grabbing dinner before heading off to the theater, the flavorful dinner menu includes antipasti such as Fichi Arrostiti (gorgonzola stuffed figs, pancetta, san marzano tomato, rosemary) and Polpo (saffron aioli, fingerling potatoes, corn, 'nduja vinaigrette) and Antipasti Misti (chef's selection of imported meat and cheese).
After antipasti, one can dine on insalata and zuppa: butternut squash, pancetta, apple cider brown butter, arugula with deilcata squash, bosc pear, Sardinian feta, pumpkin seeds and maple syrup vinaigrette. Pasta selections include spaghetti and meatballs (san marzano tomatoes, buffalo mozzarella, aruular, grana padana), ravioli (wild mushroom and tallegio filled revile, leeks, spinach, porcini broth, pine nuts) and rigatoni di faro (apple cider braised pork belly, butternut squash, gala apples, tuscan kale).
Secondi selections include: filetto (grass fed filet mignon, Yukon gold puree, roasted baby carrots, mint salsa verde), pollo (semi boneless fried chicken, parmesan rosemary and black pepper waffle, honey butter), capesante (4 hudson baby scallops, butternut squash, braised cabbage, pancetta, apple cider brown butter) and salmon (faroe island salmon, prosciutto, sage, acorn squash, minted yogurt, pomegranate). A list of contorni (sides) offered are cauliflower (diced apples, pomegranate seeds, walnuts, aged balsamic), broccoli (farro, porcini fonduta, grana breadcrumbs) and baby carrots (cecci beans, salsa verde butter, goat cheese, black currants).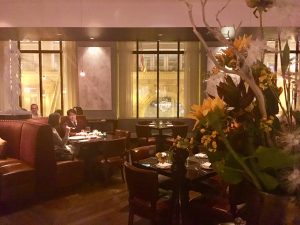 I cannot remember a more amazing dining experience than at The Florentine. The restaurant paid attention to the smallest detail when it came to food, drink, and décor. Service is exceptional there, with the staff checking in with their diners frequently throughout the evening.
Our experience began when we were offered a dry, crisp Italian sparkling wine (Franciacorta). Our amazing server for the evening, Angel, was extremely knowledgeable when he described the evening fall menu and its selections for my friend and me, including suggestions for my vegetarian diet, as well as wine pairings for our meal choices. Though it was the weekend of Thanksgiving with a limited menu, the selections available were so good, it was very difficult to choose.
We began the evening sharing an antipasti, mozzarella di compana (roasted beets, speck, watercress, balsamic), a nice start to our several  course meal. It was split in half and my friend received the speck; it was omitted from my plate, which I felt was an improvement overall to the dish. The sweet yellow and red beets were nicely cooked, and the thick, tangy balsamic drizzled over the smooth, fluffy mozzarella co-mingled wonderfully. My friend enjoyed the salty taste of the speck. It was quite a contrast of colors and flavors.
Pasta selections ordered and consumed included a single sample of the huge meatball for my friend; she was curious to taste it along with san marzano tomato sauce. She fell in love with the meatball and the sauce. I ordered the pasta dish that I had eyed even before coming to the restaurant: ravioli with wild mushroom and tallegio filled ravioli, leeks, spinach, porcini broth and pine nuts. The pasta was paired with a lovely dry, Italian Arneis white wine. After eating this heavenly dish with a range of flavors and textures, I could not imagine needing anything else to celebrate the flavors of autumn. The pasta is also an excellent choice for you mushroom lovers out there!
Our server, Angel, made special food suggestions through out the evening that were not on the main menu, such as the Sicilia salmon wrapped in pancetta, accompanied with yogurt, acorn squash, hazelnuts and beets. My friend was intrigued by this dish, and appreciated the contrasting flavors and textures, but she felt that the salmon was a bit undercooked.
I strongly believe that one must always sample the dessert selections. At The Florentine, the separate dessert menu was so diverse, that it took a good ten minutes for me to make my order decisions. My friend and I shared the restaurant's popular bombolini donuts, which came warm and fluffy with cinnamon sugar accompanied with chocolate dipping sauce. The best word to describe these delectable morsels of baked goodness is YUM!
We also tasted succulent tiramisu with chocolate and vanilla biscotti (served on purpose in a small dish so diners will order more), and the chocolate cassava cake. I was excited about trying the cassava cake, but was disappointed with the dish due to an aroma and taste similar to that of metal. The desserts paired well with a wonderful Taylor 20 year-old Fladate Tawny Port that aided digestion.
As the windy city of Chicago welcomes the season of fall with its cooler, crisp temperatures and multicolored falling leaves, one will surely enjoy the exceptional, culinary journey through The Florentine's seasonal autumn dinner menu.
Look below for information on The Florentine's Grab & Go Lunch menu and their craft beer flight:
Delectable Italian Lunch in the Loop:
Nestled away in the city's bustling financial district, The Florentine is the ideal spot for Chicagoans to slip away from their busy workday and enjoy Chef Walrath's savory cuisine, with a recently announced Grab & Go Lunch menu and new seasonal dine-in offerings.
Highlights from the lunch menu include Octopus with saffron aioli, fingerling potatoes, frisee, 'nduja vinaigrette; Broccoli Salad with honey crisp apples, gorgonzola dolce, crispy proscuitto, golden raisins; Tuscan Kale Pizza with roasted squash, charred red onions, wild mushrooms, herbed ricotta; Pork Belly Club with cider braised pork belly, tomato apple jam, garlic mayo, butter lettuce; Sausage Pizza with housemade sausage, delicata squash, gala apples, robiolo, fior di latte, saba; Chef's Daily Selection of Risotto; and more.
Take Flight at The Florentine:
With a passion for serving up craft beer, The Florentine encourages guests to complete mealtime with its new Florentine Flights, showcasing the best pours from top city and suburban microbreweries. Guests can sip on the City Flight ($10) or the Suburban Flight ($10), featuring three 6-ounce pours per flight, including:
City Flight:
Baderbräu Brewing Company, South Side Pride Lager, Chicago, Illinois
Maplewood Brewery, Son of Juice, American IPA, Chicago, Illinois
Off Color Brewing, Apex Predator, Farmhouse Ale, Chicago, Illinois
Suburban Flight:
Temperance Beer Company, Greenwood Beach, Blonde Ale, Evanston, Illinois
Solemn Oath Brewery, LÜ, Kölsch-style Ale, Naperville, Illinois
Two Brothers Brewing Company, Dog Days, Dortmunder Lager, Warrenville, Illinois
More adventurous imbibers can opt for the Create Your Own ($10) flight, including a selection of three pours from breweries found in Ohio, Michigan, California and Colorado, as well as any of the Illinois selections above.
Photos: Jennifer Lunz
For additional information about The Florentine's seasonal menus or to make reservations, please visit the Florentine website or call (312) 660-8866.
The Florentine is open for breakfast Monday through Saturday from 6:30 – 10:30 a.m. and Sunday from 6:30-11 a.m. and lunch daily from 11 to 2:30 p.m.
For dinner, The Florentine is open from 5 – 10 p.m. seven days a week and The Lounge serves food until 11 p.m. Monday through Thursday.