VISCERAL DANCE CHICAGO PERFORMANCE
January 18, 2018 | 7:30 PM    
Gerald W. Lynch Theater at John Jay College, 524 W. 59th Street, NY, NY, 10019
In their first tour to NYC, Visceral Dance Chicago will present a work by Princess Grace Choreography Fellowship Recipient Danielle Agami, "Pick a Chair".
The 2017-2018 touring program will also include audience favorites Minor Threat by Mark Godden, She Three by Nick Pupillo, Ruff Celts by Marguerite Donlon, and Pupillo's newest commissioned work Synapse.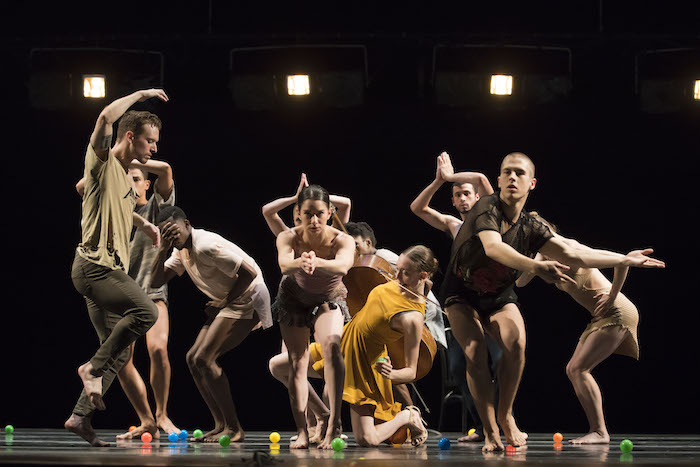 With an original composition by Glenn Kotche, drummer from groundbreaking American rock band "Wilco", Agami's Pick a Chair delves into the simple workings, habits and attitudes of everyday life. Through an exploration of the ordinary, where "spot-on acting and narration carry the audience through a piece that leaves you begging for more" (Dancer Music), Agami investigates the artistic and human experience.
Returning to the Company's offerings is Montreal-based Mark Godden's Minor Threat, an incredibly technical ballet that showcases each of the dancers' versatility and strength. With choreography set to Mozart's Piano Concerto in D minor No. 20, Mark Godden's "Minor Threat is a delicate and vigorous creation, graced with vernacular episodes that are as grounded and as heavenly as its score".
Nick Pupillo's stunning She Three returns to the stage, bringing three of Visceral's female dancers to the forefront in this technically masterful and harmonious work. Brian Sidney Bembridge's specific and intriguing lighting is featured throughout She Three, creating a formidable and tangible connection between the dancers onstage.
Marguerite Donlon's dynamic, dark-humored Ruff Celts returns to Visceral's current repertoire. Inspired by the personalities of the dancers, Donlon uses a mixed score of contemporary Irish and German composers. A fusion of contemporary and deconstructed technical dance vocabularies define this sharp-witted, quirky, full-company work that has become a crowd favorite.
Pupillo's most recent creation Synapse, commissioned for Visceral Dance Chicago by the Harris Theater for Music and Dance with support from the Pamela Crutchfield Dance Fund through the Imagine Campaign, is an LED-light immersive experience that has stimulated the Chicago audience with a responsive interaction of music, dance and lighting. Electrical energy joins together the driving house beat of Darryl Hoffman's work with the technicality and provocativeness of Visceral Dance Chicago.
This reviewer had the opportunity to interview Visceral Dance Artistic Director Nick Pupillo and observe a rehearsal of the program in the Visceral Dance Studios, 2820 N. Elston. While apprentices stretched and practiced on the sides of the huge mirrored room, and Pupillo's 8-month old daughter Mittica Marie gravely observed the performance, I had an opportunity to see the amazingly versatile performers right up close! The 4 newest dancers fit together seamlessly into the company; this is an ultra-cohesive group of professionals at the top of their game.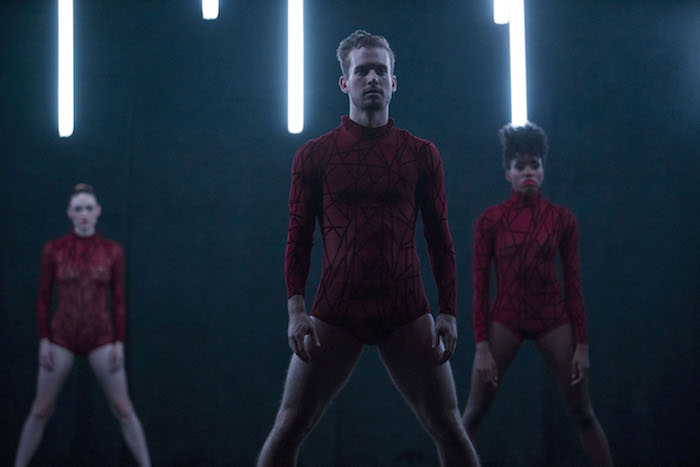 The program began with Montreal-based Mark Godden's Minor Threat, a piece Pupillo himself danced while in school. The intensely virtuosic yet extremely constrained piece took enormous amount of effort from these top-conditioned athletes, who began the rehearsal in a concentrated circle of energy-gathering focus.
Pupillo's glorious She Three, said to be Mayor Rahm Emanuel's favorite in the Visceral repertoire, features 3 female dancers joining and separating in sensual and concentrated groupings. The piece is erotic, the dancers technically spot-on and imbued with radiance and artistry.
There followed- to my delight- Marguerite Donlon's Ruff Celts, a full-company piece I've seen before several times, but could never tire of! . Set to exuberant skirling music with the dancers emitting eerie and otherworldly shouts, calls and exhalations, it's a witty, joyous, rhythmic and complicated piece showcasing leaps, turns, and complex sets.
This afternoon was the first time I saw Danielle Agami's "Pick a Chair". It's a subtle, immensely clever and disarmingly arresting piece edged with self-mocking humor. Agami has described it as a meditation on small gestures—handshakes, caresses—that are pregnant with meaning. "I enjoy framing and pointing out these little moments of passion," says the choreographer. Some of the movements- rolling balls across the stage, climbing up and over a chair, driving a child's motorized Maserati replica- lend themselves to improvisation, and, along with the spoken script, also fluid, are a social commentary.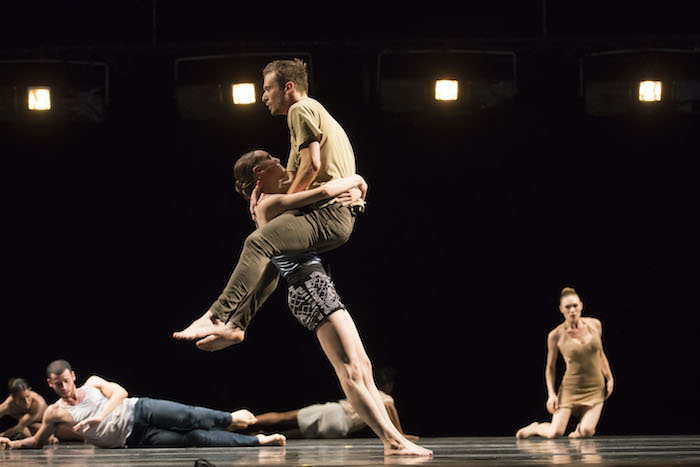 Pupillo's Synapse is a piece I've seen on stage as an LED-light immersive experience of electrical and Visceral energy; it joins together the driving house beat of Darryl Hoffman's music coupled with the superb and provocative prowess of Visceral Dance Chicago.
The audiences in New York will  have a number of opportunities to see and enjoy this fine company. Pupillo expressed delight and great hopes for the jam-packed week. They'll be manning a booth at the Association for Performing Arts Professionals (APAP) conference, performing at Peridance Capezio Center, and presenting "Ruff Celts" at the Women in Dance Leadership Conference, as well as putting on the program at the Lynch Theater of the John Jay College of Criminal Justice, an invaluable cultural resource in and of itself.
For information and tickets to all the fine workshops, classes, and performances of Visceral Dance Chicago, go to the visceraldance website