This is one of those shows that in its time was full of naughty controversy. Debuting in 1966 with a cast full of counter culture and dealing with controversial subjects like abortion, it made a splash in those days for causing all the pearl-clutchers of society to look on in disapproval.  During previews in Boston, many people walked out halfway through.  Now those aspects are remarkably tame, but in the era when Nazis are openly marching in the streets of America and openly running unopposed for the Republican nomination for the House of Representatives in Illinois' 3rd Congressional district, everything else about this show is needed now more than ever.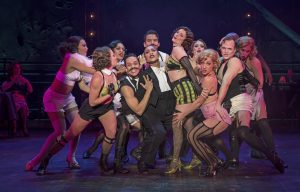 You may consider this review an unqualified rave.  Everything about the production is first-rate: on stage talent, production talent, lighting, costume and sound designs, choreography, and direction by Katie Spelman. Everyone should go.  Every performance should be sold out.
This version seems to take the lead from the most recent revivals and refinements to the show (with the exception of the concentration camp uniforms of the Alan Cumming versions) and loses the Kit Kat Klub band on stage, but you don't miss it.  It's bigger, gayer, and more pointed and timely than ever.  Costuming is very period with a mix of Bob Fosse for good measure.
As usual, it's been impeccably cast. Joseph Anthony Byrd does Joel Grey and Alan Cumming proud in the role of Emcee while making it utterly and completely his own.  His singing is amazing, his dancing is amazing and his drag bits are RuPaul-level fabulous.  I'd love to see him take on Frank N' Furter at some later date. (Or really anything else, he's wonderful.)  And the fact that he's African-American makes the precarious existence of the Kit Kat Klub's performers even more obvious as the Nazis rise to power during the story.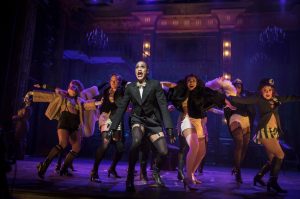 The Club sections are wonderful, with an exceptionally strong ensemble cast of superb dancers and singers.  They have fun with every number and even though what seemed naughty and scandalous in the 1960s is tamer than what you see on an eight o'clock TV show now, they all approach it with wicked good humor. It's easy to realize how shocking and fun it would have been both in the 1960s on Broadway and in the 1930s Berlin where the show is set.  That said, you probably don't want to bring kids to this as there are a few g-strings in the costuming and the few kids I saw there seemed a bit put off.
Garrett Lutz as Clifford Bradshaw is wonderfully sincere and Midwestern. You believe his good-heartedness and that he also seems quite adrift in Europe.  You believe he's smart and that he is revolted by the Nazis.  You believe he wants to save Sally from her life. But, he is, in fact, so aw-shucks ma'am wholesome that it's hard to see his attraction to the world of the Cabaret.  It is even harder to believe that he's bisexual (or really mostly gay).  He holds his own in this very strong cast, but there are just a few bits missing.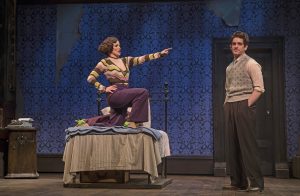 This show is nothing without a powerhouse Sally Bowles and they have one in Kelly Felthous.  She plays Sally as far more spunky and determined than many.  She seems to believe in her own talent and wants to actually rise as a cabaret performer rather than being a mostly untalented, broken creature that drifts through her own life and has fallen into cabaret by accident.  Her incredible singing and dancing performances back that interpretation up, so you buy it.  She also plays Sally as very shallow and not smart, though it's clear she cares about other people. But you can see her bulling through the era like a steamroller to get what she wants and ignoring anything that isn't in her narrow areas of interest. And that's also a fair interpretation.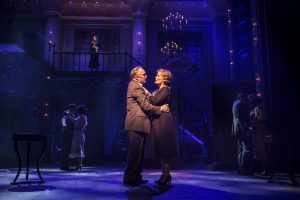 While the Cabaret sections of the show give us the majority of the memorable and showstopping numbers – none of which are shorted in this production full of incredible talent, it's the B-plot about the romance of Fraulein Schneider, the amazing Hollis Resnik, and her Jewish fruit stand-owning boarder, Herr Schultz, the equally strong Ron. E. Rains, that steals this production.  Resnik is mesmerizing from her first number "So What" to her final "What Would You Do?" Rains acts up a storm and his optimism and insistence on his German nationality in the face of hateful graffiti on his store front and Nazis insulting him at his engagement party is absolutely chilling as you realize that he probably died in a concentration camp.
This is the part of Cabaret that is hard to watch. It was so hard that it impacted the performance.
About two-thirds through Act I, the song "Tomorrow Belongs to Me" is sung by a Nazi youth.  The Paramount didn't dress him in a traditional brown shirt with armband, like in the movie.  They dressed him in a white shirt and Khakis.  Everyone in the audience noted it.
At the End of Act I, the Nazis reveal themselves at Fraulein Schneider and Herr Schultz's engagement party and led by the wonderful Meghan Murphy as tawdry prostitute Fraulein Kost and the charming Brandon Springman as Ernst Ludwig Nazi money-launderer.  They sing a Reprise of the song that was utterly glorious and one of the most well-done bits of singing in the whole show.  It was thunderous. It was glorious.  It was utterly chilling and cast a pall over the entire audience and ended with Ludwig giving a Nazi salute.  When the curtain started to go down, people didn't know what to do.  Some people started to clap because the performers deserved to know how wonderful they were, and many of us could not do it because… you can't clap for a triumphant Nazi anthem.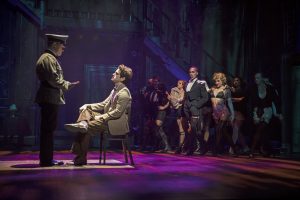 When intermission came people left the theatre and didn't return. I'm not sure why. I doubt it was shock at the scandalous nature of the production like the Bostonites of the 1960s. Maybe they couldn't take seeing the Nazis in power.  I hope that was the case.  Or maybe they were Nazis and didn't want to face a show that hates them as much as this one does.  Two of them were sitting next to me.  They seemed normal.  But maybe they were Nazis.  You can't tell nowadays.
That's one of the most amazing bits of this show.  All these characters you have come to know and find amusing or nice in Act I, stand up and reveal themselves to be hate-filled Nazis with murder on their mind in that final scene. And you go into the break looking around you and wondering… which ones of you would kill me if you could?  Which ones of you support someone who hates the people the Nazis hated?  Which ones of you will vote for the candidate in the 3rd District?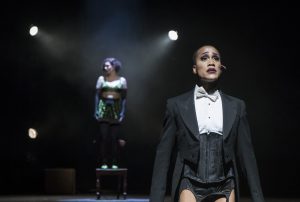 The singing, the dancing, the drama of Act II is exceptional.  Sally and Clifford break up and it's sad as it should be. Fraulein Schneider and Herr Schultz break up and it's even sadder.  But all you're really thinking about is "are the people who left Nazis?" THIS is the true power of theatre.
If you go to see this production at this time at the Paramount, that will be part of your experience too. Which of the people sitting with me in this theatre would side with the Nazis if they could?  Because you know some of them would.  Maybe the people who sat next to me and left during intermission.  Who knows? But we'd better find out and soon.  Or we'll wind up just like the denizens of the Kit Kat Klub in 1932.
Photographs by Liz Lauren