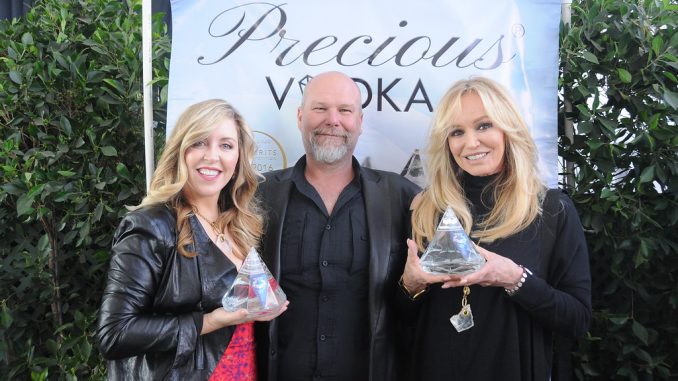 It's Academy Awards time again and that means lots of parties with celebrities and VIPs.  One of the best pre-Oscar events every year is Doris Bergman's Valentine Romance Oscar Style Lounge & Party at the Fig & Olive. Saturday, February 24th, 2018 was the 10th Anniversary for her oh-so-cool event. 
The restaurant was packed with happy celebs enjoying appetizers, drinks and a gourmet brunch while making stops along the way to view and receive the most wonderful gifts and services.
Twisted Silver is a must-have line of jewelry that everyone was thrilled to visit. Owner and designer Debra Mitchell uses earthy base metals, recycled, found objects, and vintage asymmetry to create an edgy, trend-setting line that is sure to garner compliments wherever you go.
Another jewelry fave is My Saint, My Hero, which included signature Benedictine Blessing Bracelets, along with necklaces, earrings and sacramental pieces. Their lovely and special Wearable Blessings serve as constant reminders of purpose, hope and inspiration.
There were also watches from Presenting Sponsor CURTIS & Co. and their Chalk Lifestyle Scribble. The bands are available in an assortment of fabulous colors with faces that had pencils as the hands.
Famous designer Sue Wong had magnificent couture gowns along with new scintillating scents from her new fragrances.  She is an icon of the fashion industry that everyone wanted to chat up and pose with for a terrific memory of the day.
For men who want to be custom dressed to the max, Art Lewin Bespoke Suits & Tuxedos showed their sleek and stylish designs. Custom designs are available for women, too. Art has stores in downtown Los Angeles, Beverly Hills and Santa Monica.  He is a terrific guy who will make sure you look terrific at any event or at any time.
If you're in a more casual mood, get ready to wear the lightest and most comfy of sneakers – Hypo Footwear.  There were several styles on display, and we know people will be running to get their faves.
After a long run or a big workout, you might be sore – but no need to worry.  Hemp Lifestyle provided a salve that can ease sore muscles and help you feel calm, collected and pain-free.
You might want to kick back and have a nice glass of wine – and Title Sponsor BuyWine.com will help you to learn all about different wines.  They provided taste samples for guests, and wonderful bottles to take home, too.
Another tantalizing libation was the new Precious Vodka. In addition to it's divine taste, this brand offers a special container, shaped like a diamond that makes it unique, whether you're drinking it or presenting it as a gift. There's a precious gem at the top of each pyramid shaped bottle.
Spa Girl Cocktails also offered tastes of their cucumber or pear flavored martinis.  With all the zesty drinks, it's no wonder all the guests were happy as they could be.
For a non-alcoholic choice, Hint offered flavored waters, that are healthy and refreshing anytime and anywhere.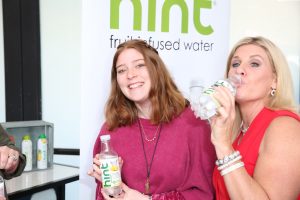 Of course, what makes any event special is the people who attend.  Oscar Winner Viola Davis and Oscar Nominee Bruce Dern joined multi award-winning Grammy Winner Anita Pointer, Jake Busey ("The Predator"), Jon Mack ("Pandora's Box), Michael Campion and Juan Pablo Di Pace ("Fuller House"), Steven Bauer ("Ray Donovan"), Jake Allen ("The Quad"), Matt Murray ("9JKL"), Rex Lee ("Young & Hungry"), Dot Marie Jones ("Glee"), Jillian Murray ("Code Black") and hubby Dean Geyer ("Glee"), Joely Fisher, Marilu Henner, Maria Conchita Alonso, Naomi Grossman ("American Horror Story"), Primetime Emmy Winner Patrika Darbo, Golden Globe Nominee Susan Anton, Hollywood Icon Tristan Rogers, Comedian Judy Tenuta, Philip Boyd & Renee Lawless ("The Haves & Have Nots"), Richard Grieco, Victoria Summer ("Transformers"  Age of Distinction"), to name a few, were among the cadre of celebrities and industry VIPS who were treated to the best of the best!
Olympia Luggage was another favorite stop at the event. They gifted sensational rolling backpacks and carry-ons in great colors and patterns. Both green and camouflage backpacks were super hits.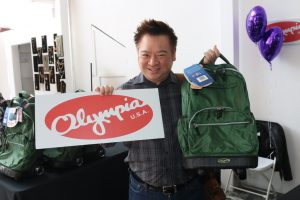 We saw a few guests with small pooches, but even those pups left at home were lucky when their mommies and daddies returned! That's because Christy Aaron, owner of CJ's Pet Staycation and Pampered Pets Playhouse presented visitors with a canvas bag packed full of pet toys, bowls, training pads, and human grade, bone-shaped, waffle-like treats. She also included a certificate for a complimentary 2-night staycation for the tail-waggers in the family.
Speaking of pets, Nail and Bone is a socially-conscious line of nail polish that donates 20% of their proceeds to help dogs in need. Their catchphrase is "Polish for People – Passion for Pets." Co-founders Steve & Missy named the colors after rescue dogs and one of their special collections is from actress Halle Berry.
For additional beautification, Montrose Regenerative Cosmetics & Laser Center Olympia International, Inc. presented gift certificates for their services, and Beauty Kitchen and Impromptu Life offered various cosmetics and lipsticks.
Author and Real Estate Broker Debbi DiMaggio created a special book for the day, titled "Lights, Camera, Action," and Team Powers Real Estate was on hand along with Guaranteed Rate that offered blankets, great to use at picnics or for keeping warm and cozy at home.
In the spirit of giving back, guests & sponsors donated unwrapped gifts for young adults (ages 13-18) for a Post-Holiday Gift Drive benefiting 'Wednesday's Child' — a weekly segment airing on KTTV FOX 11 News, Los Angeles, with Anchor Christine Devine. 'Wednesday's Child' highlights 'harder to place' children in the LA County foster care system who are in need of adoptive families. "In Los Angeles County, alone, there are over 40,000 children receiving child welfare services," says social worker, Dr. William Wong.  Bergman always invites beloved foster children to join in on the festivities and experience what it feels like to be treated as a VIP.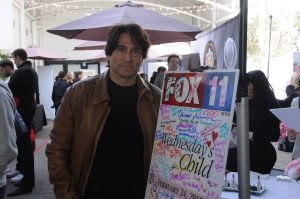 Gifts and services were provided by:
Title Sponsor Buywine.com, Presenting Sponsor CURTIS & Co. Timepieces, Precious Vodka, Beauty Kitchen, Pampered Pets Playhouse Resort & Spa, CJS Homemade Wholesome Pet Treats, CJS Pet Staycation, Life Coach William Constantine, Author Debbi DiMaggio/"Lights, Camera, Action," Team Powers Real Estate, Hemp Lifestyle Network, LLC, Hypo Footwear & Accessories, Impromptu Life, LLC, Montrose Regenerative Cosmetics & Laser Center Olympia International, Inc., Nail & Bone, Timmy Woods Handbags, Twisted Silver Jewelry, My Saint, My Hero Bracelets, Sue Wong Couture Gowns & Fragrance, Handmade Hearts By Hillel, Hint Water, Art Lewin Bespoke Suits & Tuxedos, Spa Girl Vodka, Rock Your Hair, Sunless Beauty, Balance Organic Body Butter, Author Alexis Hunter/"Joi Lansing – A Body To Die For," Black Horn Imports, The Hollywood Trinity, EinDrink, and VIP Gift Bags were also provided by Buywine.com
Photos courtesy of Doris Bergman