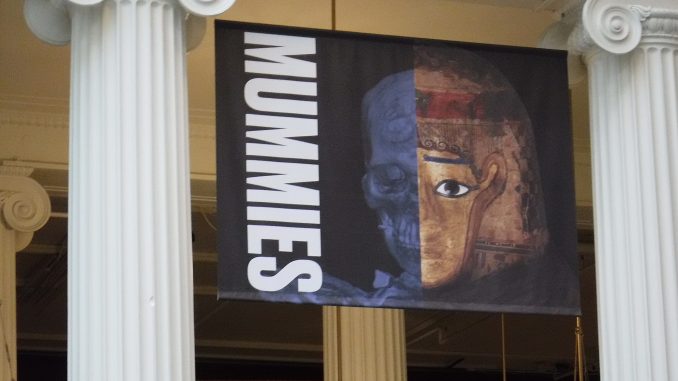 "Mummies" arrived home at the Field Museum after traveling across the country, just in time for the Museum's 125th anniversary. This remarkable exhibition runs from Friday, March 16, 2018 to Sunday, April 21, 2019. Even though it will be in Chicago for over a year, plan to see it soon. A year goes by quickly!
Before coming to the Field Museum, I had the chance to "get my feet wet" at a related exhibit at the Block Museum of Art at Northwestern University. Although small with only one mummy, it brought to light elements from Roman Egypt that were unique. It was also a good introduction to techniques that are being used broadly to investigate previously unknown "secrets" about what lay underneath the wrappings of the mummies. Unfortunately, this exhibit is leaving very soon. More about Block Museum of Art
At the Field-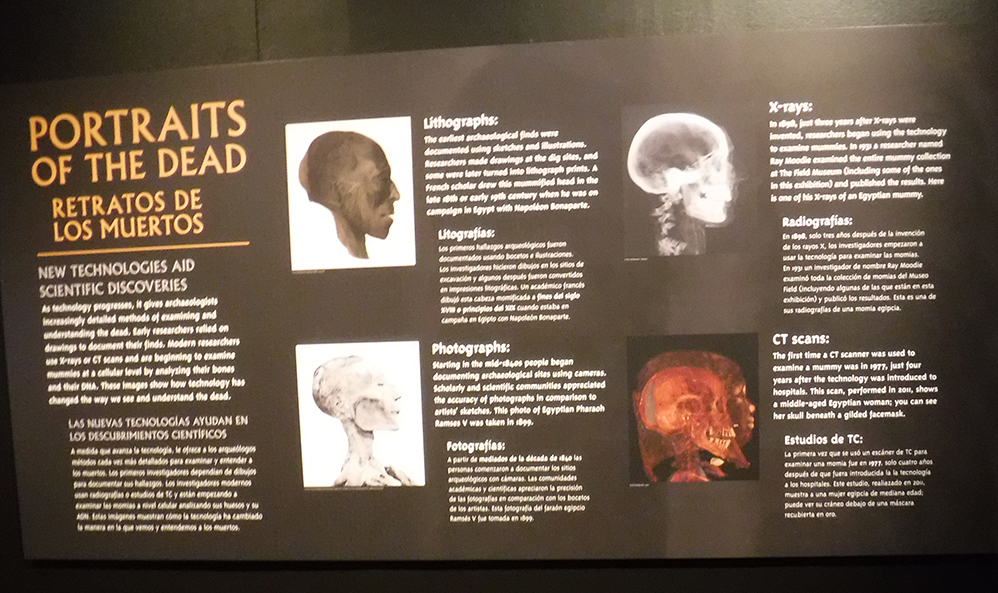 With heightened interest, I entered the complex world of the mummies at the Field Museum, which has the largest collection of Egyptian and Peruvian mummies in the US. CT scanning the mummies recently led to new discoveries. This illuminative exhibit uses cutting-edge technology to take a look at mummies in a new light. By using CT scanners and 3D imaging, researchers have glimpsed the people beneath the wrappings—people that actually lived thousands of years ago. The opportunity to interact with the exhibits, to explore mummies and artifacts is made possible with digital interactives, which are like touch tables of 3D scans of mummies, which reveal full-sized dioramas of what burials looked like.
"It's been a great way for us to share Field Museum science with people all over the country, not just in Chicago," explains Exhibitions Project Manager, Janet Hong. "Because the exhibition is back at its home base, we'll be able to include some cool artifacts that were too fragile to send out on the road."
As I entered the exhibition, several things surprised me. There were Peruvian mummies (who knew?). And these mummies date back 7,000 years, predating the Egyptian mummies by 1,500 years. Also interesting, was a technique used by the Peruvians to reshape the skulls of infants. It was all new and fascinating.
"One of the unique things about this exhibition is the inclusion of the Peruvian mummification traditions, which started much earlier than in Egypt and lasted until the Spanish conquest 500 years ago," says Curator Ryan Williams. "That seven thousand year history of Andean mummification is something most people have never heard previously."
Compare Egyptian and Peruvian mummies From the Science Museum in Minnesota
It was interesting to learn that the exhibition is comprised entirely of objects from The Field's own collection, and includes 14 mummies, exquisitely painted coffins, stone sarcophagus fragments, ceramics, mummified animals, and mummy masks. Using non-invasive CT scanning, DNA analysis, and other cutting-edge technologies, Field Museum scientists pare back thousands of years and reveal the people behind gilded coffins and carefully wrapped bundles. Scans of the intricately wrapped "Gilded Lady" mummy of ancient Egypt reveal small details that show us what she looked like.
It was fascinating to virtually explore the contents of never-opened Peruvian mummy bundles to discover the individuals within: children, mothers, and the objects their families lovingly buried with them. Each story uncovered paints a picture of people from a different time.
Seeing the sculptures of the way some of the mummies had looked in life was an arresting experience. These sculptures are by the French artist Élizabeth Daynès, who used 3D data to create lifelike renderings, depict what these people looked like when they were alive.
"The sculptures are very beautiful, and stunningly realistic. You get the feeling that you're really face-to-face with people who lived thousands of years ago," says Hong.
You may want to come for the Mummies and stay for the following: (General admission will be free on April 14th)
On Saturday, April 14, the Field and United Sciences of Chicago are inviting the city to join us at Speak Up For Science, the city's official March for Science event: a science fair and rally to celebrate science and advocate for its advancement and protection. The event, which will be free to the public, runs from 1-4pm.
"The Field Museum exists and has always existed to be the voice and champion for the future of our natural world," says Field Museum President Richard Lariviere. "We've worked relentlessly to pursue ways of making it better, and today is no different."
Science fans and supporters are invited to come to the Field Museum's South Terrace to meet scientists (and see some amazing scientific collections), learn how to communicate about science and the environment, and find out concrete things they can do here in Chicago to fight for the planet. Most importantly, though, people will be given opportunities to share their support for science with legislators, including a postcard-writing campaign and voter registration.
General admission to the Field will be free on April 14; there will be more Speak Up For Science events inside.
Photos: B. Keer