Bill Murray is a legend.  He earned that lofty title by creating characters in TV/Movies that were oddballs, but were funny enough to draw the audience in.  Murray has charisma and charm that makes his fans want to get closer. So, when Murray decides to create a show in which he recites American literature and sings old standards on stage with three accomplished classical musicians nobody bats an eye.  They want to get closer.
"New Worlds: Bill Murray, Jan Vogler and Friends" was the name of the show that Murray put on at the Chicago Theater Monday night.  He brought along world renowned cellist Jan Vogler, violinist Mira Wang and pianist Vanessa Perez– the three musicians of accomplishment.
If the fans in the Steve Zissou hats (Murray's character from 2004's The Life Aquatic with Steve Zissou) came expecting Murray to tell old Candyshack stories, they were expecting the wrong type of show.  After the first reading of Ernest Hemingway with an accompaniment from Johann Sebastian Bach, Murray said to the crowd, "this is when people usually say they've had enough."  But nobody in the crowd left – not even the ones in the Steve Zissou hats.
As conceived by Vogler and Murray, the show was about building bridges between literature, poetry, and music and how different artists from different backgrounds can explore the many connections between them.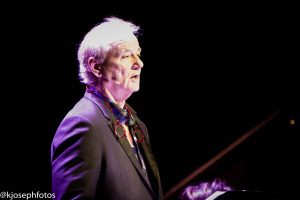 Murray's readings from Ernest Hemingway, Walt Whitman, Mark Twain and other American authors were, for the most part, played straight and segued to classical and pop musical standards by Stephen Foster, George Gershwin and Leonard Bernstein. The music was carefully chosen (and expertly performed) to make the words Murray spoke resonate.
The two most serious of these readings touched on today's American politics in interesting ways. First, a passage from Mark Twain's "The Adventures of Huckleberry Finn" in which Huck Finn enabled the slave Jim to sail to freedom (the cellist's "Moon River" was the inspired accompaniment), and "America" (from Bernstein's West Side Story), emphasized the line "Puerto Rico's in America!"
But don't worry, people in the Steve Zissou hats, there were still extremely silly parts of the show as well.  Murray performing "I Feel Pretty" (also from West Side Story) while prancing around the stage got people giggling.  Another was Murray's performance of James Thurber's humorous tale of Ulysses S. Grant being hammered drunk on the day the South surrendered. Murray's reading and takes on the literature were dramatic, humorous, emotional and, at times, moving.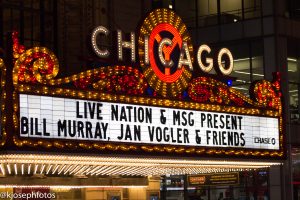 It was impressive to watch the funnyman breathe life into these stories, but not as impressive as Murray's voice when he sang.  Murray's take on Van Morrison's soul standard "When Will I Ever Learn to Live in God" was the best of the night.  Murray's voice sounded like a seasoned bluesman – gutsy, visceral, emotional – but the band really impressed.  With just a violin, piano and cello the band at times sounded like a full orchestra and at other times a rock band.
This was just a really unique show.  Murray has built confidence in the audience to take crazy risks because the audience knows they will be entertained.  And Murray never disappoints. He is truly has become an American Folk Hero.
Photos by K. Joseph Fotos