Hubbard Street Dance Chicago (HSDC) will conclude its Season 40 with Summer Series June 7th-10th, 2018, at the Harris Theater for Music and Dance, 205 E. Randolph, Chicago, in Millenium Park.
Summer Series will feature the premiere of Decadance/Chicago, a full evening-length work presented in two halves, and a reimagining of two of renowned Israeli Choreographer Ohad Naharin's pieces, Decadance and Minus 16.
Decadance itself is a continuously evolving piece recreated every decade, featuring excerpts from a number of Naharin's choreographed works. This particular version is a company premiere and the 6th in HSDC's repertoire created by Naharin, who will be coming to Chicago to work with HSDC on this new incarnation.
Naharin, since 1990 Artistic Director of Israel's Batsheva Dance Company, is known for developing a style and technique characterized by amazingly flexible limbs and spine, and vibrant bursts of energy- in a word, a stunning vitality. He is also the creator of "Gaga", a movement language and style of teaching that encourages the dancers to move beyond the traditional or familiar, to initiate and express movement in unique ways.
This reviewer had the opportunity to observe a rehearsal of the work in progress, led by 2 of Naharin's staff sent ahead to reset the work, Rachael Osborne and Ian Robinson, along with Jessica Tong, HSDC's Rehearsal Director. It was unlike any rehearsal I'd ever seen, more like an artistic transference than a guided display.
The first thing I noticed in the rehearsal room was the absence of the traditional mirrored walls; black drapes had been drawn across them. The barefoot dancers, in comfortable clothes, many wearing Hakro t-shirts, were playfully rotating about the stage. They were freed from self-consciousness by not having to see their reflections as they worked.
Over the course of a fascinating hour, I noted the potent rhythmic nature of the taped music and provocatively worded messages, the electric moves, the  arresting styles of these wonderfully talented dancers.
Rather than any set choreographed movements, I saw an explosive Individuality- it was catharsis as much as expression. As the recorded music and verbalizing became more fluid, so did the HSDC dancers! To the chant "Ignore all…concepts and possibilities…just make it, babe", these athletes seemed to be crafting their personae as they worked hard, long, and joyously to a sweat-drenched denouement.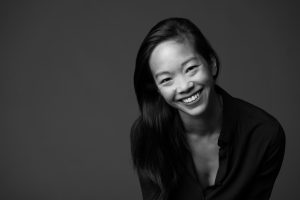 INTERVIEW WITH JESSICA TONG:
After the rehearsal, I spoke with Jessica Tong, a dancer steeped in the art's aesthetic knowledge and culture, both disarmingly cerebral and intensely viscerally aware; her deeply thoughtful remarks are paraphrased below:
As Rehearsal Director, she "Teaches class, is in charge of running rehearsals, and is with the dancers more than anyone else." When working with Naharin's preceptors, she must "Listen, absorb, know the musical timing, and understand the ideas and imagery, so that when they leave, and the piece lives on in the repertoire, I am responsible for keeping the integrity of the work. Of course, the dancers also carry responsibility to keep the works alive for the future." Tong muses that she is thus "The eyes and ears of the choreographer, an extra gauge who must retain the individuality of this piece."
In discussing the upcoming work, Decadance/Chicago, Tong emphasizes that this is "Hubbard Street's version that Naharin has put together specifically for this company; he is a very good editor and will come to Chicago to work with us". She speaks from a strong familiarity with Naharin's work. "Decadance is the umbrella work and Naharin picks and chooses excerpts of his other works to include. Minus 16 is one of the components."
In describing Gaga, Tong advised "Naharin's been creating it through the years. It's not so much 'imitate my shape' but a fine vehicle for him to utilize his dance vocabularies. There are specific inherent structures", she notes, "But behind them, improvisational techniques influence the dancers to find a form of their own. It is the common intention that makes them a group".
Tong revealed the enormous impact Naharin's work had on her as a ballet dancer in New York, how it expanded her conceptualization. "It flipped a switch in my head and opened my eyes". When she came to HSDC, she danced Minus 16, and experienced "The freedom to interpret; it released me."
Tong described the new piece, Decadance/Chicago for the upcoming Summer Series as "Explosive, abandoned and infused with fantasy and wry humor". I was made aware that "There will be surprises for the audience".
The work of HSDC is always thoroughly engaging, technically superior, beautifully presented. For information and tickets to  the Summer Series and all their fine programs, go to www.hubbardstreetdance.com