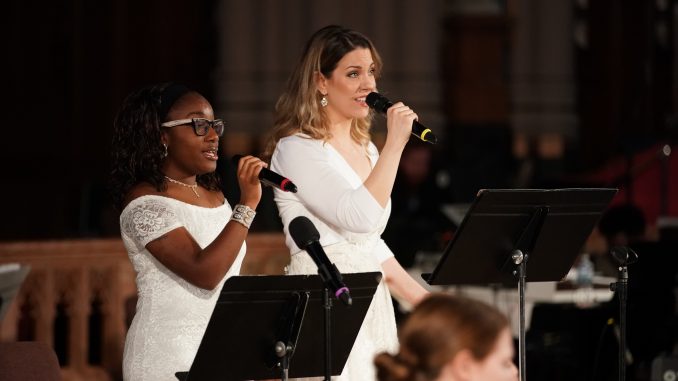 "Optimism is a philosophy and pessimism is a reality. It's easy to be pessimistic. Optimism must be doing an action that throws light and dispels darkness". Yo-Yo Ma
The Negaunee Music Institute (NMI) of The Chicago Symphony Orchestra Association (CSOA) produced its second Concert for Peace on Sunday, June 10, 2018 at St. Sabina Church, 1210 W. 78th Pl., Chicago, as part of an ongoing effort to deepen the CSOA's presence in and support of communities across the South Side of Chicago. The concert was a moving, memorable and melodious multi-person effort that achieved a never-to-be-forgotten performance of healing soulful sound. The afternoon was a triumph of organization, dedication, collaboration, and a testament to the regenerative power of music.
The concert featured performances by world famous cellist Yo-Yo Ma and musicians from the Chicago Symphony Orchestra, (CSO) the Civic Orchestra of Chicago, (COC) and the St. Sabina Band, all led by Conductor Erin Yashima, as well as the voices of the Chicago Children's Choir (CCC) led by Josephine Lee and vocalists Journey Allison, mezzo-soprano; Sarah Ponder, mezzo-soprano, and Takesha Kizart, soprano.
A program that began and ended with the CCC's soaring massed voices in song, it also contained 2 works of classical chamber music- A Dvorzák piece performed with Ma and musicians from the COC, and a Bach work with Ma and 4 musicians from the CSO- interspersed with 5 thrilling and poignant original songs. The 5 songs were a sample of 24 written by parents, aunts and siblings who have lost children to gun violence affiliated with the "Purpose Over Pain" program at the church; the parents were helped in their compositions with guidance from Sarah Lee of the Irene Taylor Trust and composer Josh Fink. Learn more at www.notesforpeace.org
Prior to the concert's opening, while the diverse 1000+ person jam-packed crowd waited quietly for the music, long-time social activist and human rights advocate, Father Michael Pfleger of Saint Sabina and Yo-Yo Ma spoke to a group of reporters. They repeated the gist of their remarks to the respectful crowd throughout the afternoon, Pfleger telling a bemused tale of having been approached- and then beguiled- by the "Beautiful spirit" of the musician, noting that persons "From 150 zip codes came to last year's concert".  Ma, in his soft-spoken and humble way spoke of "The blessings of honoring" the unimaginable pain of the families, of "How close life can be to death; joy is the other side of pain". He also said, "If someone else is hurt, I am hurt".
After opening with the CCC's warm and touching rendition of Believe in Love, the 5 works comprising the centerpiece of the concert were introduced by their authors; every one of the songs contained special and memorable lines:
– In Tracy Brumfield's memorial to her son, Keshawn Slaughter, One Day at a Time, Sarah Ponder's starkly haunting voice rang out with "His Family was Everything".
– In Diana Pierce's ode to her son DeColbie Esco, Sr., Peace and Love, Coby, both Journey Allison and Sarah Ponder joined in the slow and stunning refrain, "Peace and Love, Coby".
– One Red Rose, written by Anthanette Marshbanks for her son, Archie Chambers, Fr., coupled Sarah Ponder with Takesha Kizart in the chilling questions, "Why was no one talking? Why was no one listening? Where is justice?"
– Trevon Bosley's poem to his lost brother, Terrell Bosley, Song for Terrell, showcased Kizart's stirring voice- with Ma playing alongside- vowing, "You are the reason I strive to change the world"
– Delphine Cherry's dedicated work to 2 lost children, daughter Tyesa Abney and son Tyler Randolph, Hurricane, found Kizart's voice almost shaking the foundations of the graceful church in "Thought I'd lost my soul, Raging and Angry".
Concert for Peace was developed with guidance from Father Pfleger, building on the combined belief of Conductor and CSO Zell Music Director Riccardo Muti and CSO Judson and Joyce Green Creative Consultant Yo Yo Ma – appointed by Muti in 2010- that art and music play a vital role in addressing and helping to solve the serious issues that confront our society.
In partnership with the CSOA, St. Sabina Church provided complimentary concert tickets to more than 100 members of its community, and all donations and net ticket proceeds were earmarked to benefit the "Strong Futures" Program at St. Sabina which incepted in 2016 with a grant from the City of Chicago, engaging 50 at-risk youth between the ages of 17-28, and providing them with support, life skills, mentoring, job preparation and employment opportunities, while helping them to sustain a stable living situation. Since then, the program has almost doubled; more than half of these young people are employed full time, and many are in permanent part time positions.
The NMI's partnership with St. Sabina Church has resulted in projects that support people whose lives are affected by gun violence while advocating for a more peaceful city.  In fact, across Chicago and around the world, the NMI of the CSOA connects individuals and communities to transformative musical experiences.  Under the visionary leadership of Muti and Ma, the Institute's programs focus on education, training, accessibility and service.
Since his appointment in 2010, Ma has been a frequent and active participant in the life of many Chicago neighborhoods, regularly performing and visiting with young students and community groups across the city and his innovative leadership and mentorship of the musicians of the COC has led to interactive and accessible music programming and a rigorous education and community engagement fellowship program for select Civic members.
Yo Yo Ma is inarguably one of the world's most renowned cellists, and he is just as famous for his decades-long philanthropy. He also shares the stage in an impressively elegant way, although it's hard to focus on any other musician while he is immersed in his cello.
 Dvořák's Silent Woods, Op. 68, was originally a piano duet' then a cello and piano piece' and today it was played in the beautiful orchestral arrangement that Dvorzák crafted in 1893. The dark' velvety sonority of the opening is particularly evocative. Ma's warm, intensely communicative tone, acutely projected, and coupled with the compelling sounds of the  COC musicians, produced a lustrous version of this lovely piece, which Ma introduced by noting, "Trees stand as witness to our human needs".
Bach's "Air on a G string"  from Suite No. 3 in D Major, BWV 1068, 1731, another piece recorded by Ma, and played this day with musicians from the CSO, is the second movement of a stately yet sprightly work with a rich blend of timbre. It centers on one of the most well known melodies Bach ever wrote and ended the orchestral portion of the concert on a sweet yet visceral note, ushering in the Choir's final piece, fittingly entitled, I need you to Survive.
This collective gathering, representing the work, hopes and dreams of all the people who put it together, all those lost to inexplicable violence, all those who gather in peace in churches, concert halls and everywhere music is made, was a spiritual convocation. The audience was as much a part of the healing nature of the event as were the musicians, about whom Ma said, "A musician's role is first to empathize and then to deliver the message clearly".
All photos by Todd Rosenberg