Have you ever wondered what it would be like to have a bona fide expert on something all to yourself for a few hours?  So they could walk you through something you were really interested in, and explain its history and nuances?  If so, and you love cheese, then Context Travel's new British Cheese Tour is exactly what you've been looking for.
Your guide, Ned Palmer, doesn't just know about the history of cheese, he knows all the major players in the modern British cheese renaissance and has made cheese with them.  He actually explains things about their ladling techniques in crafting various styles of wonderful cheeses.
Even if you only like to eat cheese, this tour is for you, because you're going to be treated to some of the most delicious cheeses you've ever tasted, as well as the stories about how they were made and the personalities of the cheesemakers who crafted them.  This is artisanship at its most artful because cheese is a living thing.  It's not just made, it's in a sense, grown.  Just like bread or beer.  And it takes the same kind of care and attention to detail to make it come out not just delicious but consistent.
The tour is the same way.
We met Ned at the London Cheesemongers' shop, a fine establishment in tony Sloane Square. It's part of an enclave of specialty vendors that is a foodie's dream.  The charming shop features a downstairs area where you can purchase many specialty cheeses and an upstairs tasting room with a long table, where we did our tour.  Not so much touring as sitting for three hours drinking excellent wine and eating cheese with artisan bread while Ned enthusiastically filled us in about British cheese.
Having grown up just a state over from Wisconsin, the United States' largest cheese producer, (and I'm talking a state with a population of 5.8 million people made more than 3.37 billion pounds of cheese in 2017. California, by contrast, has a population of 39.5 million and only managed 2.5 billion and Britain has 66.57 million and only makes 459,000 tons or about a billion pounds – the state of Wisconsin makes 10x the cheese of the entirety of Britain), I have opinions about cheese.  And superb cheeses of all types and from all milk producing animals are not hard to come by in the Upper Midwest, from cheap grocery store cheddar to artisan hand-crafted items from your local farmer's market.
Ned seemed rather shocked at how much we already knew and that we had great cheese nearby, but he just skipped along to giving us the detailed lowdown on the British cheese industry and artisan crafters, which was great.  He also told us he's writing a book about British cheese and I assure you I will be first in line to buy it when it comes out because he absolutely knows his stuff.  I also hope he includes interviews of the artisans he talked to us about. They sound wonderful and should get to have their say.
Part of what makes this cheese really interesting is that several of the cow's milk cheeses are from Ayrshire cows, which are not cows we use much in the U.S.  it gives the cheeses a different sort of flavor than the ubiquitous Holsteins we have. Like Jersey cows do when you make ice cream from their milk.  Difference in fat content – Ayrshires have on average 4% fat.   Holsteins have about 3.5%, Jerseys have 6%.
Hereafter as I talk about the cheeses, where possible their names will be hotlinked to the websites of the makers, so you can learn more about them at your leisure.
Our Cheese Board that day looked like this: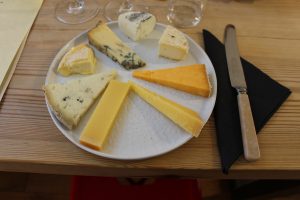 Starting at the top and proceeding in a circle to the right was:
Sleightlet
Made by Mary Holbrook of Sleight farm, Somerset – she's the one with the ladling. Unpasteurized goat's milk, animal rennet.
This was super creamy and spread on bread better than any cheese that isn't Laughing Cow.  It's like that, only far more complex and richly flavorful.
There's a tale about hopelessness to go with this name
Made by Julie Cheney at Fen Farm, Suffolk. Unpasteurized cow's milk, vegetable rennet.
This cheese is soft and delicious and far from hopeless.
Applebey's Cheshire
Made by Gary Gray at Hawkstone, . Unpasteurized cow's milk, vegetable rennet.
Nice, hard, like Cheddar but more subtle, it's the crowd-pleaser.
Made by the Holden family in Caridigeon, Wales. Pasteurized cow's milk, animal rennet.
Organic cheddar from Wales.  It's really good, but it's cheddar.  I've eaten as good or better in the U.S.
Made by Dick Willems, County Cork, Ireland. Pasteurized cow's milk, animal rennet.
It's a Gouda style with a sweet flavor.  Again, nice, but not better than we get here.
Brunswick Blue
Made by Ben Harris near Tontes, Devon. Pasteurized sheep's milk, vegetable rennet.
Dense and crumbly but with not a huge amount of blue veining. It's strongly flavored like a blue should be.
Made by Julie Cheney at Fen Farm, Suffolk. Unpasteurized cow's milk, vegetable rennet.
You note that Ms. Cheney is the only maker here who has two cheeses on the list.  There's a reason.  This St. Cera cheese is absolutely the most delicious cheese I have ever eaten.  It is a bit like a brie, except that it features a salt-washed rind that you eat.  It's not that nasty hard bit that you need to remove, you eat the whole thing and you are thankful to do so and you really, really want some more.  This cheese will haunt my dreams forever because I can't buy it here.  Folks in Britain, you can purchase it from Neal's Yard Dairy, you lucky people. (And, I imagine, at London Cheesemongers.)
Made by Billy Kevan at Colston Basset, Nottinghamshire. Pasteurized cow's milk, animal rennet.
This is a perfect stilton with a whole lot of blue veining.  If you like Stilton, like me, you will love this.
Pairing with the cheese were the following beverages:
Wines: White Champalou Vouvray – Val de Loire, France
Red: Boujoulais Villages 2017 Gamay Boujoulais, France
Kernel Brewery Import India Porter, Bermondsey, London
Everyone agreed that the white Vouvray was the best with all the cheeses.  All the booze was nice, but the white wine just paired better with everything. Get yourself some!  In fact, just go buy a bunch of wine from the Loire Valley.  Get the red from Chinon made from Cabernet Franc grapes and eat it with some steak, you'll thank me.  Have this nice white with fish or chicken, or more cheese.
One of the main things we learned was that Britain almost lost its artisan cheese making post-war when all the milk began to be sent to big processors for pasteurization.  It took them some time to get the rules changed back so that some of these artisan cheeses could be crafted on the farms where the animals are kept.  And it's a good thing they did because everything Ned selected for us was excellent.  You can taste the time and care that was put into every one of them by the artisans who craft them.
And that's exactly what this tour is all about. It is a celebration of artisans, an enjoyment of their handiwork, and an in-depth conversation with a true expert on the subject of cheese.  It is absolutely not to be missed on your next trip to London.
To purchase tickets contact Context Travel here.
Photography by Suzanne Magnuson and Kelly Chenault.