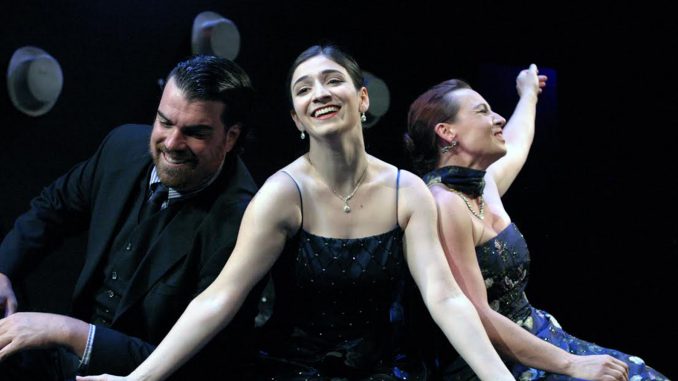 Composer and lyricist Stephen Sondheim raised the bar for musicians everywhere after more than 50 years in musical theater. Sondheim's career spanned the mid-twentieth century through today, with awards including eight Tonys (with a special Tony for Lifetime Achievement in Theater), eight Grammys, multiple Drama Desk awards, an Academy Award, a Laurence Olivier Award, the Pulitzer Prize, and the Presidential Medal of Freedom in 2015. Early on, his skills as a lyricist were employed by music notables like Leonard Bernstein, Mary Rodgers, Richard Rodgers, and Jule Styne; and Sondheim put words to hits like "West Side Story," "Gypsy,", and "Do I Hear a Waltz." Later, Sondheim put his talents as lyricist and composer together to create shows like "Sweeney Todd," Sunday in the Park with George," and "Into the Woods," to name a few of his stellar productions.
But it was not until 1976 that the idea for a musical revue of Sondheim's work was born. Initially, the amalgam was produced as a benefit – but soon was moved to the mainstream London theatrical world. Three years later, SIDE BY SIDE was still wowing audiences. The Broadway version received several Tony nominations and cemented Sondheim's fame as an innovative and influential artist in musical theater. Currently, the Odyssey Theatre presents a revival of SIDE BY SIDE BY SONDHEIM to Los Angeles audiences.
SIDE BY SIDE BY SONDHEIM selects many of Sondheim's best known melodies, including "Comedy Tonight" (A Funny Thing Happened on the Way to the Forum), "Broadway Baby" (Follies), "You Gotta Have a Gimmick" (Gypsy), and "Send in the Clowns" (A Little Night Music). The panoply of Sondheim favorites is artfully delivered by the talented cast of four (Sarah Busic, Rachel McLaughlan, Chris Kerrigan, and Mark D. Kaufmann) – a quartet of performers who bring the house down with their energy, booming voices, clever mugging, and excellent comic timing. Each tableau flows with ease in this tribute to Sondheim. Trivia Lovers Alert: The production even contains one song that was pared from the final production a few weeks after the show opened.
Director Dan Fishbach and musical director Richard Berent obviously have a keen appreciation of Sondheim's songs, sometimes guileless but compelling and sometimes shrewdly oblique. Alex Kolmanovsky's scenic design is simple yet effective – a set of boxes which can be built up, deconstructed, and simply moved as needed. William Adashek's lighting, Imani G. Alexander's choreography, and Kim DeShazo's costumes keep the action moving. And let's not forget the two keyboard virtuosi (Richard Berent and Cheryl Gaul) whose nimble fingers set the musical mood.
SPLASH SELECTION
SIDE BY SIDE BY SONDHEIM runs through September 16, 2018, with performances at 8 p.m. on Wednesdays (8/8 and 9/12 only), on Thursdays (8/23 and 9/6 only), and Fridays through Sundays. The Odyssey Theatre is located at 2055 S. Sepulveda Blvd., Los Angeles, CA 90025. Tickets range from $32 to $37 ($10 only on Wednesday 8/8 and Friday 9/6). For information and reservations, call 310-477-2055 X 2 or go online.