When you think of Shaolin Kung Fu, you think of the Shaolin Temple in China, the Shaolin Kung Fu Warrior Monks and "Kung Fu Panda"! Well, all of these images are now an integral part of Los Angeles with The Shaolin Temple Cultural Center's Kung Fu training school in the heart of China Town, just two blocks from the Statue of Bruce Lee.
The Shaolin Cultural Center USA (SCC), established in September 2007, is under the direction of Shi Yanxu, a Shaolin Monk since childhood. Shi Yanxu was appointed by Abbot Shi YongXin of China's Songshan Shaolin Temple to promote and provide a cultural exchange of 1500 years of Chan (meditation), Yi (herbal healing) and Wu (martial arts) offering classes and other Shaolin cultural activities to children and adults. The Shaolin Cultural Center is also located in Canada (SCCC).
The Shaolin Cultural Center in Los Angeles' China Town opened in 2016. Numerous classes are offered to adults and children. To understand the opportunity to get such elite and classical Shaolin Kung Fu training like this in Los Angeles' China Town is to understand the history, legacy and importance of the Shaolin Temple in China.
The Shaolin Temple or Monastery is a Chan (Zen) Buddhist temple in Denfeng County, Henan Province in China which I have had the privilege to visit and train inside the temple. The Shaolin Temple was founded in 5th century CE by the Buddhist monk, Bodhidharma and is located in the Song Mountains. The Shaolin Monastery was destroyed and rebuilt many times throughout centuries and dynasties by rebellions and rebel forces. The Shaolin Kung Fu Warrior Monks had to defend their monastery and territory throughout centuries but today they still continue this legacy of practicing the art and discipline of Shaolin Kung Fu and have also become more performance-oriented – showcasing their skills and talent on world stages (NBA half time show, Universal Studios "Kung Fu Panda" theme park opening) and also protecting, teaching and promoting the Shaolin Kung Fu heritage through the Shaolin Cultural Center Exchange Program.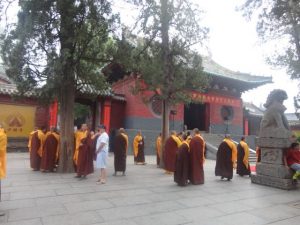 For students to gain Kung Fu skills and knowledge with the Shaolin Cultural Center under the directive of the Shaolin Temple with its long history and legacy of Shaolin Kung Fu is like training with the best in the world – the Shaolin Kung Fu Warrior Monks!
Students at the Shaolin Cultural Center in Los Angeles' China Town will learn focus, discipline, confidence, respect, humility, meditation and to improve their fighting skills or sparring, self-defense techniques, kicks, hand strikes, stances, flexibility, strength, power, speed, co-ordination, reflexes, stamina and chi energy. For me, I am interested in Shaolin Kung Fu because of the art of it (that is why "martial arts" is called an "art") so I am interested in the creativity and aesthetics of performing better fight scenes in my action films and it is also a very spiritual path for me!
Shaolin Cultural Center – photo by Star Sapphire Media
What is Kung Fu? It means something different to each person. Some people take Kung Fu to be the best stunt actors in film, others take it to improve their co-ordination and flexibility, while others want to increase their power and strength, etc. Kung Fu is a life path to opening and expanding your mental, emotional, physical and spiritual well being.
The movie "Kung Fu Panda" has many deep and spiritual messages about Shaolin Kung Fu. For example, it shows that RESPECT is important and without it you have nothing. The tiger had no respect for his Shifu. The Kung Fu Panda had zero Kung Fu experience but he loved Kung Fu and this was his dream! Follow your heart!
Students who train at the Shaolin Cultural Center will discover their inner path, find their inner dragon warrior and perform Shaolin Kung Fu with SPIRIT and FIRE!!! Like the message in "Kung Fu Panda" – BELIEVE!!!
SHAOLIN CULTURAL CENTER
LOS ANGELES – CHINA TOWN​
727 N Broadway #212,
Los Angeles CA 90012
Tel: 1-213-922-0989
CANADA
390 Progress Ave, Unit 8
Scarborough, ON  M1P 2Z6
647-889-8688 / 647-833-7385
TEMPLE CITY
9143 La Rosa Drive,
Temple City, CA 91780
​1-626-292-1355
WALNUT
​1-626-965-1020
​
CHINO HILLS
2553 Chino Hills Pkwy
Chino Hills, CA 91709
​1-909-757-3000
[contact-form][contact-field label="Name" type="name" required="true" /][contact-field label="Email" type="email" required="true" /][contact-field label="Website" type="url" /][contact-field label="Message" type="textarea" /][/contact-form]