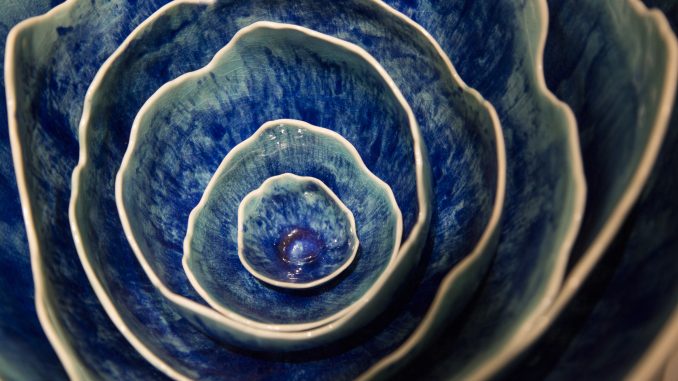 Craft lovers and enthusiasts have the opportunity to return to the Chicago Botanic Garden for the 34th annual American Craft Exposition (ACE). Presented by The Auxiliary of NorthShore University HealthSystem (NorthShore), this juried exposition and sale of fine craft features one-of-a-kind pieces and unique luxury collections from over 140 of the country's leading craftspeople, including an emerging artists category. This highly anticipated event gives guests the opportunity to appreciate and purchase stunning pieces, while supporting increased access to mental health services offered at NorthShore.
With the spectacular backdrop of the Chicago Botanic Garden's world-renowned grounds, ACE features distinctive pieces made in the United States by some of the nation's most celebrated artists. Showcasing new achievements in jewelry, ceramics, metal, handcrafted clothing and accessories, glass, furniture, fiber decorative, leather, wood, paper, mixed media, and basketry, the American Craft Exposition is a nationally recognized event. The show is presented by a volunteer committee that works year-round to bring patrons a truly memorable experience and is attended by thousands from Chicagoland and beyond.
ACE 2018 co-chairs, Leslie Sevcik (of Evanston) and Kathy Leighton (of Northbrook), are honored to have been chosen to lead this year's event. "We are especially excited to return to the Chicago Botanic Garden. The setting is absolutely breathtaking and it's the perfect canvas for our exhibitors' work," said Leslie Sevcik. "In 2017, we welcomed more than 8,000 visitors to this magnificent destination for ACE," she added. "Once again, attendees will see dozens of their favorite returning artists, as well as many newcomers, all showcasing one-of-a-kind museum-quality pieces."
"We are especially proud that ACE 2018 will be supporting NorthShore University HealthSystem's mental health initiatives," said co-chair Kathy Leighton. "The creation of a Psychiatric Urgent Care Program will allow patients to get the help they need, as soon as they need it," she continued. "This commitment to excellence is what has allowed NorthShore to become one of the nation's leading healthcare systems," she added. "Today, more than ever, expanded mental health programs, services and facilities are needed. Proceeds from ACE will help make these initiatives a reality."
ACE returns to the Chicago Botanic Garden on Thursday, September 20 with a Benefit Preview Party from 5:30 to 9:00 pm. Ticket price for the Preview Party is $200 in advance and $225 at the door and includes a three-day pass to the show.
ACE runs throughout the weekend: Friday, September 21 from 10 am to 6 pm; Saturday, September 22 from 10 am to 6 pm; and Sunday, September 23 from 10 am to 5 pm.
General admission tickets are $15 for a single three-day pass, and $13 for Chicago Botanic Garden members. Advance ticketing and parking packages can be purchased online: $30 for a single three-day pass and $45 for two three-day passes. Both options include one day of parking for one vehicle at the Garden. General admission tickets are available in advance or at the door. Standard parking rates apply. For more information, to purchase tickets, or to make a donation, please visit the americancraftexpo website or call (224) 364-7270.
About the ACE 2018 Beneficiary
Funding from ACE will support increased access to psychiatric services at NorthShore through the creation of a Psychiatric Urgent Care Program and the implementation of a Collaborative Care Model for providing mental health services to families. These programs aim to assist primary care physicians with the management of patients with low to medium risk factors, as well as to vastly reduce wait times for patients who are in need of urgent psychiatric care.
About NorthShore University HealthSystem
NorthShore University HealthSystem is an integrated healthcare delivery system consistently ranked as a Top 15 Teaching Hospital in the U.S. The NorthShore system, headquartered in Evanston, IL, includes four hospitals – Evanston, Glenbrook, Highland Park, and Skokie. NorthShore also includes a 900-physician multispecialty group practice, NorthShore Medical Group, located in over 100 locations in the Chicagoland area. NorthShore is a Magnet recognized organization, the first in Illinois to receive this prestigious honor as an entire system that demonstrates excellence in nursing and high standards in patient care. The system also supports the NorthShore Research Institute, the NorthShore Philanthropic Foundation, and the NorthShore Home & Hospice Services. In addition to launching Be Well Lake County, a community health initiative committed to providing greater access to comprehensive care, NorthShore contributes more than $210 million in charitable care and services to the communities it serves.
Photos: American Craft Exposition unless otherwise noted