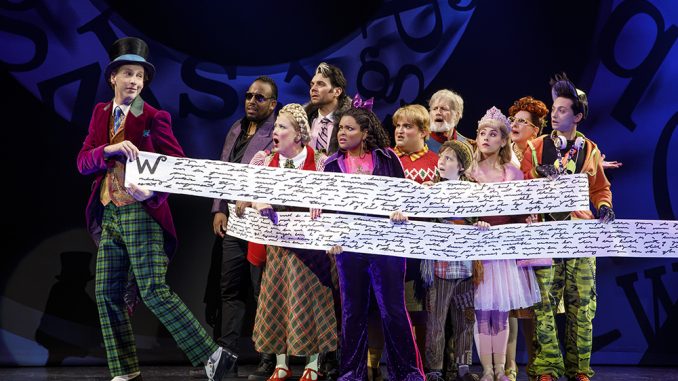 I'm at the point in my life where I very much prefer the original, classic version of many things, including movies.  I often ask myself "Why are they remaking that? The original is amazing already!"  Most young people I talk to will only know of the remake, often not knowing an original version already exists. My ten year old's first experience with Charlie and the Chocolate Factory was the 2005 film version directed by Tim Burton.  I prefer the 1971 movie starring Gene Wilder, of course.  Oh, the polyester and semi-cool special effects. It was with these past experiences that my daughter and I went to see the stage production of Charlie and the Chocolate Factory at the glorious Oriental Theatre.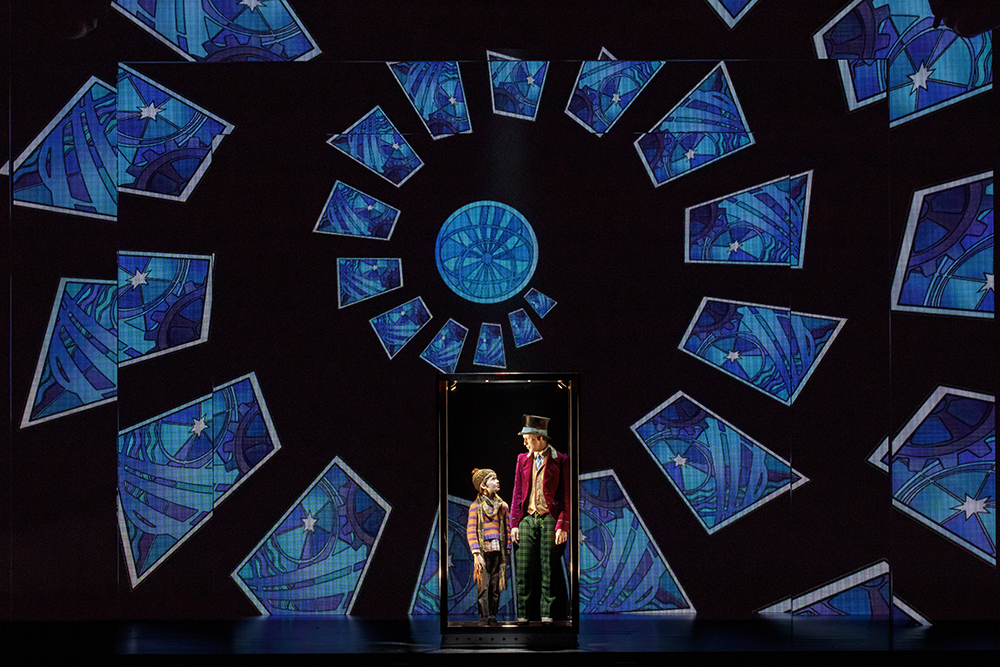 Roald Dahl's Charlie and the Chocolate Factory tells the story of Willy Wonka, world famous inventor and candy maker, who makes the astonishing announcement that his marvelous and mysterious factory is opening its gates to a lucky few. This includes young Charlie Bucket, a boy that makes up his lack of material wealth with imagination and curiosity. He and four other golden ticket winners embark on a mesmerizing, life-changing journey through Wonka's otherworldy factory of confectionary wonders.
Noah Weisberg does an admirable job of portraying the complicated character of Willy Wonka.  He has a great voice and sense of comedic timing, as well as the energy to carry the show from beginning to end.  Weisberg has already been seen on Broadway in several productions including Elf and Legally Blonde.
Henry Boshart is a constant ray of light in the show as Charlie Bucket. His voice isn't perfect but his facial expressions and rapport with his castmates are.  This isn't Boshart's first national tour with a Broadway show; he also appeared in the tour of Fun Home.
The four other children that win the tour along with Charlie are, mysteriously, played by adults:The constantly eating Augustus Gloop is played by Matt Wood, The extremely spoiled Veruca Salt is played by Jessica Cohen, Brynn Williams plays the gum chewing Violet Beauregarde and Daniel Quadrino is the video game obsessed Mike Teavee. All four actors do an excellent job of portraying their characters, I just don't understand the choice to use one young person and four adults for the group that tours the factory.  The parent/guardians of the group are played by: James Young as Charlie's elderly Grandpa Joe, Nate Hackmann as Mr. Salt, Kathy Fitzgerald as Mrs. Gloop, David Samuel as Mr. Beauregard and Madeleine Doherty as Mrs. Teavee.  Amanda Rose is Charlie's hard working and loving mother. Absent from the story is Charlie's father, who only makes an appearance in a lovely lyrical dream sequence with Ms. Rose; we never learn why he isn't around.
The first act of the show chronicles the events leading up to the tour of the factory .  Once inside, the highlight isn't the sets or video effects, but the geniously engineered Oompa Loompas, all played by the ever busy Ensemble.  They must be seen to be believed. Otherwise, I was a little disappointed in some of the aspects of the production; there was no audible gasp when the inside of the candy factory was revealed, nor were all of the projections successfully employed, but there were several wonderful effects, such as Violet Beauregarde becoming a blueberry and Mike TV becoming the inhabitant of a television set. The universal message of the show is clear, though; greed, bad behavior and lazy parenting will catch up to you in the end.
PRODUCTION TEAM
The production was directed by Jack O'Brien, three-time Tony Award®  winner. The music is by Grammy®, Emmy® and Tony Award® winner Marc Shaiman, lyrics by Grammy® and Tony Award® winners Scott Wittman and Marc Shaiman, a book by Artistic Director of Edinburgh's Royal Lyceum theatre David Greig, choreography by Tony Award® nominee and Emmy Award® winner Joshua Bergasse and includes additional songs by Leslie Bricusse and Anthony Newley from the aforementioned 1971 Warner Bros. motion picture.
Roald Dahl's CHARLIE AND THE CHOCOLATE FACTORY features scenic and costume design by five-time Tony Award® nominee Mark Thompson, lighting design by four-time Tony Award® nominee Japhy Weideman, sound design by Andrew Keister, projection design by Jeff Sugg, puppet and illusion design by Obie and Drama Desk Award winner Basil Twist, orchestrations by three-time Tony Award® winner Doug Besterman and music supervision by Nicholas Skilbeck.
For more information, visit  https://www.charlieonbroadway.com/
PERFORMANCE DATES Tuesdays at 7:30PM Wednesdays at 2:00PM and 7:30PM Thursdays at 7:30PM Fridays at 7:30PM Saturdays at 2:00PM and 8:00PM Sundays at 2:00PM and 7:30PM (no evening performances on Oct. 14 & Oct. 21) TICKET INFORMATION Individual tickets for Roald Dahl's CHARLIE AND THE CHOCOLATE FACTORY at Broadway In Chicago's Oriental Theatre start at $27 with a select number of premium tickets available. Tickets are available for groups of 10 or more by calling Broadway In Chicago Group Sales at (312) 977-1710 or emailing Gr********@Br***************.com. For more information, visit  http://www.broadwayinchicago.com/
ABOUT BROADWAY IN CHICAGO
Broadway In Chicago was created in July 2000 and over the past 18 years has grown to be one of the largest commercial touring homes in the country. A Nederlander Presentation, Broadway In Chicago lights up the Chicago Theater District entertaining more than 1.7 million people annually in five theatres. Broadway In Chicago presents a full range of entertainment, including musicals and plays, on the stages of five of the finest theatres in Chicago's Loop including the Cadillac Palace Theatre, CIBC Theatre, Oriental Theatre, and just off the Magnificent Mile, the Broadway Playhouse at Water Tower Place and presenting Broadway shows at The Auditorium Theatre of Roosevelt University. For more information, visit www.BroadwayInChicago.com