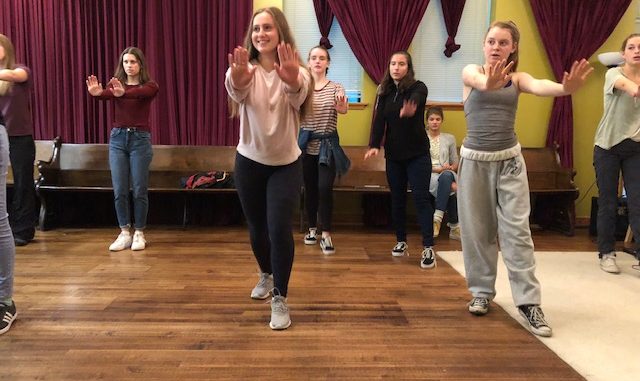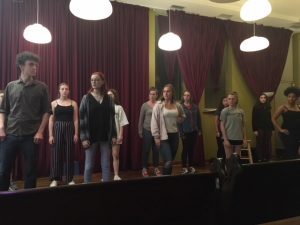 EVANSTON, IL – The Musical Offering, a community musical school that serves students of all ages in Evanston and the surrounding area, will present its eighth annual student-written and -produced production, titled Class Act. With book, music, and lyrics written by students Howard Godfrey and Jonathan Hauser, who penned last year's hit production Breadway Bound, Class Act features a record twenty-eight students in the cast and pit and represents the Musical Offering's most ambitious fall production to date. Class Act will be performed at the Musical Offering (743 Custer Ave. ,Evanston) from November 9-18, 2018. Tickets are $12 general admission, $10 for students and are available now at The Musical Offering website.
Set in a contemporary high school, Class Act explores the personal lives of a group of students who are enrolled in a theater class via a series of interviews with the school newspaper. As they strive to navigate the complexities of high school, they come to a deeper understanding of their individual identities while dealing with issues of race, sexuality, disability, and class. This marks the first year that the fall production has tackled relevant social issues in such a direct manner. "In previous years, we've had some fairly heady material that we've been working with," says Artistic Director Rick Ferguson. "But a lot of it has been sort of comic in nature…there are certainly comic elements to what's going on with Class Act, but [Godfrey and Hauser] are really choosing to dive into some rather important issues."
Initially conceived of as a way for students to explore composition, the fall production has grown into a thriving program, bringing together students from throughout the surrounding area and presenting them with a unique opportunity to participate in an entirely student-driven artistic endeavor. While Ferguson or another adult is always present at rehearsals to supervise, all the writing, direction, choreography, and music direction is done by students. "It's a really great feeling to see the show come together, especially when every single part of it is created by students," says participant Ally Hurd. "It's unlike any other activity I've done, where there is always an adult running things. Seeing my peers put an entire show together, and getting to present that work to the public is really incredible."
Previous student productions have performed very well; last year, all five performances of Breadway Bound sold out, and this year, an additional Sunday performance has been added to accommodate demand. In addition to family and friends, many members of the community attend the show to support the students and the school. The students were very proactive in fundraising for the production this year, preparing and presenting a pitch to the Evanston Arts Council and successfully receiving grant money from them. In addition, the students worked closely with Victoria Romano of Romano Wealth Management, another organization that has sponsored this year's production, on marketing strategy.
Class Act is entirely driven by student voices, student ideas, and student creativity, making it one of the only programs of its kind in the area.
Ticket Information
Location: The Musical Offering, 743 Cullom Ave., Evanston
Dates: November 9-17, 2018
Times: Performances Fridays and Saturdays at 7:00pm, Sundays at 3:00pm
Tickets: Tickets are $12 general admission, $10 for students. They're on sale now at The Musical Offering website under "upcoming events."
Photos courtesy of The Musical Offering.