Are we Master Greek Chefs? Hardly, but my husband Burt and I learned a little about Greek cooking and and had a unique experience capped with a delicious full course dinner in Athens.
Athens Walking Tours sponsors the evening class which was held at Diavlos Taverna in the Monastiraki section of Athens. Our instructor Anais guided us and three other couples through the preparation of seven traditional Greek dishes. Along the way, we became familiar with the ingredients and the techniques that are the foundation of Greek cooking.
We began with a traditional roast lamb with potatoes since that dish would require the most oven time.Everyone participated in peeling garlic cloves and carefully inserting them in pre-cut slits in the lamb which was then sent off to be baked in a 480 degree oven for 1 ¼ hours while we continued our hands-on experience.
Next, we prepared the traditional cheese spinach pie called Spanakotiropita. Anais told us that olive oil is one of its essential ingredients. In fact, Greeks consume approximately 17 liters of olive oil per year compared with Americans who consume only one liter per year. Admittedly, our abilities and success in rolling out the filo pastry dough varied. It looked like some of us had never handled a rolling pin until that moment. But that was part of the fun aspect of this class.
The spinach mixture included spinach, eggs, feta cheese, spices, and of course the essential olive oil. We learned that feta should be bought in block form and it is 70% sheep and 30% goat milk. We combined the ingredients, placed the mixture into the filo, wrapped it, and sprinkled it with whole milk. Then away it went to be put into the oven for 45 minutes at 350 F.
The traditional zucchini balls were made with guess what – the essential olive oil – and a secret ingredient—Uzo. It was a great opportunity for some cooking class students to quench their thirst with a few nips of the classic Greek beverage.
And then the salad. We learned that traditional Greek salads do not have lettuce, but most often include Greek feta cheese. Of course they have olive oil as well.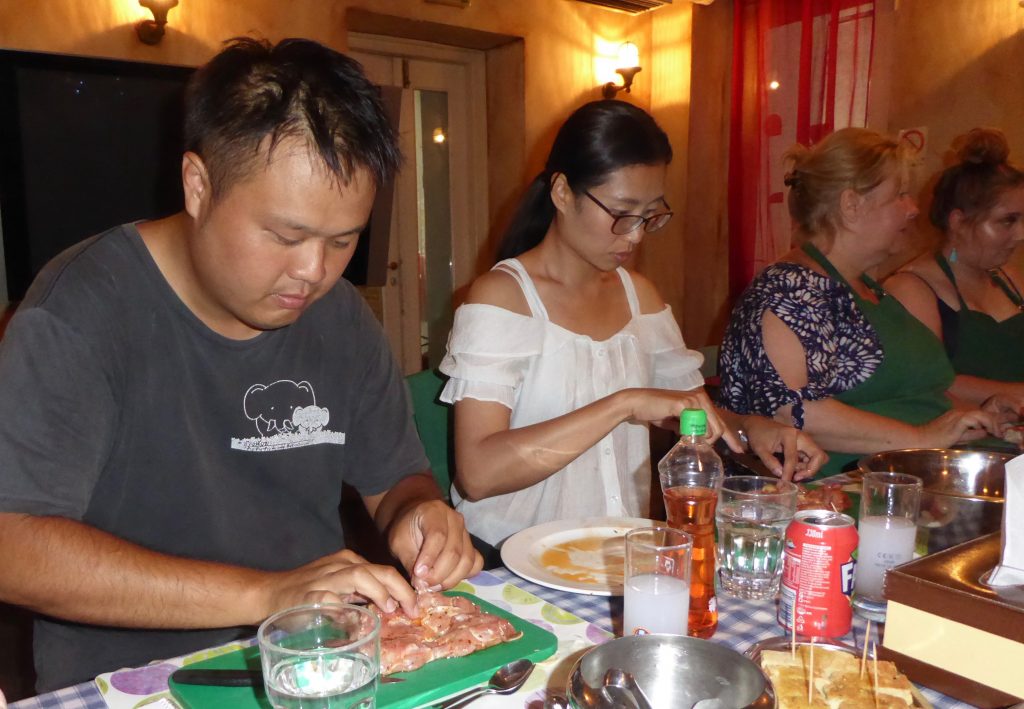 Our preparation was complete. It was an enjoyable experience, but needless to say even with much inevitable tasting during the process, we were ready for our reward. The fruits of our labor. Well, actually, the salads, the meats, the vegetables, the spices.
We were seated in the lovely front courtyard of Diavlos Taverna. We worked our way through the delicious seven courses of our meal. Our table was close to the path which led strollers to a variety of restaurants. Passers-by glanced in our direction and we are sure they wished they had this delicious dinner as we enjoyed it.
The meal typically includes the preparation of 3 to 4 starters, salad, a main dish and a dessert. Menus vary according to season as well as the fresh produce and meat available at the local market.
We ended the evening with a better understanding of Greek cooking. Now all I have to do is recreate the dishes contained in our souvenir cookbook. This was a delightful delicious evening. Athens Walking Tours runs a variety of other tours as well.