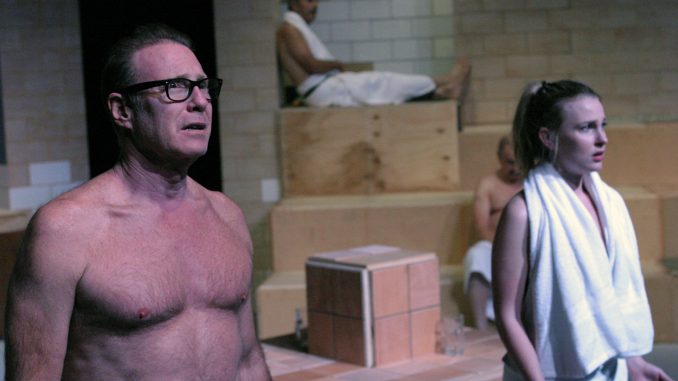 An off-Broadway hit in 1970, STEAMBATH again rears its comic head at the Odyssey in 2018. Starring well-known stand-up comedian and actor Paul Rodriguez, this hilarious comedy probes questions that have plagued mankind since the earliest days: What happens when we die? Is that the end, or is there something else out there waiting for us?
Let's suppose that the first stop in the afterlife is really a steambath managed by Morty (Paul Rodriguez), a Puerto Rican attendant and strangely omnipotent guy who seems able to run everything in the world and beyond with a mere word or gesture. Can this be God? When a motley group of characters find themselves in a steambath – and don't remember how they got there – lots of questions are sure to emerge. Especially from Tandy (Jeff LeBeau), who just isn't ready to call it a day – and isn't averse to arguing his case to anyone who will listen. Make that the gorgeous Meredith (Shelby Lauren Barry), even more glorious in her discretely placed towels, and a gaggle of steambath clients representing pretty much everybody's Everyman (Robert Lesser, Brian Graves, John Moskal, Anthony Rutowicz, DJ Kemp, Devan Shoelen, and Shay Denison).
Slipped discretely into the goings-on are uproarious updated jibes which will strike home in today's political climate as this merry crew gets to gossiping. At the same time, Director Ron Sossi decided to keep the essence of the play intact, including a few politically incorrect, racist, sexist, and sometimes insulting – but very funny – lines. As everyone's secrets begin to wiggle out, little bits of reality which the dearly departed hoped would never see the light of day, the fairly stereotyped characters gain a little depth. But doesn't each of us have a few indiscretions? And wouldn't a certain Puerto Rican bath attendant know them all?
As the audience enters the steam-filled theater, courtesy of Garry Guidiner's scenic design, the stage is set for this fantastical tale. Mylette Nora's costumes – a variety of towels tossed and wrapped in interesting ways – prove appropriate and probably saved everyone a few bucks. Chu-Hsuan Chang's lighting and Christopher Moscatiello's sound keep the audience on their toes. There are even a few show tunes and tap dances (Dagney Kerr choreographer) to lighten the mood.
In today's world, it's hard to believe that STEAMBATH was almost too controversial for the theater-goers of times past – but it was. Playwright Bruce Jay Friedman, a man of his times, dove into his story with an eye to the audiences he wanted to entertain – and then worked to annoy, perplex, and shock those same audiences. There is little that can shock today's audiences – but the essential story remains the same and offers everyone a peek at times past – and maybe times present too. For a hysterical, tongue-in-cheek evening at the theater, STEAMBATH fills the bill.
STEAMBOAT runs through December 16, 2018, with performances at 8 p.m. on Fridays and Saturdays and at 2 p.m. and 5 p.m. on Sundays. The Odyssey Theatre is located at 2055 S. Sepulveda Blvd., Los Angeles, CA 90025. Tickets range from $32 to $37. For information and reservations, call 310-477-2055 or go online.