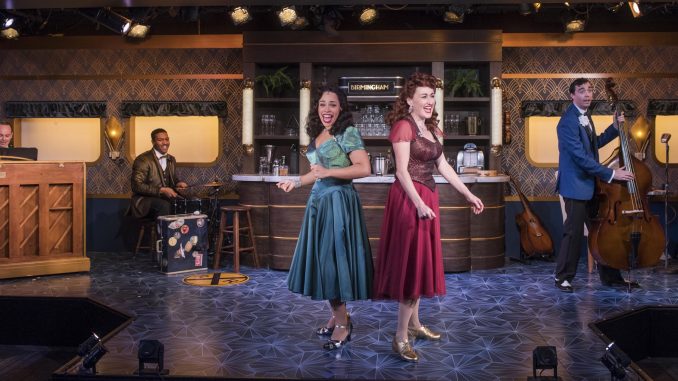 From the very first moments of JC Clementz's high-energy, higher-spirited revue The All Night Strut, the signal is given that the audience is in for a ride. Jonathan Spivey, dressed in a natty conductor uniform, spends the first minute briskly demanding tickets; by the time Katherine Thomas brightly proclaims, "Now we're cooking with gas," the show is a runaway train of energy.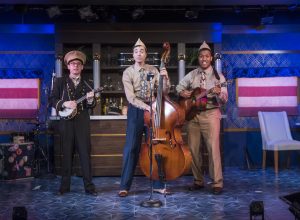 In short: this ain't your parents' sepia-toned tribute to the music of the Greatest Generation. Or perhaps it is, and instead of a dewy-eyed, sanitized version of that era, what has been missing is this loving but feisty vision of the time, originally directed and choreographed by Fran Charnas, with musical arrangements by Tom Fitt, Gil Lieb and Dick Schermesser. The results are still subject to nostalgic reverie–several in the audience made noises of warm approval when the first chords of "I'll Be Seeing You" and "As Time Goes By" were struck–but are also bursting at the seams with energy and an acknowledgment that in its time, it was music for young people… which means drinking, dancing, and all the ill-thought-out shenanigans that go along with those activities.
The ensemble of the aforementioned Spivey and Thomas, along with Brian Russell Carey, Kelley Faulkner (also billed as the movement director), and Nygel D. Robinson are dynamos. Not only do they harmonize, they each take turns playing instruments: a guitar, a bass, a violin, a banjo, a drum set, a piano, a trombone, a triangle… and I've likely forgotten one or two others. And if that isn't enough, they also dance. It's two hours of sparkling, fizzy, captivating entertainment, all thanks to a quintet who one could swear have been touring together for years. From the somber (Robinson's powerful and pensive "Brother, Can You Spare A Dime?") to the joyful (Thomas' roof-raising "Operator") to the, quite frankly, unbelievable (the entire quintet, with Carey leading the pack, during a feat of motion and music in "Beat Me Daddy, Eight to the Bar"), every song, bit of patter, and step is performed with incredible, almost inhuman élan.
Though the show's music is missing any overt Christmas flair, Jason Orlenko's costumes tip their hats to the time of year: the ladies spend Act I in dresses that evoke peppermint stick ice cream, pink and mint green, which give way to traditional Christmas jewel tones of red and emerald in Act II. Paired with the male ensemble's sharp suits and Arnel V. Sancianco's glistening wet bar/soda shoppe set, it feels enough like a nod to the train scene in White Christmas that you can almost hear the strains of "Snow-snow-snow!" But I'll be honest: who needs Bing and Rosemary Clooney when you can hear this cast sing "Gimme a Pig Foot and a Bottle of Beer?"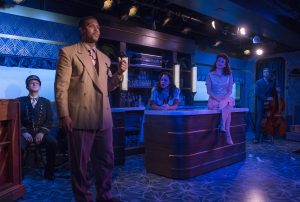 The Milwaukee Rep's 65th anniversary season continues to be a barn burner, and this holiday season counterprogramming is a treat, not only for the eyes and ears, but for the taste buds as well. If you are someone who enjoys a little pre-show (or during show, as I enjoyed mine) hooch, Stackner Caberet has themed drinks, which includes both an All Night (an amaretto-spiked hot chocolate) and a Strut (a fun twist on a holiday punch with white wine, ginger liqueur, plum bitters, and cranberry juice). Paired with some savory truffle popcorn, it was a shiny bow on the whole evening's experience, bright spirits to accompany the merry and bright jazz and razzmatazz on stage.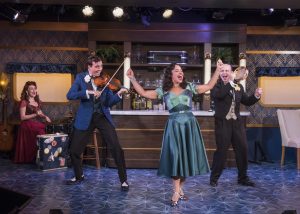 The All Night Strut! runs November 9, 2018 – January 13, 2019 in the newly renovated Stackner Cabaret. Purchase tickets at MilwaukeeRep or by calling the Ticket Office at 414-224-9490.