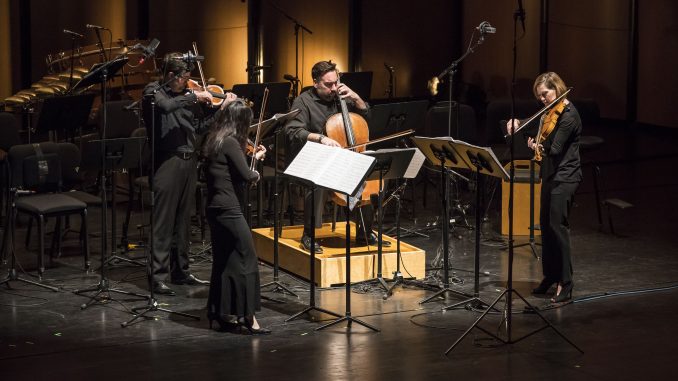 On November 19, 2018, the Chicago Symphony Orchestra's MusicNOW series continued at the Harris Theater for Music and Dance, 205 E. Randolph Drive, Chicago, with Chicago's Own,  a program comprised of the "sonic" music of four rising-star composers with roots in Chicago, as well as a conducted 3-movement piece by Icelandic composer Daniel Bjarnason.
The program was curated and hosted by Mead Composer-in-Residence Missy Mazzoli, and featured musicians from the Chicago Symphony Orchestra and musical guests, including Weijing Wang, viola and Katinka Kleijn, cello. The last selection was conducted by Alan Pierson, Co-Director, Northwestern Contemporary Music Ensemble. Also present were composers Suzanne Farrin, Morgan Krausse, Sky Macklay and Drew Baker who introduced their pieces in discussion with Mazzoli; a video of Daniel Bjarnason was shown discussing Bow to String.
THE PROGRAM:
– Suzanne Farrin  Uscirmi di braccia (Leave my Arms) for viola and bass drum, (2010), featuring Weijing Wang, viola, and Cynthia Yeh, bass drum
Farrin is a composer known for exploring "the interior worlds of instruments and the visceral potentialities of sound." With this piece, she said she wanted to bring together the 2 worlds of viola and German opera, to try to share something "more precise than even language".
The work, originally expressly written for close personal friends, coupled an agitated-sounding viola, stretched beyond its usual "language", with a bass drum roaring like thunder. Although the origin of the piece comes from an intimate knowing, the trajectory of the music sounded like a universal warning before fading into quiet.
– Morgan Krauss destroy the middle, for oboe, clarinet and piano, (2013)
Krauss described her explorations of "the space between the performer and the score". Further, she noted that the performer and the listeners each have their own experience with the music. In this piece, she said, the oboist is in charge of a "guided subjectivity". The piano portion contributed a highly unusual percussive "plucking" and "burbling" akin to undersea sounds. The overall sense here is of an  otherworldly presence, reaching beyond traditional forms, and imbued with a sense of humor.
– Drew Baker, Charon, for clarinet, violin and cello, (2010)
While the title, Charon, refers to the boatman in Greek mythology who ferries the souls of the deceased across the river Acheron to the land of the dead, Baker explained that the inspiration was to use simple and direct means to create intensity.
The intriguing musical pattern, initially fixed, "disintegrates" into seemingly chaotic form, which is dramatic- almost ferocious- and transporting.
– Sky Macklay Many Many Cadences for string quartet, (2014)
Macklay said this work is exemplary of what she "most tries to do"; it is process oriented, conceptual and unpredictable. Written for Spektral Quartet, it is, in part, an exercise in musical humor. The sounds of each instrument seem to have a life of their own, with a background of stability; the strings are impassioned with a more stable bass line. The music rapidly changes key and register, forming new phrases and "sound objects".
– Daniel Bjarnason Bow to string for cello and ensemble, (2009, 2012), conducted by Alan Pierson, featuring Katinka Kleijn, cello
Bjarnason is a well known and much appreciated Icelandic musical artist; he  conducted the choir in Sigur Rós' Ara Batur. This piece, from a 2010 release called Processions, began as a three movement suite for multi-tracked cello, since reimagined. Its opening movement has been described as "a fiery rage of uneven time signatures, rapid melodies, and driving percussion from the bow of the cello." Bjornason commented that his work tends to "have a dramatic thrust".
In this uncannily beautiful piece, each member of the ensemble projects a vitality of its own, as the melodic lines in the first movement weave a chaotic tapestry, mutating into dark minimalist passages in the second, and inverting into a calm solemnity in the third. Kleijn, a cellist of rare expressive gifts, raced skillfully through the atonal passages and disconcerting harmonics, pouring forth endless amounts of color, finally arriving at a lovely solo melody and repose.
In discussion with Conductor Alan Pierson after the concert, he described Bow to string as comprised of 3 very distinct movements.  From Sorrow Conquers Happiness, which is "buoyant" and filled with very rapid folk music figures, through Blood to Bones and into Air to Breath, the sense of lightness in this "atmospheric" piece, he observed, "ultimately dissipates into silence". Pierson, who has been called "gifted and electrifying", was thoroughly in control of the dynamics.
The next MusicNOW program, Dark With Excessive Bright, featuring a world premiere chamber arrangement of that name by Mead Composer-in Residence Missy Mazzoli will take place Monday, April 8, 2019. Led by Conductor Edwin Outwater, it will feature musicians from The Chicago Symphony Orchestra including Cynthia Yeh, marimba, and Alexander Hanna, bass.
For information and tickets to MusicNOW and all the great programming of The Chicago Symphony Orchestra, go to www.cso.org
All photos by Todd Rosenberg