The 500-year old capital of Ecuador, Quito is located in the western part of South America, surrounded by the majestic Andes Mountains and located some 9000 feet above sea level. Here, traditional Spanish colonial architecture, colorful markets and world-class gastronomy welcome visitors to this enchanting capital city. It's no wonder UNESCO named Quito as the first World Cultural Heritage City in 1978. More recently, Quito has earned the distinction as the "Favorite Destination in South America."
For countless visitors, Quito is considered the gateway to the Galapagos Islands and many stop before or after their excursion. Come along as I share my adventure in this award-winning "city of light."
Visit the Old Town Historic District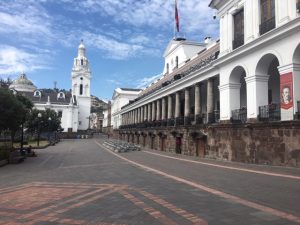 The best place to understand the history of Quito is at the Plaza Grande Complex. In this beautiful square stands the Presidential Palace, City Hall, Archiepiscopal Palace and La Compañía de Jesús, Quito's most beautiful church. See the ceremonial "Changing of the Guard" on Mondays with bands, horse-riding troops, flag raising, all creating great fanfare. Step inside the exquisite church with its gold leaf splendor, considered "the jewel of the Baroque period in America." Enjoy magnificent views of the plaza from the two golden domes rising from the church.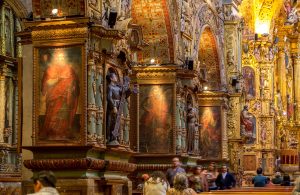 Experience an ancient ritual cleanse
My guide, Rocco and I walked through the Plaza la Independencia on our way to the San Francisco Market, the oldest open market in South America and were greeted by vendors selling fruits, vegetables and meats. Ecuador is known for its gorgeous roses and I suggest you buy a dozen to enjoy in your hotel. Head to the back of the market for natural herbs and oils. I was a little apprehensive at first, but Senora Rosa made me relax as she brushed me with 12 different herbs and flowers to force negative energy back into the ground. It smelled so good. She's been practicing ancestral medicine for 40 years, passed down from her mother. The cleanse, which takes about 12 minutes, felt like a one-hour massage, and any stress I felt had taken wings.
Be cool at the trendy La Mariscal neighborhood
The best place to relax, shop, eat, drink, and party is in the Mariscal area, filled with great restaurants, bars and stores. Visit Café Galeria, which combines artisan crafts from ceramics to fashion with a lovely restaurant. Check out their work and have one of the owner/chef Francisco's meticulously-crafted drinks. Since it was around the time of the "Day of the Dead" commemoration, I was able to sample his version of the hot "Colada Morada," served with guagua de pan (bread), finding it rich and flavorful.
Right across the street is Achiote with its authentic farm-to-table Ecuadorian cuisine. Their menu includes local favorites with a diversity of flavors. I recommend the succulent potato soup, assorted crisp empanadas and scrumptious coconut shrimp. The Pineapple Charm was the perfect ending for dessert.
Shop for exquisite alpaca scarves, jewelry, art, pillows and more at the nearby Mercado Artesanal and expect to bargain for the best prices.
Try a cooking class at Altamira
For an authentic culinary experience, dine at Altamira and enjoy their delicious French and Ecuadorian cuisine with a twist. Or try it yourself at a hands-on cooking class with Chef Edwin Yambay. Here, you'll don a chef's hat and create a traditional menu of Andean potato soup, encocado, a coconut stew with seafood and chocolate fondue with fruit.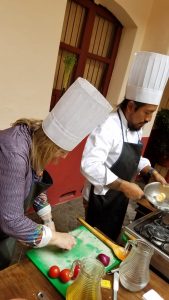 Stand between the Northern and Southern hemispheres
Quito is known as the "middle of the world" at 00 00 00 latitudes and there are several places to understand this phenomenon. At the Mitad del Mundo monument, ride to the top for views of both hemispheres. See the Ethnography Museum with its indigenous history, the Planetarium and an equatorial village. Visit the outdoor Intinan Museum and experience the "true" tests of hemispheric conditions. The most fun is observing the way water drains differently on the two hemispheres called the Coriolis Effect and watching people try to balance an egg on a nail. A popular Instagram-able moment captures people standing with one foot in each half of the world.
Ride and rise at the Quito Cable Car
Take a gondola ride at TeleforiQo up the side of the Pichincha volcano to the top of Cruz Loma, some 4,000 feet in elevation for exquisite views of Quito. Hike up to the volcano or just relax like I did, enjoying a cup of famous, steaming Ecuadorian coffee. Thrill seekers can bike downhill in less than seven minutes and experience the ride of their lives.
Best places to dine
One of the top restaurants in the city is award-winning Nuema in the Illa Experience Hotel. Chef Alejandro Chamorro blends local produce with Ecuadorian cuisine in a 5-7 or 10-course tasting menu that changes daily. Highlights include ceviche, beef with quail eggs, fish in risotto and lemon mousse which created an intimate, elegant culinary experience.
Quitu Restaurant offers a delightful menu of indigenous cuisine that reflects traditional Ecuadorian fare, influenced by historical traditions. Their tasting menu features artisan breads, llama (tastes like lamb) cuy (guinea pig, the national dish), corn soup and a chorus of delectable desserts.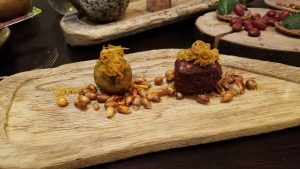 Wine Tasting
Before you head back home, plan an outing to the Chaupi Estancia Winery, about 15 minutes from the airport. The winery specializes in Palomino, Pinor Noir and other blends. They can arrange transportation to and from the airport, a tour of the winery, tastings and a bottle to take home for approximately $45 per person.
Get the App!
Go UIO is your new Quito Travel Pal for information about where to stay, where to eat and what to do. Download the app or go to quito.com.ec for more information. For a knowledgeable tour guide, email Rocco at cr******@ho*****.com.
I came home loaded down with coffee, chocolate and colorful scarves, reminding me of all that I had loved in Quito.
Worth noting: U.S. visitors will be happy to know that Ecuador uses the American dollar as currency and the 110 electrical voltage, eliminating the use of a converter.