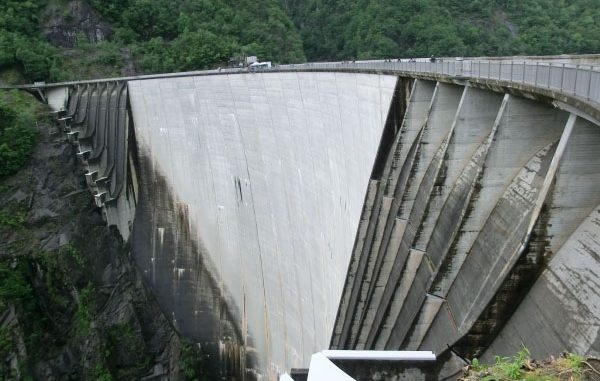 Abroad With…
Lady Beverly Cohn
Editor-at-Large Worldwide
DAY 3: Fortified with a most satisfying breakfast I was ready to greet this day with great enthusiasm for what lay ahead on my itinerary. Stefania Casellini, my guide for part of the day, picked me up at the Hotel Garni Du Lac at precisely 10:00 am. Anyone who knows me can vouch for the fact that I am extremely punctual, almost to a fault, sometimes arriving an hour before the appointed time. My theory is I'd rather be early than arrive late with adrenalin coursing through my veins. I know they secretly make fun of me behind my back but I've never missed a curtain, train, plain, bus, etc., so being early has quite a bit of merit. Ah. Now back to the subject at hand. The lovely Stefania whisked me away in her car and we were off to visit the quaint town of Ascona in the district of Locarno where we strolled along the promenade adjacent to beautiful Lake Maggiore. Along the way, we stopped at one of the charming cafes that dotted the path for a glass of wine. While enjoying our beverages, I admired the beauty of the surrounding buildings with their warm Mediterranean-style architecture. As we strolled along, we encountered a vendor from ARO Trend who was selling whimsical sculptures made out of stone and metal. I did restrain my instinct to buy a piece when I realized I couldn't even fit a paper napkin in my already jammed suitcase. Although we were not there at sunset, one could only imagine what a magnificent sight that would be.
Back in the car, we now headed to the hilltop iconic Monte Verità in the town of Ascona, which began as a colony for artists and intellectuals in the early 20th century. Today, it is a conference center and hotel. An easy uphill stroll, stops along the winding path included the Tea Garden, Tea Plantation, a Japanese Tea House, and a Zen Garden, a perfect setting for a quiet time to reflect. Still retaining a somewhat mystical or spiritual presence, the back lawn is the site of "Chiara's Rainbow," a path consisting of curving lines that were constructed on the basis of the relationship between people's physical and mental health. As I slowly walked the maze, I could feel energy emanating from the earth below, which culminated at the rather large Mandala, said to be the point with the highest electromagnetic radiation representing the dawn of consciousness and purification of the soul. Although I could not confirm this, I was told that the Locarno region is situated where the Teutonic plates of Europe and Africa meet and is one of the vortex centers in Europe.
Being the gracious hosts that Ascona-Locarno Tourism are, I was treated to a soothing "time-out," a wonderful break in the packed schedule to enjoy a luscious massage at the gorgeous Termali Salini & Spa. Upon entering the building, which overlooks Lake Maggiore, one is immediately struck with the relaxing aromas that please your senses. This unique modern, somewhat abstract structure incorporates the feel of the Ticino river valleys and features alcoves, caves and waterfalls that you can enjoy while feasting your eyes on the vistas that lie before you. What sets this center of relaxation apart from other spas is that the interior differs in that it is laid out not only horizontally, but also vertically so that you can bathe in cascading waters, which flow from one level to the next. If you want to get the feel of swimming in an ocean, saltwater pools are outside. During your stay in Locarno, you must put this oasis of tranquility on your list of places to enjoy. Like a finely tuned Swiss watch, Lorenza Scamara, the dedicated representative from Ascona-Locarno Tourism who looked after me during my stay, was at the site at the precise appointed hour to retrieve a most relaxed me and we were off for yet another delicious dinner where we enjoyed a lively conversation about the day's events and reviewed the itinerary for the next day.
DAY 4: Today I would say goodbye to the wonderful staff of Hotel Garni du Lac – a three-star hotel with five-star hospitality. Lorenza arrived shortly after breakfast and off we went to the 5-Star Hotel Belvedere, reachable by car or by funicular, a much more scenic form of transportation. We were greeted by Gloria Spagnoli, the hotel's sales and marketing manager, who gave us a brief tour of the rooms. I do have to admit that there is a marked difference in the number of stars awarded to a hotel and Hotel Belvedere deserves everyone of those coveted stars. Director, Michele Rinaldini, who took over hotel operations less than a year ago, joined us for lunch in the hotel's Restaurant La Fontana. I asked him what inspired him to take this challenging position and he said, "I've been in the hotel business for 30 years and was looking for a new challenge." He shared that he would be very measured in making changes before getting to know the staff, adding, 'With the enormous demands made on one's time, you have to be passionate and willing to give the long hours required of this work."
My next adventure was a visit to he Valley Verzasca, part of the Locarno region, which as a reminder is in the Italian-speaking region of Switzerland. The population of less than 4,200 covers eight municipalities – Mergoscia, Vogorno, Corippo, Lavertezzo, Brione, Gerra, Frasco, and Sonogno. It is framed by the Alps on one side, a lake on the other, with its radiant emerald green river adding to the valley's beauty. The region is home to the Verzasca Valley Dam, also known as the Contra Dam, one of Europe's tallest – an eye-popping 720-foot soaring structure where only the bravest of the brave bungee jump from the world's highest fixed bungee-jumping platform. Certainly add this to your Locarno itinerary as watching someone jump upside down is a heart-thumping visual experience.
Back at the hotel, I took a refreshing shower and dressed for a private VIP dinner at Ascona-Locarno Lounge where we had a welcome drink followed by a delicious three-course dinner. We then strolled over to the Piazza Grande, the awesome outdoor site of the Locarno Film Festival where I had the pleasure of walking the Red Carpet. The film that evening was the international premiere of Ethan Hawke's "Blaze," a film based on the life of country musician Blaze Foley, which Hawke co-wrote, starred in and directed. He was feted with the festival's 2018 Excellence Award for his film.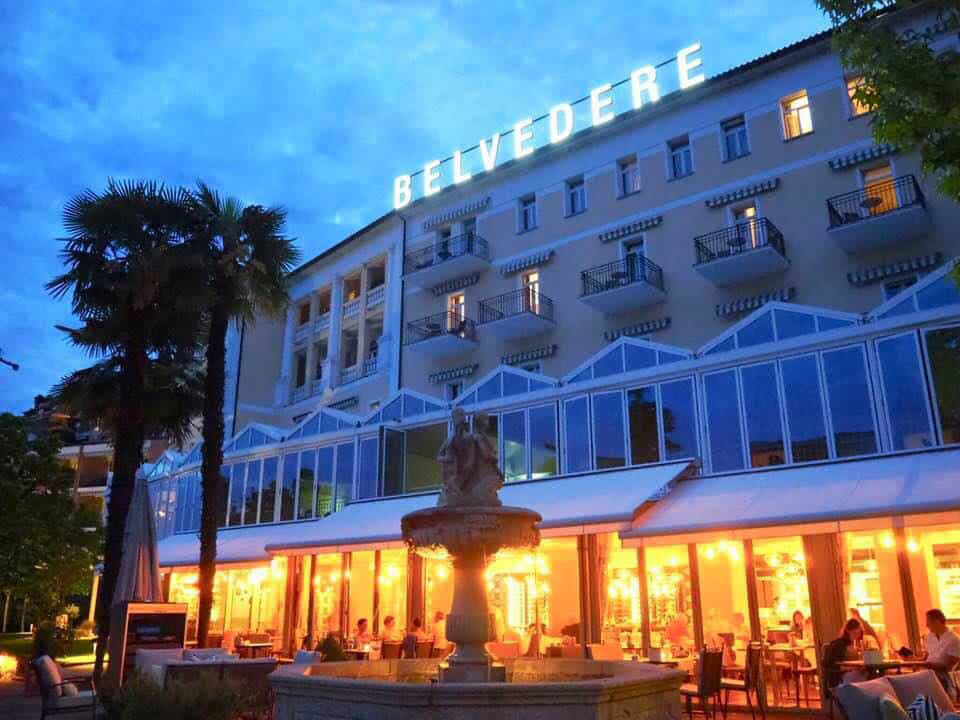 DAY 5: With my trip winding down tomorrow, today was a rather light day. Ethan Hawke gave a press conference which journalists from around the world attended. He was quite humble and very open about the personal psychological challenges he faced on his journey to success. He talked about his confidence as an actor and how it was somewhat tied to a director's view of him. If a director believes in him, "I become the best version of myself," and conversely if he doesn't get that from a director, "I become less than whom I can be."* The rest of the day was a relaxing stroll around town, shooting photos, and enjoying another delicious dinner and lively conversation with wonderful Lorenza. After dinner it was back to the Belvedere to pack for my departure 5:00 am the next morning. Although we didn't have time to explore the neighboring Lugano or Bellinzona, the capital of Ticino, I would definitely put that on your list when you book your trip.
DAY 6: As I mentioned in Part 1 of this feature on Locarno, I found taking three trains with my luggage, carry-on, and a purse just a bit too much to navigate. Also, anyone who knows me knows that I have a definite deficit when it comes to a sense of direction and indeed, usually go in the opposite direction of where I need to be. So, I didn't want to face the same challenge that I had on arrival in Zurich, which was taking an elevator and traversing flights of stairs to find the three different tracks. To alleviate my anticipated stress, I made arrangements with a lovely young woman to accompany me back to Zurich where she deposited me safely at the check-in counter of American Airlines. It was worth the extra expense to end my delightful Locarno adventures with a most pleasant, stress-free train ride.
Just a reminder, I strongly urge you to avoid the Philadelphia airport as your first port of entry. After I retrieved my luggage and went through customs, I found there was no conveyer belt to recheck the luggage to my connecting flight to LAX. I had to walk to three terminals away which was difficult. I will never forget the image of this Indian family – husband, wife and three children – all schlepping luggage – and searching for the connecting terminal. A nightmare, so avoid it at all costs. The unpleasant re-entry into the U.S. did not in any way alter my very special Ascona-Locarno experience and the gracious manner in which I was treated. The region is aptly referred to as "The Mediterranean Soul of Switzerland" and, indeed, it truly is.
Grotto della Fontana
Via Madonna della Fontana
Ascona, Switzerland 6612
Phone: +41 91 791 12 09
Termali Salini & Spa
Via G. Respini 7, L
Locarno 6600, Switzerland
Phone: +41 91 786 96 96
Hotel Belvedere
Via ai Monti 44,
6600 Locarno, Switzerland
Phone: +41 91 751 03 63
https://belvedere-locarno.com/en
‪Gordola | Diga Verzasca,
Locarno 6596, Switzerland
Phone: +41 91 780 78 00
Ascona-Locarno Tourism