With music and lyrics by Sherman Edwards and book by Peter Stone, 1776 THE MUSICAL makes history lively and fun. How can the founding of America, a potentially dry and antiquated topic, turn into an electrifying musical? To start with, it's about a deadlocked Congress that can't seem to find a happy median, a Congress that boils over with heated confrontations and underlying, unresolved anger about differing ways of life. Perhaps that sounds familiar? And it probably should, given a government made up of a hugely diverse group with very different ideas about life which could easily set rich against poor and landowners against urban dwellers.
1776 THE MUSICAL lets the audience share how the United States became united and how the Declaration of Independence limped into acceptance following contentious uproars by the Founding Fathers – who almost didn't get to found anything. While George Washington desperately tried to assemble an army with limited resources and no money, petty squabbles almost destroyed any hopes of an independent America. With melody, humor, and an appreciation for human foibles, 1776 THE MUSICAL keeps the audience on its toes with tuneful melodies, very human tales, a bit of romance, and lots of heated opinions.
Let's take a peek at just one of the multiple controversial moments depicted: The Declaration of Independence. We are at a moment in time when there was genuine opposition to creating a free country separate from England, a time when many had deep ties to their "motherland" and felt that they were Englishmen and not rebels. As the concept of independence reared its provocative head, everyone vaguely thought that it was an interesting idea – but no one wanted to set pen to paper to draft something so treasonous. Until an unwilling Thomas Jefferson (Caleb Shaw), newly married and dying to spend some intimate moments with his lovely bride Martha (Ellie Wyman), got saddled with the task.
Or let's consider John Adams (Andy Umberger), a passionate, prickly firebrand who is not the most popular man in the august assembly – but looks to his wife Abigail (Teri Bibb) for advice and comfort. 1776 THE MUSICAL is filled with the tiny stories which make up the mosaic of characters who must reach a goal which seems unattainable. After all, it's July 2; and the two sides are miles apart.
Overall, this is a colorful, uplifting musical which is entertaining, thought provoking, and just plain fun. Kudos to Stephen Gifford for his perfect scenic design, Shon Le Blanc for those spectacular costumes, Jared A. Sayeg for beautiful lighting, and Philip G. Allen and Leon Rothenberg for great sound. With superb musical direction by Jeff Rizzo and terrific direction and staging by Glenn Casale, 1776 THE MUSICAL takes off. By all means, bring the kids. Let them experience the birth of their nation.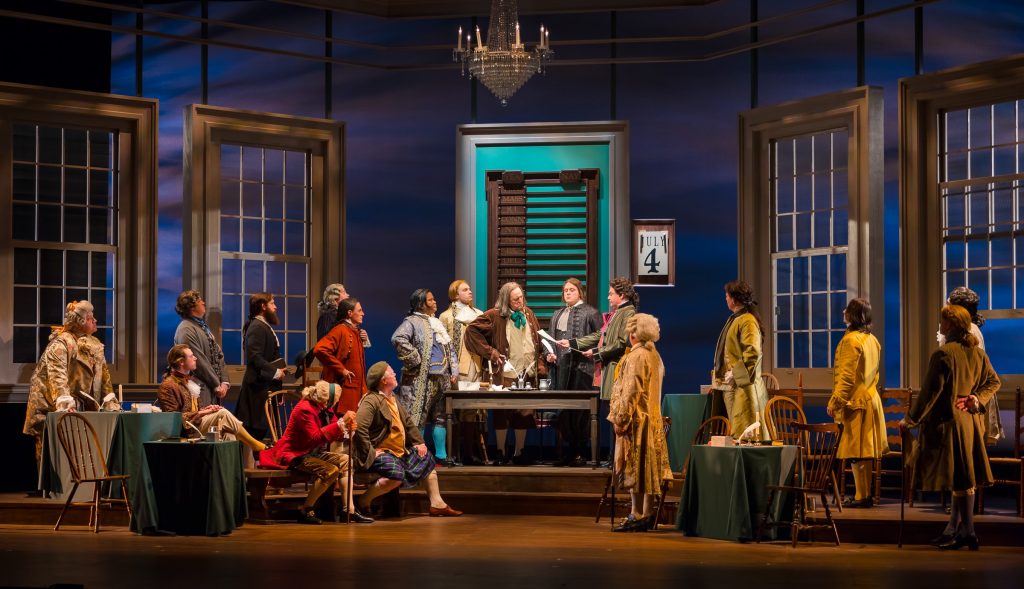 1776 THE MUSICAL runs through February 3, 2019, with performances at 7:30 p.m. on Wednesdays and Thursdays, at 8 p.m. on Fridays, at 2 p.m. and 8 p.m. on Saturdays, and at 2 p.m. on Sundays (no performance Saturday, January 12, at 2 p.m.). La Mirada Theatre for the Performing Arts is located at 14900 La Mirada Blvd, La Mirada, CA. Tickets range from $20 to $84 (student, senior, and group discounts are available). For information and reservations, call 562-944-9801 or 714-994-6310 or go online.
For those who hope to see the show but are out of the direct area, 1776 THE MUSICAL plays at the Younes and Soraya Nazarian Center for the Performing Arts, 18111 Nordhoff Street, Northridge, CA 91330, from Friday to Sunday (February 8 through 10). Tickets range from $44 to $86 and can be reserved at 818-677-3000 or online.