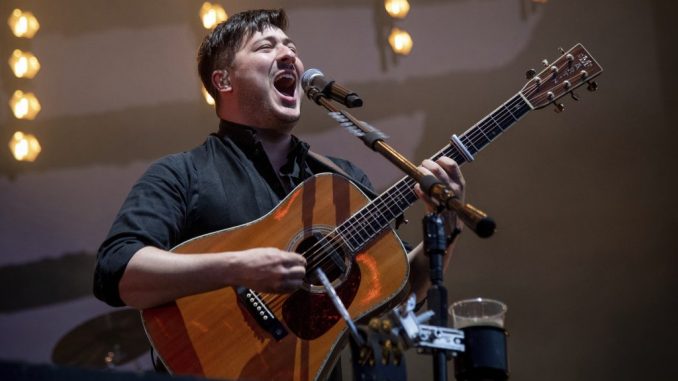 The sold out 2019 BottleRock Napa Valley, presented by JaM Cellars, has drawn to a close having entertained more than 120,000 attendees over the Memorial Day Weekend in historic downtown Napa.
In addition to headliners Imagine Dragons and Logic on Friday, Neil Young + Promise of the Real and Pharrell Williams on Saturday, and Mumford & Sons and Santana on Sunday, the festival featured over 75 additional musical acts on 6 stages over the weekend, plus star chefs paired with musicians and celebrities on the Williams Sonoma Culinary Stage. The weekend brought together hundreds of musicians, chefs, vintners, brewers and distillers for a three-day blend of music, wine, food, craft brews, spirits and hospitality that can only be experienced in the renowned Napa Valley.
Although day three brought significantly darker skies and rain, that didn't limit the number of attendees! As a new resident to Napa, it's only right that Skylar Gray performed during the famed music festival. Gray is a fairly new artist, some concert goers discussed their concern regarding her performance for "lack of material," however her set was well worth the visit. It was simply beautiful. Attendees were treated to stripped-down versions of P. Diddy's "Coming Home," Zedd's "Clarity," and a show-stopping rendition of Rihanna's "Love the Way You Lie," and more during her BottleRock performance. "Love brought me to Napa. I met my husband here at BottleRock back in 2016," Grey said, referencing her significant other a handful of times through her set.

Later in the day on the Firefox stage, Bishop Briggs delivered a high energy set packed with her big hits. The artist, who recently shaved her head in support of her friend Arax a beauty and makeup guru on Instagram who just started chemo, had a thrilling hourlong performance. The upbeat set consisted of her running back and forth on the stage, which got the crowd hyped. All of this, yet, there is still a bit of shyness that seeps out.

"Hello, I'm Bishop Briggs, and there's a lot of you out there," Briggs said after finishing the opening song of her set. Of course she performed her hits, "Baby," "River," "White Flag," "Hallowed Ground" and "Hi Lo (Hollow)," while also mixing in some new material.
Shaed has been in the music industry for about 3 years they reached major success with the release of their latest single, "Trampoline." The trio easily brought the biggest crowd to the BAI stage. "We are playing so many festivals right now," and working on an album from the Fall," vocalist Chelsea Lee stated in an interview with DK of Alt 105.3. Their set provided an earnest and emotional performance with bandmates (and brothers) Max and Spencer Earnest. If this is any inclination as to what they are capable of, we are all in for a ride!
Let's be honest, how could you not adore Jeff Goldblum! He's more than an actor, he is also a very talented musician (and semi-decent comedian!) He opened hit set early, only to tell silly jokes to get the crowd involved. Throughout the performance the Jeff Goldblum and the Mildred Snitzer Orchestra performed a mix of jazz standards from its recently released album, The Capital Studio Sessions, like Charles Mingus' "Nostalgia in Times Square" and Herbie Hancock's "Cantaloupe Island." Later in the performance he surprised attendees by bringing Haley Reinhart to the stage to perform several songs, including "My Baby Just Cares," "Can't Help Falling In Love" and Horace Silver's "Song For My Father." Seeing Goldblum was a surprise well accepted!
As the evening drew to a close, guests headed to The Jam Cellars stage to close the evening for Mumford & Sons! "We came to have a f—ing party with you," stated frontman Marcus Mumford at the top of the band's headlining set.
The British folk-rock quartet, on tour in support of its latest album, "Delta," had the sold-out crowd of 40,000 jumping and singing along en masse with its banjo-wielding hits "Little Lion Man," "Believe" and "I Will Wait." The intense energy as the end of the set grew near was undeniable. While it wasn't a high energy performance to like Bruno Mars, there is something to say about Mumford & Sons – pure FEELS.
"We couldn't be happier with this year's festival, all three days proved to be amazing," said Dave Graham, of BottleRock Presents. "We were keeping our fingers crossed for Sunday's weather, the cool and drizzly start to Sunday didn't dampen any spirits and the afternoon and evening was pure magic. We are lucky to have the best audiences in the business!"
At the end of the final performance on Sunday evening, festival organizers announced that BottleRock Napa Valley will return May 22 – 24, 2020. If you missed our recap of day one, click HERE or our top bites from the fest, click HERE.