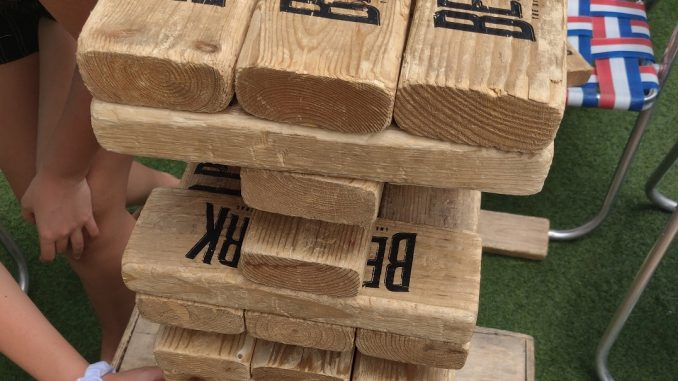 Beer and one of the best views in all of Las Vegas might be enough to lure someone off the Las Vegas strip and up a level to Beer Park by Budweiser at Paris Hotel & Casino, but there are so many reasons to make them stay. Three years into their existence and the Beer Park just keeps adding to what has become one of the best experiences in all of Las Vegas.
When the rooftop Beer Park opened in 2016 it looked like a fun spot to enjoy some sun while grabbing a beer and watching a game. That was simply the beginning as Beer Park continually elevated their menu and started staying open for some late night fun with DJ's spinning on the weekends. They recently added Funk & Electric Brunch on the weekends and expanded to add an interior space with an additional bar and plenty of room for more fun and private parties.
The weekend brunch goes from 9 a.m. to 4 p.m. and you are likely to be having so much fun that you will stay for the duration. The Funk & Electric lives up to its name as guests are treated to live music throughout the day. Beer Park added some different items to the menu for brunch such as the PB & J sandwich and the Beer Park hangover breakfast. Don't ignore the PB & J sandwich as this is unlike anything mom used to make. You have to start with the incredibly flavorful blueberry bacon jam that is the focal point of the sandwich and then it has banana in between some thick peanut butter all on brioche bread that holds it all together with ease. The Beer Park hangover breakfast is good enough to be on the menu all week as it brings together fried chicken, an over easy egg, bacon and provolone cheese.
For brunch or any other time, Beer Park has some seriously elevated appetizers with the soft twist pretzel leading the way. Beer Park really improved on this pretzel as it now has a slightly toasty and crunchy exterior, but the inside is soft and airy, like it is right out of a bakers oven. Pair it with an amazing beer cheese fondue and house-made Goose Island mustard and you will be fighting over this one with friends. A lot of places have tried a version of breading and deep frying mac & cheese and most have failed. Beer Park created the mac & cheese egg rolls and this has the best of all worlds. They kept the cheesy goodness with a three cheese blend, while not allowing it to dry out and at the same time giving you a great crunch with the egg roll exterior.
Beer Park offers all the classic Budweiser beers but they also have a lineup of beers that features 36 beers on tap and over 100 different beers in total. You will be able to find beers from Golden Road, Four Peaks, Breckenridge, Kona Brewing and some hard to find large bottles from Founders and Goose Island. In addition they have some great cocktails and some very beer centric cocktails. You will be hard pressed to find a more soothing cocktail than the "Love of the Game." A combination of Bulldog Gin, St. Germain, elderflower, cucumber and lemon come together to create a subtle and refreshing cocktail.
The food, drink, view and service are all reason enough to visit Beer Park, but the fact that they have made a setting for everyone makes it special. While nightclubs have seem to become the place to celebrate in Las Vegas for those looking for a different experience, this is it. From a simple birthday celebration to a bachelor or batchelorette party or watching a fight or a big game, you will always have a great time. Yes Beer Park is not just a guy oriented venue. Enjoying the sun with a few cocktails or beers while playing some games and also not knowing what celebrity might pop up will make any group of girls have a fun time.
There are many wonderfully memorable spots in Las Vegas, but if you are a sports fan who loves beer, you aren't going to find anything more unforgettable than the Beer Park by Budweiser. It doesn't matter if you are looking at early tipoff, a party with friends, dinner or a way to spend your evening, the Beer Park is the must stop on your next trip to Las Vegas.
For more information visit: Beer Park