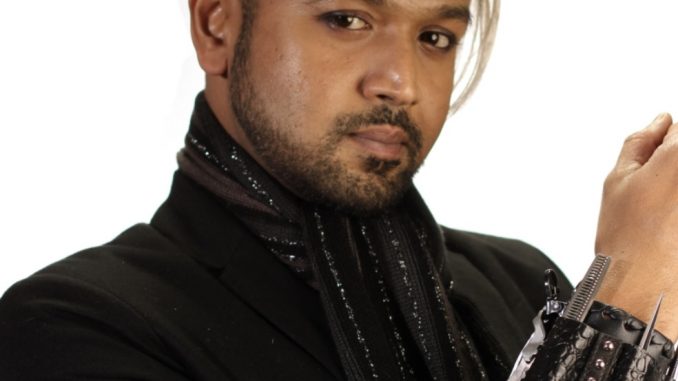 Celebrity hair designer Mark De Alwis possesses countless Hollywood secrets and esoteric techniques regarding hair and make-up never unveiled to the general public. Each of his styles and designs are a one of a kind unique triumph. Located in the heart of Manhattan at 228 East 51st between 2nd and 3rd Ave, the "Mark De Alwis Salon" is a full service establishment offering the best in extensions, color, cuts, blow-outs, fantasy designs, and ethnic styles.
As a celebrity hair designer, Mark has created styles for some of the most illuminating stars including the iconic Connie Stevens, comedian Sandra Bernhard, Queen of House Music Screamin' Rachael, actress Joely Fisher, and half of Broadway, just to name a few. Mark is also a superb make-up artist known for his signature "smokey eyes."
Hailing from Sri Lanka, Mark has won international awards for his fantasy designs and has studied with members of the Vidal Sassoon conglomerate. I spoke to Mark regarding some of his mysterious secrets which he agreed to divulge to the public….
What makes your salon different from any other shop?
We make it personal and our clients are a priority. Then we customize their hair styles, their needs regarding their professions and personal situations. Every client is unique. Every client deserves a style special to them. I customize their hairstyles, so no two hairstyles are ever the same.
So it's summertime, it's humid and everyone's hair becomes limp and lifeless in the heat, how can that be avoided?
At my shop I strive to make the client's life easy. For example,if their hair is curly I suggest that they stay away from blow drying. Instead I give them product and styles that are easily manageable. I have them wash it, apply product, go natural and they still look good. When you cut someone's hair, it's not supposed to match. You are supposed to cut the hair the way it grows. You don't force the hair. So hair is not supposed to blend or match. The length is not supposed to be even, however when it dries by itself it looks even. That's the whole secret of easy wash and go hair.
How hard is it to get an appointment at your shop?
Actually, my clients book their appointments for the whole year. It's kind of annoying for the receptionist because they have to go through the whole year accordingly, so the customer comes at their desired convenience. So usually we suggest you make your appointment a month in advance if you aren't a long-time regular client.
How long does one have to plan to stay at the salon from time of arrival?
I'm very quick. A color and cut is about two hours. A haircut is about half an hour, you're in and out.
How long have you been a hair dresser?
I've been a hair designer here in the US for 20 years, but I've been doing hair since I was 16. I started as an assistant 20 years ago. After 2 years I became a stylist, and now I have my own shop. I was trained on the Vidal Sassoon cuts in Sri Lanka. It was Vidal Sassoon, England. When I came here the person I worked with was Monique Vontovel, Sassoon's last assistant. We clicked right away while she was training me. We both had the same style, the same eye and the same fashion. When Sassoon started doing hair and fashion his whole premise was to let the blow dryers go, let the rollers go, and the hood dryers. Let everything go. Let women go natural, the working woman. That was his trademark. He actually introduced what everybody now is trying to do for the everyday woman. That's what I learned and was trained for. She was my first boss. I was very humble and I just wanted to learn so I was very glad to get a job there. Usually an assistant lasts for four years, I was only there for a year and a half. I would improvise in whatever I learned and she would accuse me of cheating, in a funny way. She actually wound up learning my techniques. So we actually traded techniques. What I am known for is under cutting. Eventually I wound up being the only one allowed to cut her hair. She once asked another hair dresser, Vladimir to blow dry her hair. He was also from Vidal Sassoon. He told her that he thought I made a mistake because the haircut didn't match. She explained to him that that's the way it was supposed to be. By the time he finished blow drying her hair he was very impressed. 
Was it true that Monique did a lot of Sassoon's hair cuts and he took the credit?
Yes, that was in the 70s and women had no power. He got the credit. She was the first woman manager at Vidal Sassoon.
Did you ever manage a salon?
That was in Sri Lanka. I was a stylist there, but I have no egos or attitudes, I like to let go and learn everyday. When I got to New York I wanted to learn what they did as far as styles. So I took a step back and became an apprentice. I wanted to become comfortable.
But you are an award winning hair designer?
I love doing fantasy hair, bridal parties, and very creative cuts and colors. I won Hair Asia for Fantasy Hair and Nail Art.
You're also a makeup artist?
I love make-up. I love doing fashion shows, fashion make-up. I do make-up to make the client look natural so no one looks like they are wearing make-up. I like to bring the natural beauty out.
Tell me a make-up secret please.
Less is more.
Everyone talks about your signature "smokey eye" that you do, what is your secret that makes your "smokey eye different from anyone else's?
I don't do the same thing for everybody. I make it look smokey but everyone has a different shape to their eye. I look at the eyes, the features, the skin color, and their personalities. It's still a smokey eye when it's finished.
What kind of product do you recommend for people to use, and I'm not necessarily talking brand?
That's a tricky question. Sometimes I recommend products for my client's that I don't even sell in the salon, but I know it will work for them. It goes according to your skin and your hair.
Is there a particular hair that you enjoy doing most?
Not necessarily. I get bored very fast so I like all different kinds of hair. I like the challenge. I love clients that come bitching to me all the time telling me that something doesn't work without realizing it's the weather or the humidity, and that it's just a texture and how their hair falls. I always tell that to my clients, and they laugh because after 20 years they get me. I have to explain that at different times of the year hair changes. As we get older and get more gray hair the texture of the hair changes. You have to accept it.
Are you telling me that you have the same clients for 20 years?
Hell yeah. My clients come from Europe, out of state, and far away.
Why is that do you think?
Their hair is custom. Whenever they are in New York they will come see me and get their hair done. They try to tell their hair person wherever they live to try to copy. The first two haircuts they might be able to copy but after that they lose the style. They are all customized which is why no one can do it. Everyone thinks that things have to balance and look the same. After the hair is blow dried it looks perfect however when you're at home you don't do it. You are working and are rushed and not trained as a stylist. So I just do cuts that will work for you at home.
How about high-lites, I understand your famous for that as well?
When I do high-lites I place them in a way that is very natural. I hate chunky stripped zebra looking high-lites. Where I place them also depends on the hair and the client's lifestyle. I do it natural so when it grows out they don't have a line of roots. So after 3 moths it still looks like your hair is sun-kissed. Again, I listen to them. But I know what they are like and I call it re-rooting it. I do the high-lites, I darken the routes and I pull it through. Within a week it fades and looks sun-kissed. Within a month you get those blonde high-lites and it still looks "Sun-kissed.". They can go for months without doing it again.
Why do celebrities demand your talent?
Because I listen to them. I am very intuitive as to what they need and want. I pay attention to what they want.
Which celebrity was most fun to do?
The one I love was Connie Stevens. She was the most fun. I loved her. I also love the Broadway girls.
228 E 51st St
New York, NY 10022
Photos Courtesy of Billy Hess