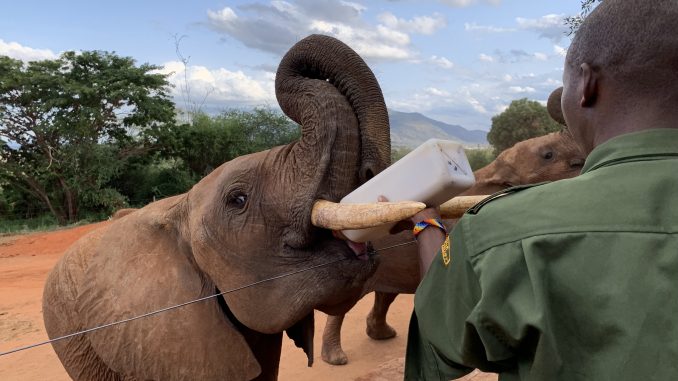 Like many animal advocates I know, I am in awe of elephants. When I am around them, it always feels magical. I have spent countless hours observing them on safari and at Sheldrick Wildlife Trust's orphanages when on vacation in Kenya, as well as writing, talking, organizing and petitioning for them wherever I am.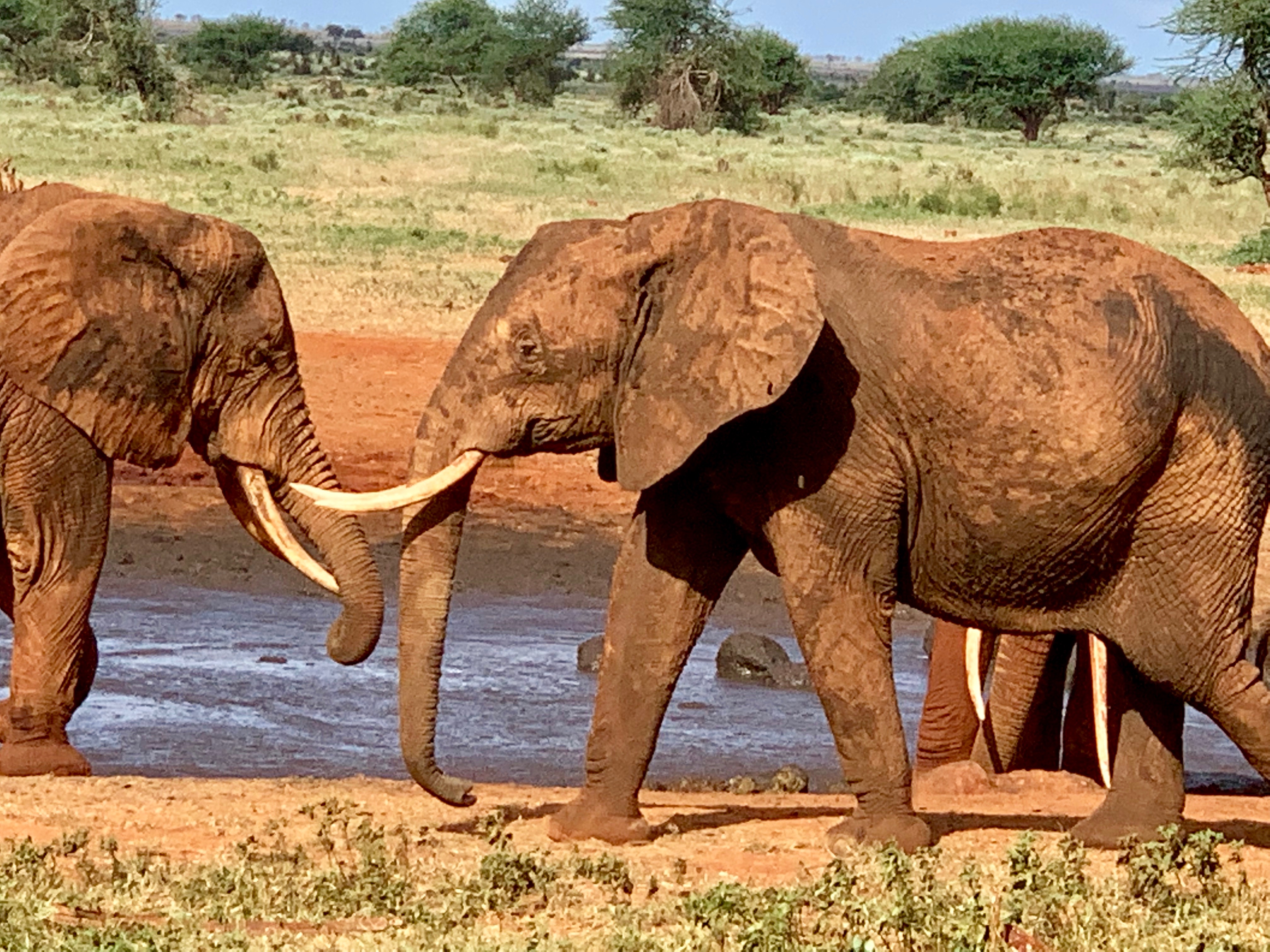 When I moved to Kenya more than a year ago with husband and two terriers in tow, I was on a mission to help elephants. I imagined myself close to the adorable elephant babies at an orphanage, being able to play with them and give them lots of affection. Or maybe studying elephants in the field – or working with a group that did – and I would ever be close.
Or maybe I'd be working in other ways with one of the many established groups and having a specific job – as long as the elephants were near. I felt fairly confident I would find a position, as I have been supporting and writing about conservation groups in Kenya and leading animal activist activities in Los Angeles for nearly a decade.
I would have loved to work for one of the many great conservation organizations I admire, like Sheldrick Wildlife Trust or Big Life Foundation. But if not possible, I could settle for a smaller well-run group. Such was my thinking.
Many realities struck upon our taking residence. There is much paperwork required to do anything – especially any work that a Kenyan may be qualified to do. There is red tape a mile long and with extra monies involved to see things through. At the exact time I was searching last summer, the Kenya immigration department was tightening rules on noncitizens even further. There was a big effort to purge those visitors in the country who lacked legal permits. Getting a permit became almost impossible, I was told.
I brainstormed with all the different conservationists I knew. Conservatiion is a hot topic today. Positions with known organizations are coveted by many. And yet starting a new organization is evidently another legal nightmare.
I visited a friend, Amos Kipeen, who has a project in the Masai Mara, and I was duly impressed when he arranged a tour of the Mara Girls Leadership School. I toured the school and I heard great stories of how their young girls were learning to be leaders.  Some were even going to civic meetings and standing up for their rights.
Tourists bring money to the economy and some people are making a lot. People travel from all over the world to see the magnificent wildlife in Kenya. But often the locals suffer the consequences of living near wildlife, having to deal with the occasional predatory actions of elephants against their crops or lions against their livestock. Sometimes human lives are lost. Locals may have had a bad experience with wildlife, or, like most rural Kenyans, may have never been in a national park or conservancy – and never seen a large wild animal!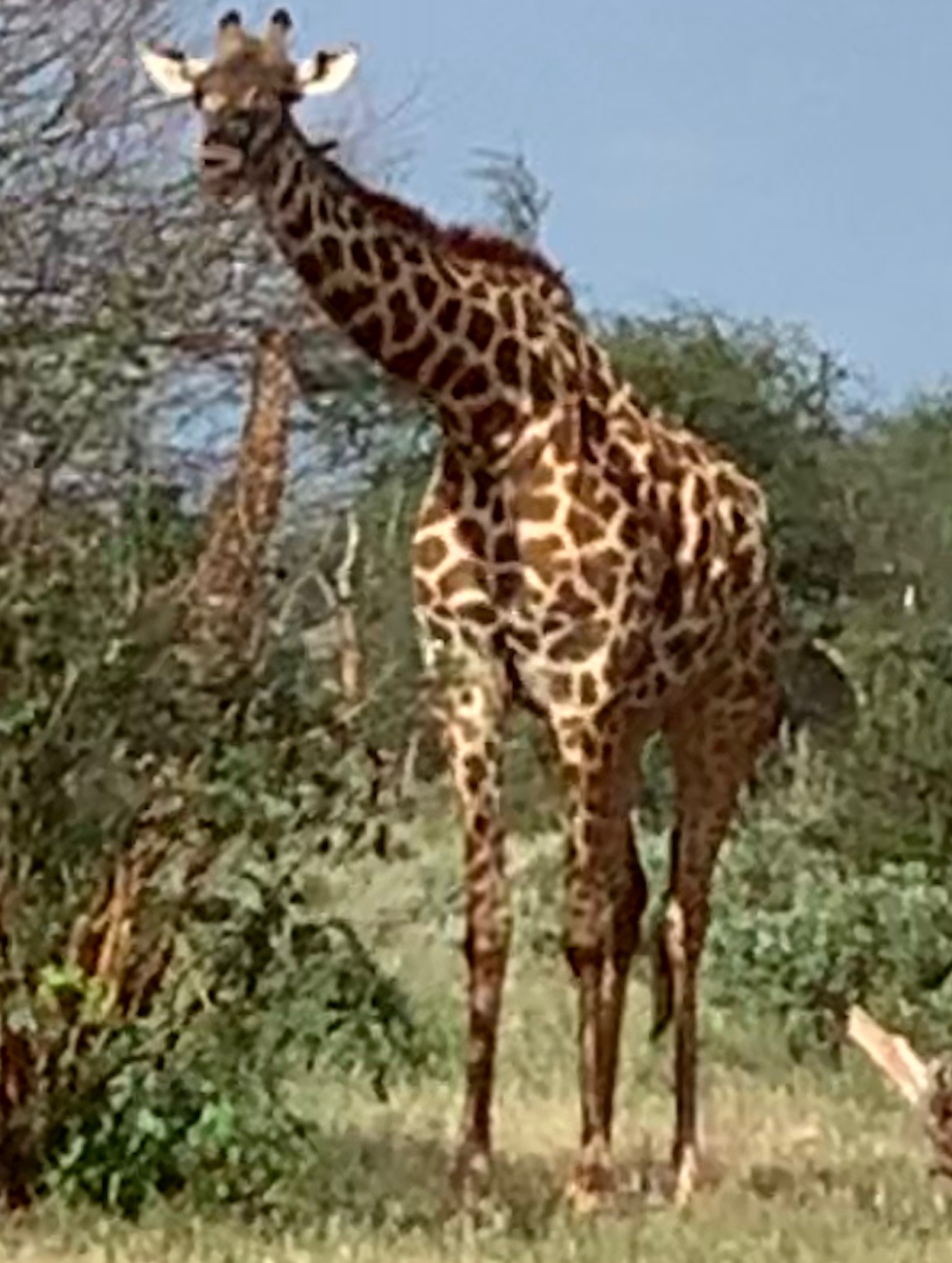 This all has to fit into the big picture so Kenya can have a successful workable environment that's good for people and animals. The local communities must be educated, engaged and on board in our fight to preserve the precious wildlife. These were principles I had learned when I wrote about Big Life Foundation, an organization which should be a role model to all these efforts.  Now as I revisited Kenya with my desire to help, those lessons started to really hit home.
After meeting and explaining myself to Hari Rama, director of AfrcaChild Kenya, he offered me a position as Environmental Director of AfricaChild In Diani Beach. I hesitated because there are no elephants close by.
I'd be working with young, impoverished mothers, mostly from rural areas, who are victims of rape, incest, HIV or other abuse, usually with nowhere to go. Most of the girls are in their late teens, and many have had to drop out of school at different grades, so their English is often poor.
As time went by, I realized, these are just the people who need to be reached to help elephants and other wildlife. After their rescue, counseling, and childcare for their babies at AfricaChild Center, the young mothers are trained in a survival skill such as hairdressing and tailoring. Then most of them return to their communities with their babies. So, any environmental education would have to be initiated and introduced by me. I began to think of it as my own personal conservation effort.
The communities the mothers come from are poor rural societies where there is often trouble with wildlife. One reason many of them are undereducated is because in Kenya, a family must pay for each child to go to school, even in primary grades. The very poor can barely afford it.  Kwale County, where the Center is located, is the third-poorest county in Kenya. Many people see the animals as pests and don't understand their intrinsic value. For the most part, they have never been to a national park and never seen large animals up close – unless they are unfortunately near a dangerous situation of human-animal conflict.
The job sounded challenging. But I have a soft spot for empowering women. I decided to give it a try – and then started a lengthy process of becoming legal, which thankfully now is completed.
So, this season the young mothers of AfricaChild are learning about wildlife, ocean life, climate change, plastic problems, and other pollutants. We have also spent much time discussing elephant matriarchs as a role model. Because their English is minimal and my Swahili is even more minimal, I bring a projector and show them documentary films. We go over the words and concepts together. We also play theater games to loosen up and develop self-confidence.
The program also includes visits to local environmental groups. We have partnered with Colobus Conservation where the young women have learned about the three major types of monkeys in our environment here in Diani Beach, along with their habitats and problems.
We also have visited the Diani Marine Center. There is a terrific educational program there which highlights local sea animals and pollution problems.
Coordinating schedules with AfricaChild center manager, Salama Odicho, we are able to have guest speakers such as local vet, Dr. Oscar. He has come to talk to the young women about how to treat animals. Most of them had no idea there was such a thing as an animal doctor.
Recently I was able create an opportunity for ten young women, whose babies were no longer nursing, to enjoy a long day trip to a sanctuary on the edge of Tsavo East Park. Our trip included a safari drive, lunch at a resort, and an educational and exciting and hands-on visit to one of the Sheldrick Wildlife Trust's elephant orphan programs in the park.
I called a few resorts in the area and luckily was able to arrange for an elegant four-course meal for us all at a big discount. It was my gift to them. This was the first time they had experienced the food and service of a five-star restaurant. We were also able to do a safari ride in the conservancy affiliated with the resort. I highly recommend the Ngutuni Lodge.
Luckily, I had become friendly with a few of the local expat women from a charitable organization, East Africa Womens League (EAWL) – Coastal branch. At one of their meetings I described my plan to take AfricaChild mothers to see elephants. The members voted to have EAWL pay for a professional driver and van for a day from their charity giving. (The AfricaChild Center is showing its appreciation with a special afternoon tea at the center, complete with homemade Swahili donuts called mahamri.)
The CEO of Sheldrick Wildlife Trust, Angela Sheldrick, graciously agreed to allow these young women entry (which is usually very restricted) to the Voi Elephant Rehabilitation Center. Although SWT is known for educational programs along with the elephants' rescue and care, most of those programs take place at their Nairobi orphanage or in schools near their elephant care centers. Ms. Sheldrick also allotted some time for the head caretaker, Joseph Sauni, to chat with us in both English and Swahili about the elephants' stories. These were, of course, fascinating to us all.
One of the orphan elephants I personally support, Ngilai, lives in Voi. The girls were most interested in seeing and touching my "baby."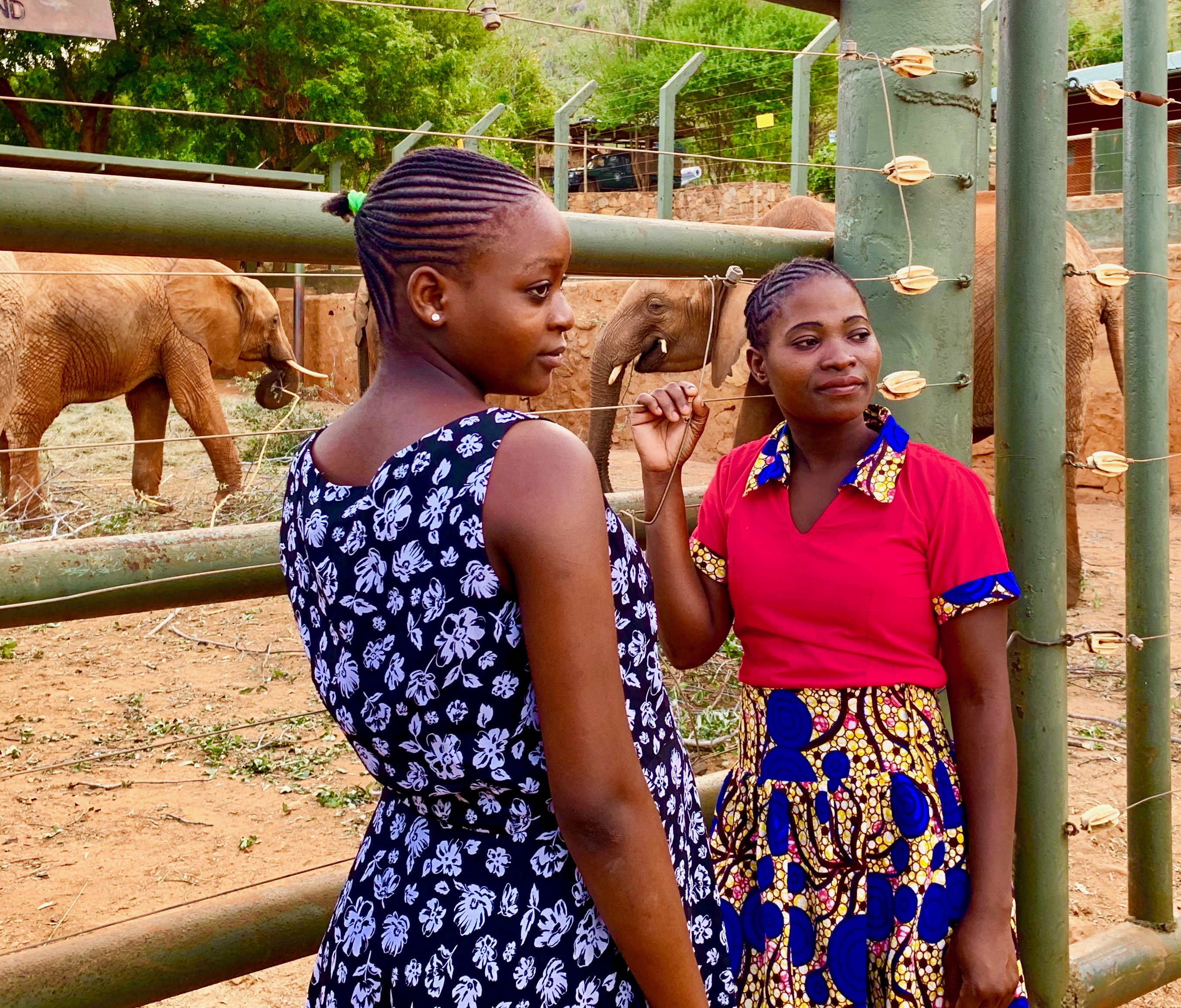 In fact, the girls were very taken with all the young elephants, who were once all alone and rescued form terrible situations. And to think that only months ago, these young mothers also had nowhere to go and were rescued. Who better to teach these young women that elephants are worth saving than the elephant babies themselves?
It was a long day, since getting to the park took four hours each way. By the time we got back, it was late at night.
On the trip back home, even though familiar babysitters were watching over the children back at the center, the young mothers were concerned. Most of the moms hadn't left their babies for such a long time before. They requested a special stop on the way home – to buy treats of raisins for their little ones. It was a sweet way to end the day.
Hopefully, in the following nights, the young mothers will sing their babies to sleep with visions of the beautiful animals of their country.
Already at least one of the mothers is serious about working in conservation. Since the classes and trip, she has begun an ongoing volunteer program tending the monkeys at Colobus Conservation.
As my high school history teacher Mrs. Ash used to say, "The hand that rocks the cradle rules the world."
Photos: Courtesy of Georja Umano
Georja Umano is a writer and wildlife conservationist living in Kenya.