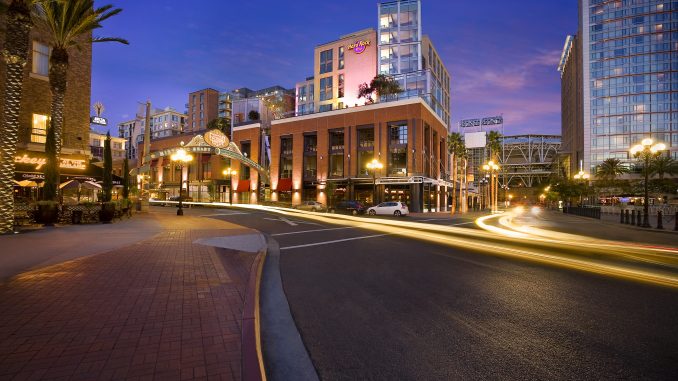 Baseball, beer and beautiful weather, that pretty much sums up the west coast during summertime. You could throw in the beach, I just don't want to put too much on your schedule, the breweries alone will take you well into fall if not winter.
That combination makes the west coast the perfect location to take a week or two and just go up and down the coast and visit the plethora of baseball teams that California has to offer. The list is long and the trip can be just as long, taking you from San Diego and watch the Padres up to Anaheim and then Los Angeles for the Angels and Dodgers and if you have it in, you then you can head up north to take in an A's and a Giants game.
While the Padres might be a few years away from being an elite team to watch, but they are slowly improving but regardless of how the team looks, San Diego as a city is second to none. If you are looking to be in the middle of the action, whether it is baseball, beer or both, the Hard Rock Hotel San Diego is the perfect destination. Location is everything and the Hard Rock puts you literally steps away from Petco Park and countless of other things to fill your day with, including being right across the street from the San Diego Convention Center.
Proximity to Petco Park and the Gaslamp District is one thing, but the Hard Rock Hotel is simply so spectacular, you might forget about the rest of San Diego during your stay. From the moment you step into the Hard Rock Hotel your eyes just wander at a dizzying pace as you can't help but take in not only how breathtaking the hotel is, but all of the iconic musical history that is everywhere. Once you start your experience, you will quickly realize that the service is as excellent as that of any five star hotel and it never lets down from the moment you check in until the time you leave. For the baseball fan they even have a special package for you. The "BASES LOADED" package gives you a one night stay, a $25 dining credit at Maryjane's and complimentary valet parking.
Float Rooftop Bar was voted San Diego's Best Rooftop Bar and after one visit you will know why. You can start with the panoramic views that allow you to take in all of the Gaslamp District as well as the beautiful setting that is perfect day or night. If you are looking for just a fun bar experience, the 207 on the main floor of the Hard Rock, offers a casual or intimate setting with great local beers as well as a very creative cocktail list. Finally, if you are looking for an amazing dining experience and over-the-top food, one word says it all, NOBU.
Inside of Petco Park you can get a taste of what San Diego is all about, beer. If you are looking for a beer experience before the game and you don't want to miss a single pitch, the Stone Brewing Tap Room – J Street is the perfect spot to grab at least one beer before you head into Petco. While a little hidden, this is in the perfect location as it is adjacent to the stadium on the edge of the Park at the Park. This very cool tap room is not only great pre and post baseball game, but anytime you are looking for a unique beer. Stone is celebrating their 23rd anniversary, and as you can imagine after all of those years they are pretty amazing at always coming up with new beers. J Street has 16 taps and you will never know from day-to-day what you might find them pouring and that is what makes the experience so fun. For more information, visit: Stone J Street
Driving from Los Angeles to Anaheim to San Diego can be tricky as it can be smooth sailing at certain times of the day, other times it could take hours. If you want to avoid the hassle of driving, the Pacific Surfliner makes it painless and easy to get to any of those destinations. When it comes to San Diego, you get dropped about a mile away from the Hard Rock and Petco Park. In Anaheim, you literally get dropped off in the Anaheim Stadium Parking lot. In Los Angeles you will arrive at Union Station and you can connect to the Dodger Stadium Express for free with your game ticket, with buses departing every 10 minutes.
Stadium food has improved over the past few years, but it is still no match for Golden Road Chef Henry Tran. Beer is not the only reason to go to Golden Road before an Angels game. You also can park, hang out and just walk across the street to the game and then there is the food. Chef Henry has created a dual menu, all of his regular dishes and then vegan versions of each one and they are all amazing. He also recently added brunch which is perfect for those weekend afternoon games. You are going to find dishes such as the French toast, which comes with espresso whipped cream, coffee infused syrup and raspberry cream cheese frosting and the churro waffles that feature agave apple butter. Don't hold me to any specific beers as Golden Road is always changing their beer menu, but Iron Wolf black IPA, the new K-38 and the incredible Steel Cut oatmeal stout are all very flavorful beers.
For more information, visit: Golden Road Anaheim
The Los Angeles Dodgers and Golden Road Brewing teamed up to create the Dodgers Blonde Ale (4.8%) which is now available at Dodger Stadium and Golden Road pubs as well as in 25oz cans at retailers across Los Angeles metro and Southern California. If you are looking for a great brewery before or after a Dodgers game, Highland Park Brewery and Boomtown Brewery are great options.
Baseball and beer are a perfect combination, but throw in the beauty and perfect weather of Southern California and you truly can't beat the experience regardless of who you are rooting for. There is plenty of baseball to enjoy the rest of the season, and even more beer to experience, so take advantage of all of the possibilities.