August 29 was an unexpectedly beautiful evening to be at Ravinia to see Michael Feinstein and Haley Reinhart. Rain was predicted but never materialized and the temperature was perfect as were the grounds and amenities. There are so many places to eat and drink, special ice cream and an upgraded gift shop. And the wonderful music, all kinds of music. An addition opportunity awaits visitors at the newly opened Experience Center, Leonard Bernstein at 100 Curated by the GRAMMY Museum in collaboration with The New York Public Library for the Performing Arts and the Bernstein Family. Presented in cooperation with the Bernstein Family, The Leonard Bernstein Office, Inc., Brandeis University, and the Indiana University Jacobs School of Music, the exhibit enriches the Ravinia experience.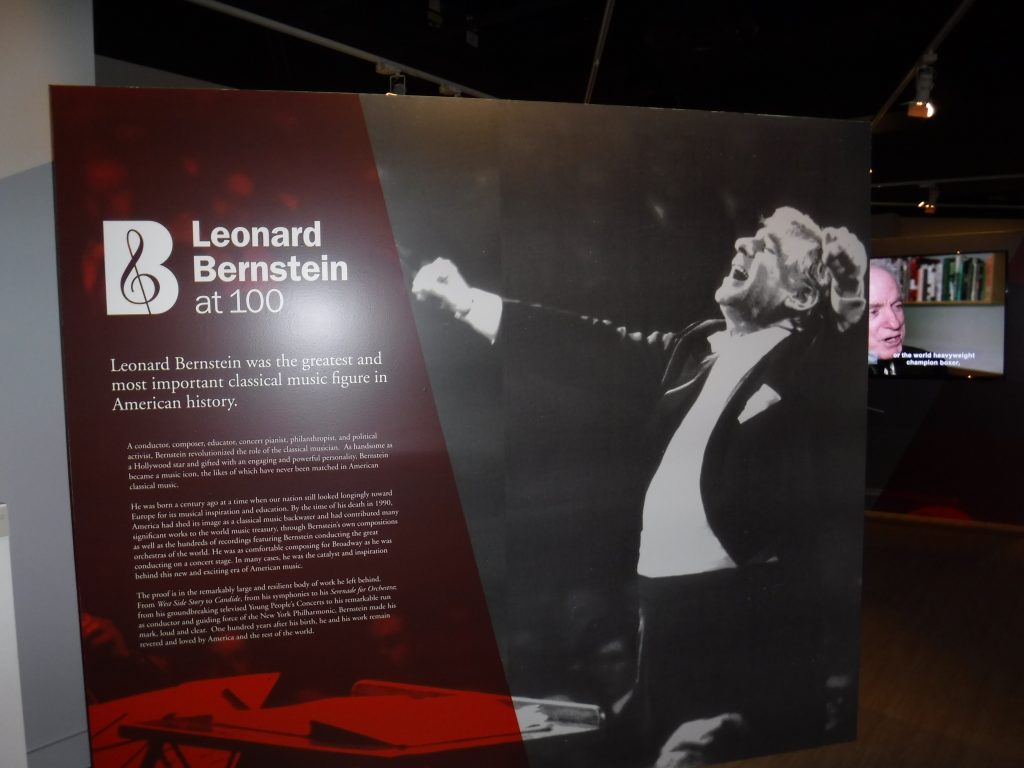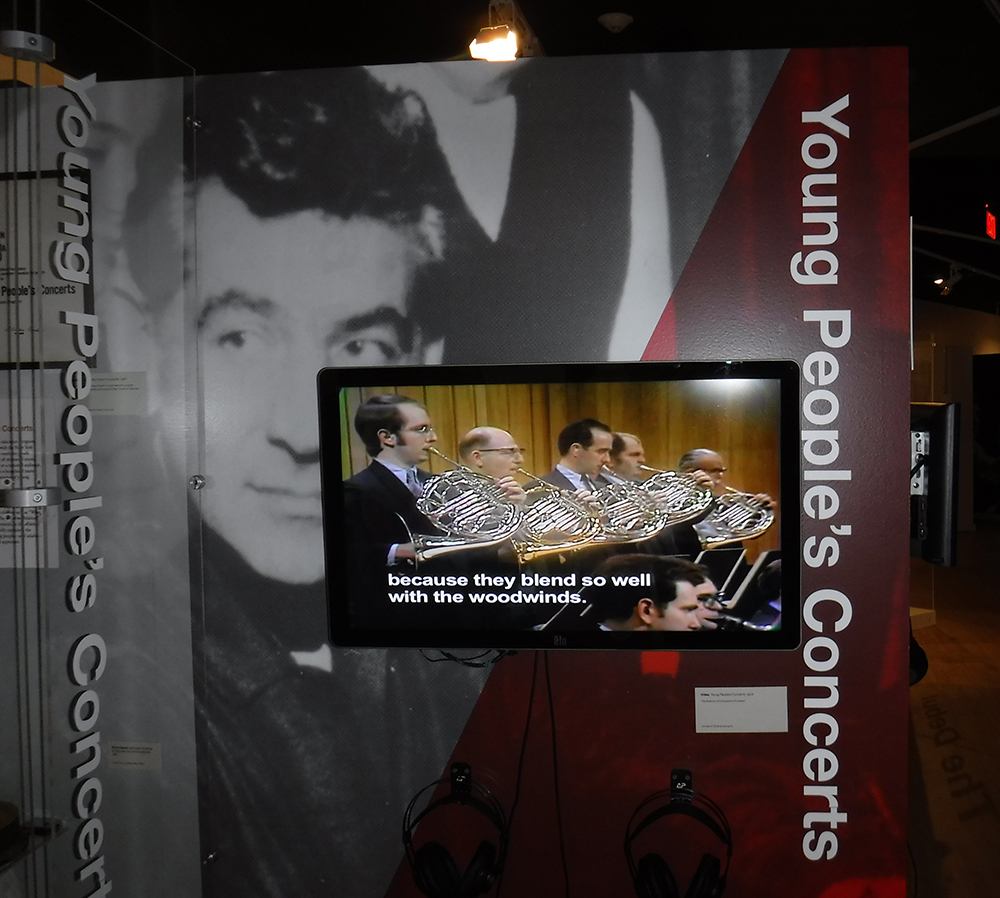 I had been waiting for an opportunity to explore this exhibit, which is free to anyone attending a Ravinia event.Celebrating the centennial of America's greatest classical composer and conductor, it is compelling and interactive. Drawing from more than 150 photographs, personal items, papers, scores, correspondence, costumes, furniture, and films, Leonard Bernstein at 100 marks the official exhibit of the centennial and is the most comprehensive retrospective of Bernstein's life and career ever staged in a museum setting.

Items on display include:
• Bernstein's conductor baton• Bernstein's first childhood piano• The desk used to compose West Side Story• Handwritten score sheets for songs from West Side Story, including "America," "Tonight," and "Maria"
• And more
It was interesting that Michael Feinstein, one of the performers for this evening, was also a part of the exhibition as one of the interviewees regarding Bernstein's impact. Appearing with him wasChicago-born singer/songwriter Haley Reinhart making her Ravinia debut in place of Christine Ebsersole who was not able join Feinstein as originally planned due to a scheduling conflict.
Michael Feinstein is a consummate entertainer and charmed the Ravinia audience. He has an amazing background that includes: playing the piano by ear when he was five, working with Ira Gershwin for six years after high school, composing, conducting, recording, winning prizes and hosting Song Travels on NPR (https://www.npr.org/series/150560513/song-travels) , Founding the Great American Songbook Foundation, and literally a full single-spaced full page of contributions and awards.
This is his 10thperformance at Ravinia. He credited the Ravinia Big Band whose accompaniment and skill were a delight.  He also spoke highly of Haley Reinhart, noting her lovely voice and recent multiple performance successes. The program was filled songs from the 1960's and 70's – sentimental, nostalgic, romantic and poignant  which were interspersed with cute jokes the audience appreciated.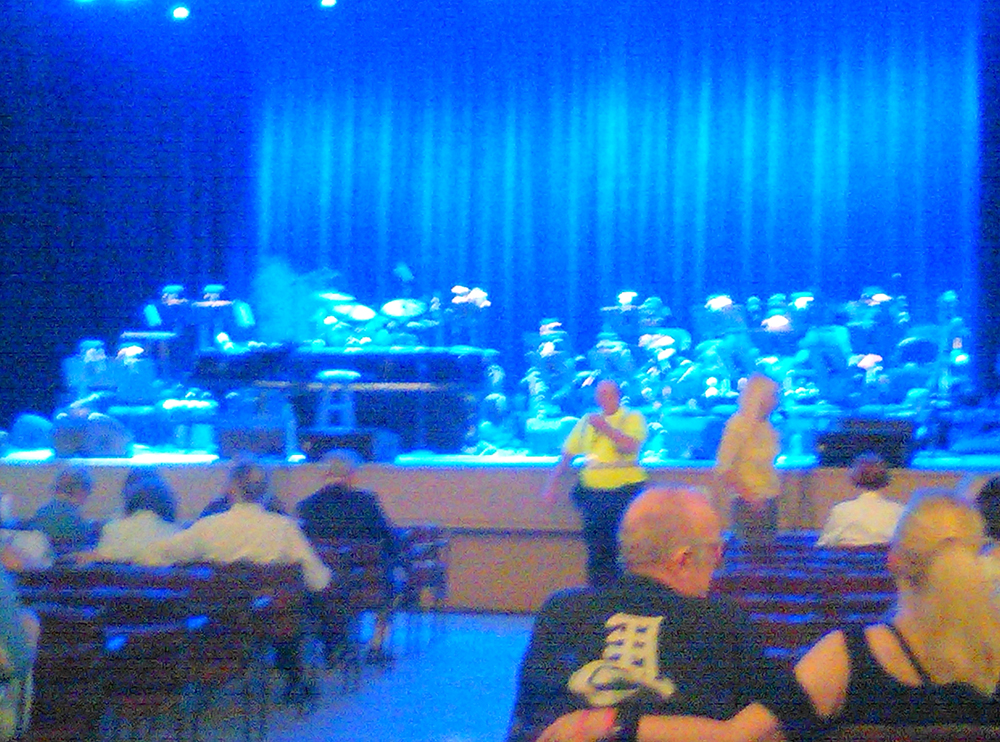 Reinhart is a platinum-certified recording artist with more than 150 million Spotify streams and 70 million YouTube views for her cover of Elvis Presley's "Can't Help Falling in Love with You", has a new album of original material titled Lo-Fi Soul, which incorporates influences from doo-wop to jazz to full-stop rock. In addition to her solo albums, Reinhart is a regular collaborator with Post Modern Jukebox and has recorded two songs with Jeff Goldblum on his number-one jazz album. She even voices a character in Nick Kroll's animated Netflix hit F is for Family. Her debut album Listen Up! was released on May 22, 2012, to critical acclaim,[6][7]and she subsequently became the first American Idol alumna to perform at Lollapalooza.
A few of the many wonderful songs were "The Way We Were", "Wish You Were Here", "Cry Me a River" "Embrace Me" and many more. I noted the range of Reinhart's voice, and a "smoky" quality at times. I enjoyed the clarity of Feinstein's words, which enhanced the songs. I enjoyed him most when he was both playing the piano and singing. He sang, "Memories" in memory of Marvin Hamlisch, which brought me to tears and "What Kind of Fool Am I?" by way of Anthony Newly to remember Sammy Davis Jr. It was a lovely evening.
Photos: B. Keer unless otherwise noted.
More about the Ravinia Festival