I believe there are gaps that develop in every theater enthusiast's personal record. Even after 20+ years of regular attendance, I have to admit that until last night, I had never seen a live production of West Side Story. Naturally, I had seen the film. As the text on the promotional fan (very welcome on a humid night in a packed house) stated, it is infrequently produced… but not so infrequently that I have not have had an opportunity to see one in the last few years. Perhaps I was waiting for exactly the right opportunity, because the Milwaukee Rep's production is so dynamic, so dazzling, and so perfectly staged, I'm glad to know I started with what has to be among the very best.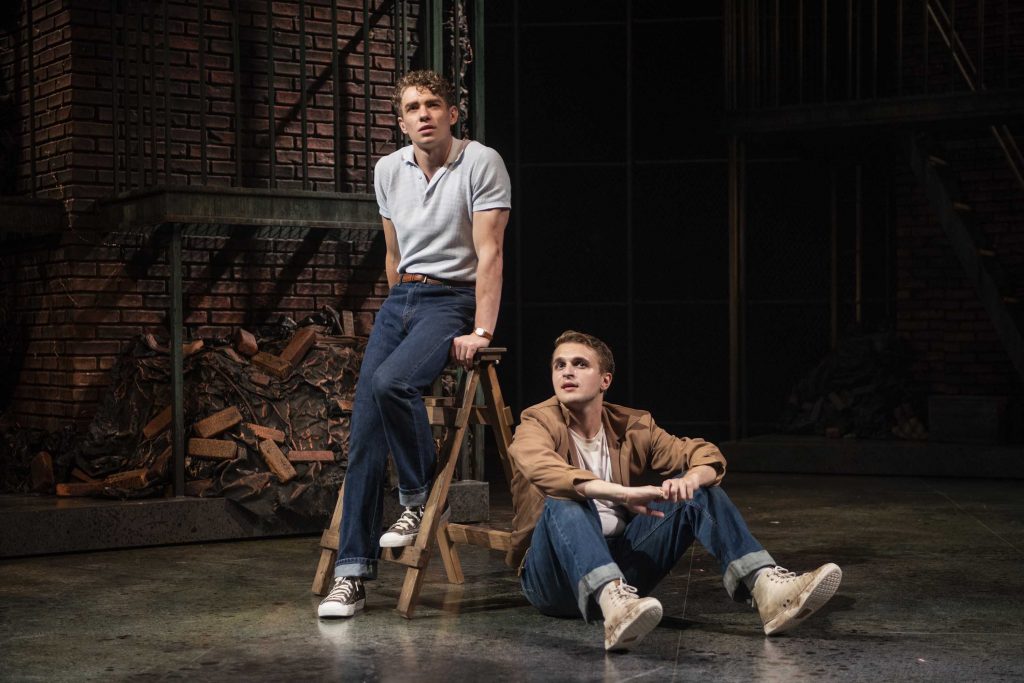 No West Side Story could succeed without leads who can carry the iconic Bernstein tunes and kindle believable chemistry, and Liesl Collazo and Jeffrey Kringer earn high marks in both regards. Collazo is able to communicate Maria's boundless love, optimism, and guilelessness both through her pure soprano, as well as the glow of her face. At one point during the opening night's performance of "I Feel Pretty," she ran to the edge of the stage, and the wattage from her glowing eyes and beaming smile nearly drown out the light design. Kringer's voice is simply incredible, powerfully introduced through "Something's Coming," where it quietly skips along the opening notes, gliding like a feather in the air, building through Tony's optimistic, anxious desire for the next part of his young life while ranging from both ends of his capable tenor. When together, their giddy joy nearly results in floating bubbly hearts and cartoon bluebirds, and their balcony scene is a flawless culmination of their individual charms.

The Rep's Quadracci Powerhouse has never seemed larger, thanks in part to a three-dimensional staging by scenic designer Todd Edward Ivins featuring two catwalks stage left and right that extends well into the audience at a steep incline, as well as fire escapes and fences onstage for added height and depth. When Kringer's Tony tells Riff he's 12 feet above the clouds, it hardly seems like hyperbole, because he's sung "Maria" hovering above the heads of three-quarters of the audience. As a spectator, the results are exhilarating, feeling as though you are the clouds on which Tony and Maria's passion are floating. And the set is not the only elixir: Jon Rua's choreography is a true marvel, seamlessly blending athleticism and grace, anger and joy into one of the most exceptional displays of dance in a show I've ever seen. The costumes by longtime Rep member Alexander Tecoma are a triumph: the vibrant jewel-toned dresses and heels worn by Anita, Consuela, and the other young ladies in Maria's life; the peppermint-stick colored shirts and tennis shoes (and oh, those dungarees) on the Jets girls; the razor-sharp suit on Bernardo. But the crown jewel is the dress Maria wears on the fateful night of the rumble. Patterned with small red carnations that are a harbinger of Tony's "One Hand, One Heart" bouquet, it is the perfect encapsulation of Maria's journey, lovely and vibrant but destined to be forever changed and covered.

The production does not shy away from the brutal aspects of the original material. Racial epitaphs fly regularly, Anybodys and Anita's experiences with both sexual harassment and assault, and the alignment of Shrank and Krupke with white supremacist viewpoints were vivid reminders of how little progress has happened in America since the mid-1950s when West Side Story first debuted on the American stage. The ballet sequence in Act II is particularly resonant, combined with "Somewhere." Performed by Hope Endrenyl as "tomboy" Anybodys (a character who seems to be nonbinary or trans through a modern lens), it is not only an idyllic portrait of what could be for the young lovers, but what could be if hate and intolerance were not so destructively impacting the Latinx and LGBTQ communities represented, textually and subtextually, in the cast of characters. Endrenyl's voice is so pure, her affect so quietly aching, it will stay on my mind for days to come. Artistic Director Mark Clements directed last season's outstanding contemporary drama Things I Know To Be True and here, he has its perfect musical theatre companion, a beautifully and richly realized accomplishment of performance, dance, and design that is worth traveling from Chicago (or indeed from anywhere in the US) to experience.

West Side Story runs through October 27, 2019. Tickets can be purchased online at www.MilwaukeeRep.com or by calling the ticket office at 414-224-9490. Milwaukee Rep is also hosting a number of events about Puerto Rican Identity. To learn more, visit https://www.milwaukeerep.com/Tickets–Events/201920-Season/West-Side-Story/.