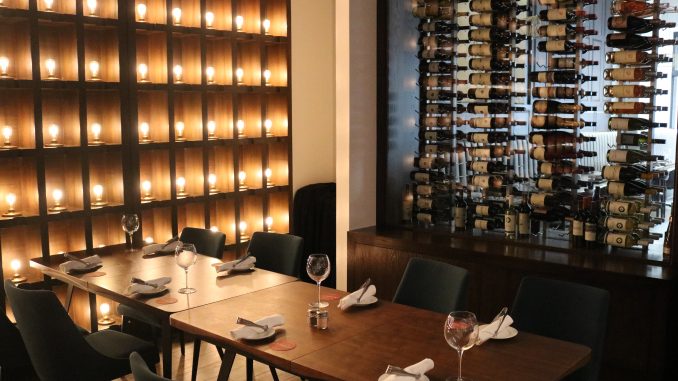 If you have visited Brazil, and long for the flavors and hospitality of that beautiful country, or if you have only imagined what a Brazilian experience would be like, H & H Brazilian Steakhouse will take you take you there. H & H opens their doors and takes you as close to Brazil without actually being there, with all the flavors and experiences that make Brazil, Brazil.
A Brazilian Steakhouse has become something not necessarily unique: the idea of enjoying cuts of meat and having them served right at your table has made this a popular experience. This concept is the only similarity between H & H and other Brazilian Steakhouses, because everything about H & H is quite unique, at least unique to the United States. H & H was started by Henrique Huyer, and what he discovered was that was he was starting the first grass fed and organic Brazilian Steakhouse in the United States. While eating grass fed and organic in the United States can be considered almost out of the norm, in Brazil, it's completely normal. The lush setting of Brazil allows cows to eat grass, and the food is grown organically, simply because that is how they grow all their food.
H & H recently started serving brunch on the weekends, from 11 a.m. to 3 p.m. and they certainly have set the standard for this dining experience. You know immediately that H & H will be different than any other brunch as you are served your first mimosa complimentary. That might not sound so over the top, but it is that first sip that tells you the story. H & H gifts you a mimosa made with organic fresh orange juice and French champagne, and that first sip alerts you that this is unlike any other mimosa you have ever drank – just beyond flavorful. Let me warn you, that one mimosa will leave you wanting more, and you'll find that the bottomless mimosas are a must. From there you can head to the organic brunch bar that, by itself, is more than enough for any one person to experience. You can choose from an assortment of Brazilian dishes, fresh breads, pastries, muffins, eggs, cured meats, cheese after cheese, unique salads and some beautiful chocolate covered strawberries, just to get things started.
Don't go too overboard on the brunch bar though, as the focal point of H & H is the table side service of meats and gourmet foods by the their Gaucho Chefs. The meats start coming at you in a flurry, almost at a dizzying pace, but certainly in a good way and one you will appreciate. When someone says "you can't go wrong with anything," usually that is never an accurate statement. With H & H, it is 100% accurate. The wonderful thing about H & H is you can try it all. If there are cuts of beef you never order, this is your chance to have a piece sliced as big or small as you want, and it is fresh, flavorful and just cooked. There is literally everything you could imagine, from the flavorful and fattier picanha, the rump cap, to the maminha, tri-tip, and the H & H steak, which is a prime steak. You can also try some organic chicken, pork ribs, or sausages, and the incredible grilled pineapple. For an additional $11 at brunch, you can add the dinner meats, which may very well be the best $11 you have ever spent. The perfectly done lamb chops that are smothered in Brazilian spices are worth the price alone, as you are not going to find a better chop in Los Angeles. Add to that a perfectly cooked filet mignon, ribeye and beef ribs, and you are going to be in prime cut heaven.
If you don't want to experience all of the greatness that comes with the Brazilian brunch, you can order dishes such as the Brazilian omelet, or asparagus eggs benedict, off the menu, or go with the Brazilian sea bass. H & H truly has something for everyone, and it is all cooked to perfection. If you have yet to be overly impressed, the side dishes might be forgotten in the mix but they should't be. From sweet fried plantains to velvety smooth organic garlic and butter mashed potatoes, you simply do not run out of enjoyable dishes. If you work in Los Angeles, make sure to take advantage of the happy hour that takes place Monday through Friday from 5 p.m. to 7 p.m. It features some great Brazilian appetizers as well as a reason to experience the Caipirinha, which is the Brazilian National Drink.
H & H Brazilian Steakhouse not only raises the bar for the Brazilian Steakhouse experience, but for any dining experience, period. H & H takes you away from the hustle and bustle that is outside their doors and treats you to an experience that goes beyond their amazing food. This is truly one restaurant that will have you hooked forever after just one visit.
For more information, visit: H & H Brazilian Steakhouse