The first Midwest location of Pete's Dueling Piano Bar had its media opening in Rosemont on Thursday November 14th in a high-energy event that was an excellent reflection of what can be expected from the venue. If our evening was any indication, then patrons are in for a spirited time in Rosemont's latest addition to its live music lineup.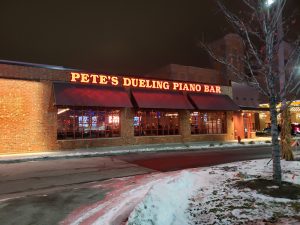 Located at 5540 Park Place in Rosemont's Parkway Bank Park, it's situated behind the Five Roses Pub and easily accessible from the Parkway Bank Park parking garage.  It's a large and well-appointed space, and there doesn't seem to be a bad seat in the house.  Everything faces the stage and there are two long bars on each side of the large room to serve customers the very large drinks Pete's is known for.
Pete's has four popular locations in Texas, and will be open to the public starting Friday, November 15th featuring non-stop live music from 8 p.m. until 2 a.m., like several other popular local venues built on the "dueling pianos" format. Pete's convenient location and ample parking, however, gives them an advantage in convenience, especially for a suburban crowd already used to heading to Rosemont for a night out.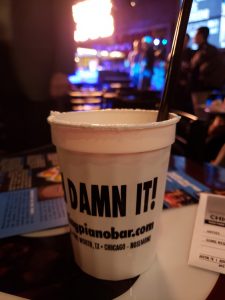 Media arrived at 6:30 and we were all treated to complimentary drinks and small bites before the music began at 7 p.m. (the usual start time is 8 p.m.) I tried the Lemon Drop cocktail. It was certainly lemony, but was far too sweet and syrupy for my liking.  Not bad, but far inferior to Lemon Drops found in other locations.  The food served was equally indifferent, dried out peanut chicken skewers, mediocre pretzel bites with unappetizing cheese sauce and really forgettable bruschetta.
But nobody goes to Pete's for food.  It's all about the performances and audience participation.  The format is four musicians who swap sets during the night.  Everyone can play piano and sing to a greater or lesser extent, and most can play at least one other instrument quite well.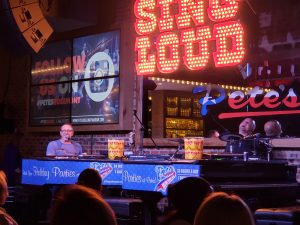 They brought in two of their Austin stalwarts to begin the show and they started strong.  Almost a bit too strong.  The crowd was older and instead of waiting to fire up the crowd through playing popular songs that the crowd enjoyed, they played some piano favorites, a really rip-snortingly good version of Great Balls of Fire and a sturdy You've Lost That Lovin' Feelin' were highlights. I was really hopeful because this was good and very much showed off the performers' talents and high-energy delivery.
And that's where it all started to go wrong.  The crowd wasn't singing to the extent that the Pete's performers were used to, it seemed. People were taking a few minutes to warm up to the format. There's a huge neon sign hanging over the stage that says "Sing Loud".  Apparently, that's a command.  So, most of the rest of their set was devoted to forced audience participation and cheesy schtick.  With an audience that was mostly pretty content to sit in their chairs and sing from there or not.
People were happily putting requests on the pianos, along with tips in many cases.  People who felt comfortable participating were doing so, but the performers just got more and more desperate in trying to force more audience members to act out.  They made demands that you touch people you don't know. They dragged some poor woman up there who was having a birthday and while she gamely went along with it, it took far too long, stopped the show, and was kind of embarrassing. By the end of the first half of the set, they were basically barking commands at the audience in between every song, demanding the audience perform as well.
Then they started dealing with the requests, which they were judging harshly and making comments on as to whether the requests were worthy or not.  Pete's is located near one of the most popular country music venues in the suburbs.  They're going to draw spillover crowd.  Yet, when the Austin guys got requests for Take Me Home Country Roads and Friends In Low Places, they not only did a horrible job playing them, and cut them short despite the audience singing along, but they mocked the songs by being all eyerolly that they had to play country songs ("Is it because we're from Texas?" they asked plaintively.), and thus also mocked the audience members who had made the requests.
I was enraged by this point. It's not a comedy club and those people weren't hecklers, but they were treated almost as if they were, and that's not ok.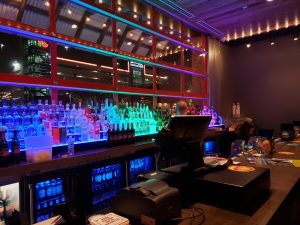 Then someone requested Bohemian Rhapsody, which they evidently thought was worthy, but are unable to actually sing.  It's not that the performers didn't give this one best effort, but they can't hit the high notes and so they left the really hard bits for the crowd, who weren't really following along very well.  It was a total disaster, which they deserved.
So they doubled down on the obnoxious audience participation demands.
By this time half the crowd had left.  I don't know if it was because of annoyance or because many of them were elderly, but there were far fewer for the second set, which is a shame because it was better.
When the Austin team's set ended, they swapped back to their secondary instruments, doing a stalwart job on bass and drums and bringing up the local Chicago team that will be familiar to those who have attended Dueling Piano venues around the city. The locals were much less obnoxious about being too cool for things.  Hopefully, they will set the actual tone for the Rosemont establishment from here on out.
There were a lot of great covers, especially from the female singer, who not only can play really well but also has a terrific voice.  She absolutely killed on requests for Lady Gaga and Pat Benetar.
A note here on sound.  When it was just the two pianos, the sound was pretty good.  As soon as somebody went back to the drum kit, which is electronic and pumped through the same sound system, the vocals and pianos began to get drowned out.  I saw people playing bass guitar, but darned if I could hear a note of what was played.  I hope they work this mixing issue out, it's easy to fix.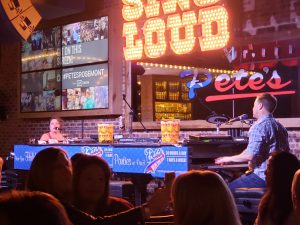 Pete's bills itself as a "one-of-a-kind live entertainment experience."  And it is certainly high-energy and improvisational.  I hope that they were just working the kinks out here and the performers will allow the audience a little more chance to warm up. They were game and would have followed if the performers hadn't pushed so hard and demanded so much immediately. People all around the room actively sat in their seats when asked to stand and otherwise boycotted the performers' activity demands, so I think if they cool it a bit, they'll get a lot farther with suburban Chicago crowds.
This could be an incredibly good time, the format is good, the talent is there.  What I saw the first night was not a good time, but I'm hopeful that they'll find their feet soon and this will be a great and unique addition to the Rosemont entertainment lineup.
Photos provided by Pete's Piano Bar and shot by myself on the night I attended.