We have many very cool items in this guide. Click a link below to jump to the section that will work best for your gifting needs, or scroll through all our items to be inspired!
Movies & Books
Burt Sugarman's THE SOUL OF THE MIDNIGHT SPECIAL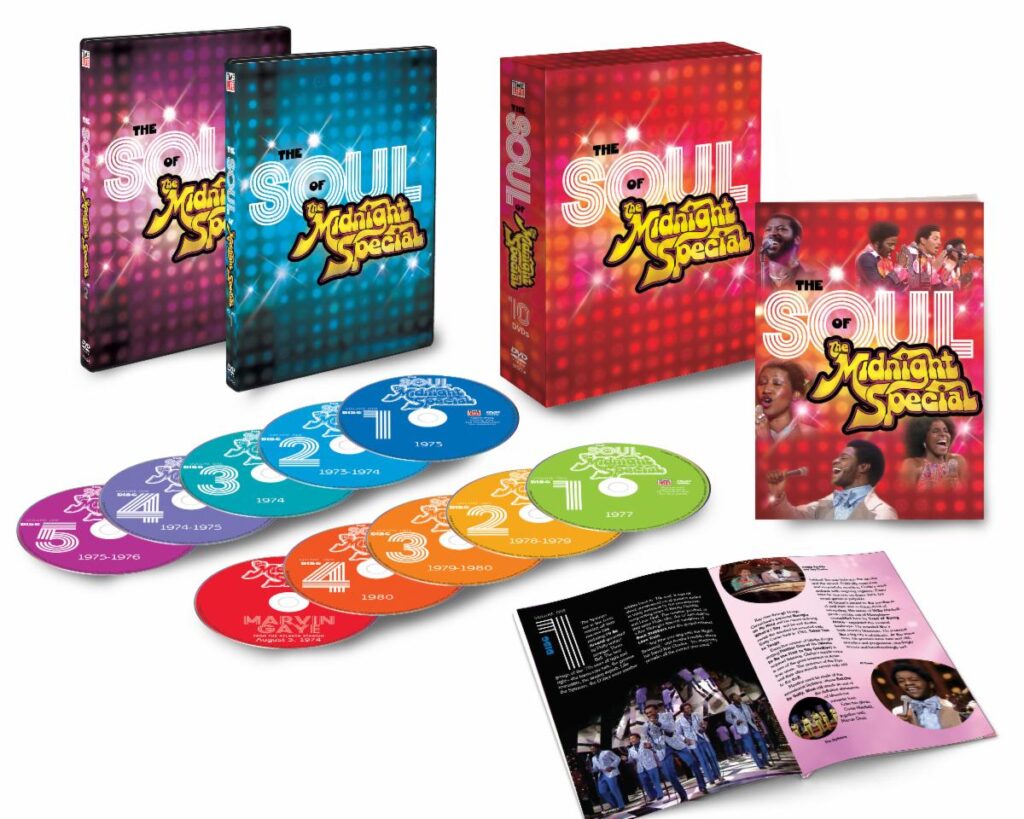 This 10-Disc Collector's Set Features More Than 130 Live, Uncut Performances from 1972-1980 – Many of Which Have Never Been Available Before – from the Greatest Soul Singers of the Decade Including James Brown,Gladys Knight and the Pips,Al Green, Chaka Khan, Patti LaBelle, The O'Jays, Teddy Pendergrass, Spinners, The Stylistics, Bill Withers, Sly & The Family Stone and Many More! This Incredible Collection Also Includes 18 Bonus Interviews with Top Soul Stars, a 40-Page Collector's Book and a Bonus DVD: "The Midnight Special Presents Marvin Gaye In Concert From The Atlantic Stadium," a Rare, Historic Live Concert Performance Never Before Available!
$119.96 Buy now!
Smallville: The Complete Series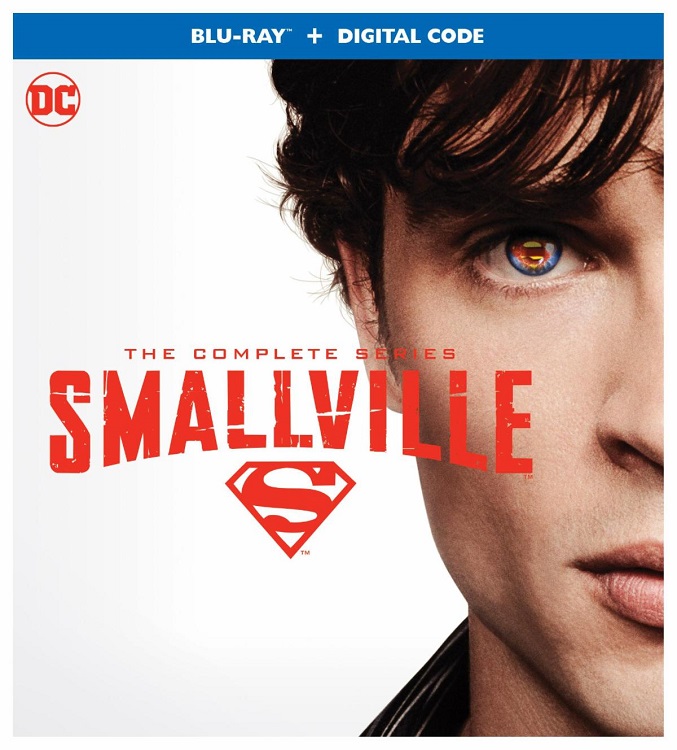 In honor of the 20th Anniversary of the remarkable series, Smallville: The Complete Series 20th Anniversary Edition will soar onto Blu-ray for the first time ever from Warner Bros. The groundbreaking, Emmy®-winning 10-season hit that redefined the origins of the world's greatest super hero is all here – from Krypton refugee Kal-El's arrival on Earth through his tumultuous teen years to Clark Kent's final steps toward embracing his destiny as the Man of Steel. Relive a decade's worth of thrills in fantastic adventures full of action, heart and humor in abundance, all anchored by the marvelous performance of Tom Welling at its center. Savor again the series' thoughtful and imaginative integration and reinvention of the iconic characters of DC lore. And let your spirits be lifted up, up and away.
$116.19 Buy now!
BEYOND HAPPINESS (Grand Central Publishing; October 12, 2021): For managers who want to grow their teams.
In BEYOND HAPPINESS Jenn Lim (CEO of Delivering Happiness, co-founded with the late Tony Hsieh) draws on her decades of experience in culture and strategy as a consultant for Zappos, and explains how happiness starts with ME before it can spread to WE and then your community.
Drawing on the science of happiness, Jenn shows how bringing your whole self to work allows you to do your best work.
After reading this guide, you'll change your world and find greater purpose in both your life and career.
Join Jenn Lim on social media: Twitter: @byjennlim; Instagram: @byjennlim;  and LinkedIn: @jennlim
$28.00 Buy now!
Snowpiercer – The Complete Second Season
The star-studded cast keeps the action going in the second season of Snowpiercer. At the end of season one, the survivors of the revolution are trying to pick up the pieces and maintain a fragile peace amongst the now merged classes with Layton (Daveed Diggs) emerging as the train's leader. Discovering Mr. Wilford (Sean Bean) is alive and headed their way on a rival train, Melanie (Jennifer Connelly) risks going outside to prevent him from invading Snowpiercer. While she's out there, it's revealed that Alexandra (Rowan Blanchard), Melanie's daughter, who she thought had died, is alive and has become Wilford's dedicated protegee. In season two, an entirely new power struggle emerges, causing a dangerous rift as people are divided between their loyalty to Layton and to Mr. Wilford, who has a new train, new technology and a game plan that keeps everyone guessing. While Layton battles Wilford for the soul of Snowpiercer, Melanie leads the charge on a shocking new discovery that could change the fate of humanity.
$24.79 Buy the blu-ray now!
Red Diana by Susan Alexander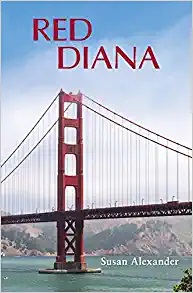 RED DIANA is a psychological thriller set in San Francisco with flashbacks to Chicago. When Karen Clarks' small daughter is abducted on Market Street in San Francisco, Karen is gripped by fear. Although her daughter is returned unharmed, Karen (haunted by a note telling her "You're next") relentlessly continues to pursue the abductor, working with SFPD Detective Greg Chan. Reaching a dead end, she bravely plunges ahead on her own and finally gets the answers she's been seeking. This vibrant plot touches on the tyranny of unethical lawyers and corrupt judges, as well as the shattering pain of losing a loved one and the routes survivors take to deal with their loss.
Follow Susan on LinkedIn: Susan Alexander and Twitter: susanjustwrites
$13.95 Buy now!
"Being weird is a wonderful thing" by Kathryn and Ross Petras
"Being Weird Is a Wonderful Thing" is an inspiring collection of sayings that celebrate the virtues of difference and embracing yourself as you are. Quoting from singers and poets, actors and activists, jazz musicians, fashion designers, inventors, and philosophers, it's a powerful and joyful reminder that the only approval you need is yours and yours alone. That to live successfully is to own—unapologetically and completely—that which makes you, you.
$9.95 Buy now!
Take me to the table of contents
For the Home
SimpliSafe
When it comes to home security, no one does it quite like SimpliSafe. They offer a number of packages and speaking of packages, to make sure you get all your deliveries they have really elevated their security system to cover you inside and out. While many consumers seek holistic home security that protects not only a home's interior but also the exterior, getting security cameras up and running often presents significant challenges. With an adjustable magnetic mount, the SimpliSafe Outdoor Camera does not require any wiring and can be self-installed with ease in less than five minutes. Furthermore, the camera is powered by a removable, rechargeable battery that lasts up to three to six months on a single charge, pending settings, usage and placement. Extra battery packs will also be available for purchase, allowing for continuous camera use without any down time for charging.
$146-$302 Buy now!
Zip Top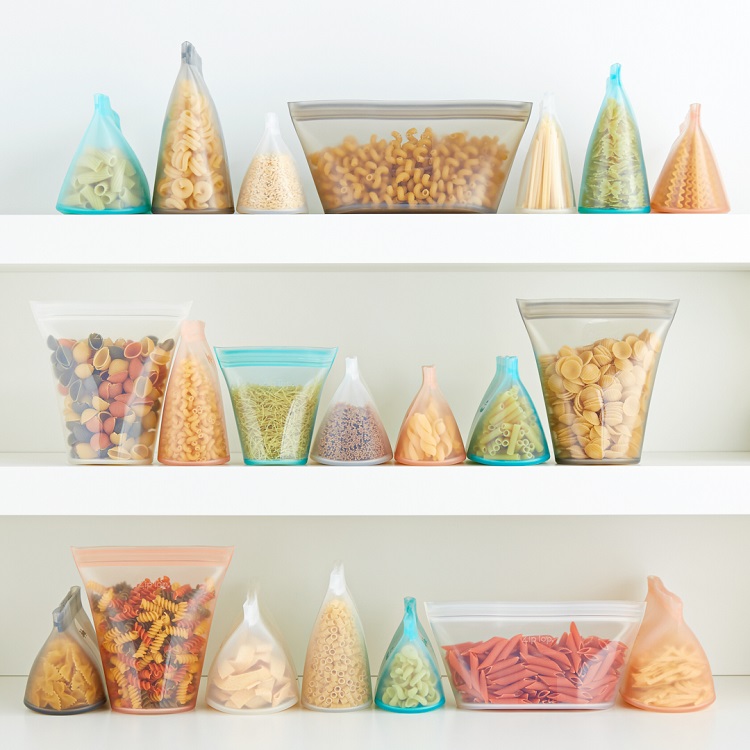 Reusable Made Easy! 100% Platinum silicone containers that stand up, stay open and zip shut. Durable, one-piece construction that is food-grade, dishwasher, freezer and microwave safe. Made in the USA!
Follow them on Instagram and Facebook.
$89.99 (for a set of 8) Buy now! Use code SPLASH for special savings
BED SCRUNCHIE® Sleep Tight, All Night!
The Bed Scrunchie belongs in every home in America, the world's first 360-degree all-in-one bed tightening solution. Bed Scrunchie solves some of the most frustrating problems when it comes to your bedding! The Bed Scrunchie helps with sustainability because it will preserve your bedsheets for longer and keeps them feeling tight and fresh. Bed Scrunchie will provide a flawless Five-Star hotel look and create those perfect military corners!
$72.95 $79.90 for 2 Bedroom Bundle or $39.95 for one Buy now! Save $5 with code: SmartGift21
Les Deux Candle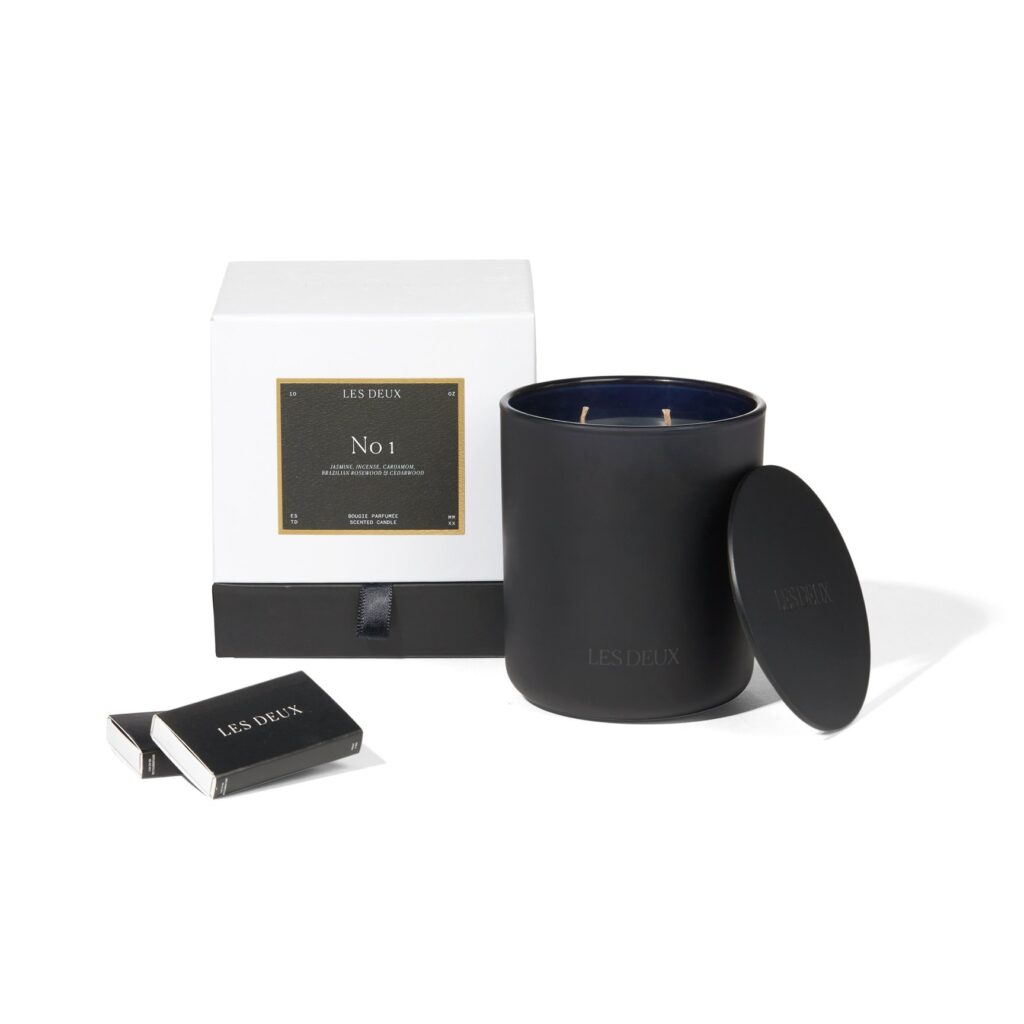 Who doesn't love a candle filling the house with an amazing scent around the holidays. No candle does it quite like the soy candles from Les Deux. The No. 1 candle burns for 60 hours and features fragrance notes: Jasmine, Incense, Cardamom, Brazilian Rosewood, Vetiver, Tobacco Leaf, Cedarwood. Made from a proprietary soy wax blend, our candles and fragrances are free of phthalates, parabens and sulfates. Each candle comes with a metal lid for a smoke free way to extinguish and dust free burn. Matte black container and lid you can repurpose after burning.
$45 Buy now!
Take me to the table of contents
Tech, Games and Puzzles
LumiCharge LD
They thought of everything when they developed LumiCharge-LD! This all-in-one lamp, charger and Bluetooth speaker is compact and perfect for traveling! This sleek, contemporary, petite unit is efficient and engineered to save space or to stow away when traveling. The lamp has a cradle for fast wireless charging, and a USB plug in the back to charge two phones at once! Pair it with Alexa or Google and talk directly to it! Take a call or listen to music with the built-in Bluetooth speaker. Keep the ambiance on point wherever you are with the LD's multiple color and brightness options. It also includes a micro-SD card slot and 3.5 mm audio input.
$69 Buy now!
Buddy Beat Light
Give the gift of safety this holiday season! Buddy Beat Light is the best product to have around…around your neck that is! This wonderfully engineered wearable lights-up the space around you while the magnet closure keeps the piece securely closed around your neck. Perfect for skiing, trekking in the snow, walking, any outdoor activity when the weather can change in a moment and visibility is a challenge! The sporty design has powerful LED lights on the front and LED lights with a glow-in the dark logo on the back. No need for earbuds because BBL has a built-in bluetooth speaker allowing you to listen to music or podcasts. In addition it can receive calls when connected to a cellphone. It is light weight – – at only 7.2 ounces you won't even know it's there. Give the BBL to anyone on your list and give them an extra level of security. It's a great gift for children, students, Baby Boomers and avid athletes!
$58 Buy now!
Firefly Vintage Wireless Earbuds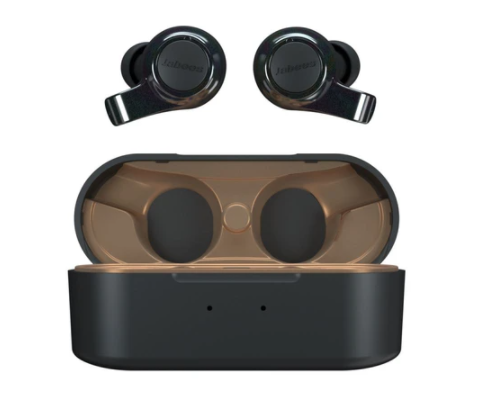 For the gamer in your life, or just someone who wants to enjoy nothing but the sound of what they are listening to, the Firefly Vintage Bluetooth 5.2 Wireless Gaming Earbuds Featuring atpX & Noise Cancellation are the perfect gift this year. As soon as you put in the Firefly Vintage Earbuds, you will notice the difference, as not only the sounds are crystal clear, but the sounds coming through the Firefly are the only sounds you will hear. They also come with features such as Gaming Mode and Dual Microphones as well as a charging case that that when fully charged should take you through the entire day.
$49.99 Buy now!
Speedy Doc: Hilarious NEW Question Game
Speedy Doc is a brand new quick and challenging topic game from UltraPRO Playroom where a topic is proposed by the all-knowing Doc and each player must find something that matches the topic. However, unpredictability awaits around the corner since Speedy Doc is quick to change the rules at a moment's notice. Laughter guaranteed – no two rounds are alike making it an entertaining and unique gift for anyone in the family this holiday season!
Are you quick enough for speedy Doc's questions?
Beware of Speedy Doc's surprises! He can change the rules at any point.
500 different topics available!
No need to read the instructions, Speedy Doc will explain the game to you!
Fun for all the family and all ages!
$42 Buy now!
OuiSi: Games of Visual Connection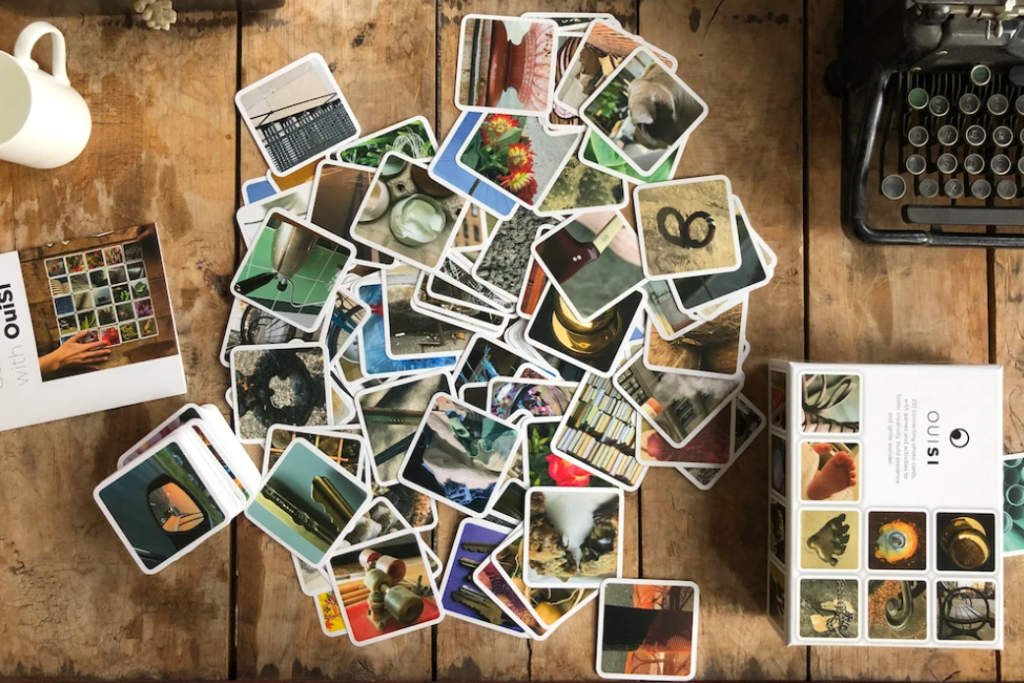 The holidays is that time of the year that brings families together and with that bringing out some games to enjoy together. If you are looking for something new and truly creative to share with your family this, OuiSi: Games of Visual Connection is that game. OuiSi was selected by Creative Child Magazine as "Creative Game of the Year," OuiSi (We See) is an open-ended card game that fosters curiosity and "breaks the ice" across all ages. Game co-creator and NYC photographer, Paul Brillinger, wanted to start a conversation on mindful gameplay where everyone wins through collaboration and creativity.
$35 Buy now!
Everything is Magic 1000-piece puzzle
Like an enchanted woods at night—or even a dream, with magic hidden in every corner—this puzzle invites us into a mesmerizing world of wisteria and fireflies, foxes and a peacock, a glittering silvery stream, and a mysterious key. Van Waveren's rich scene balances the mystical hues of a starry canopy with bright florals, inviting puzzlers to unlock its secrets with each interlocking piece.
$19.95 Buy now!
Take me to the table of contents
For the Pets
SquarePet VFS Pet Food line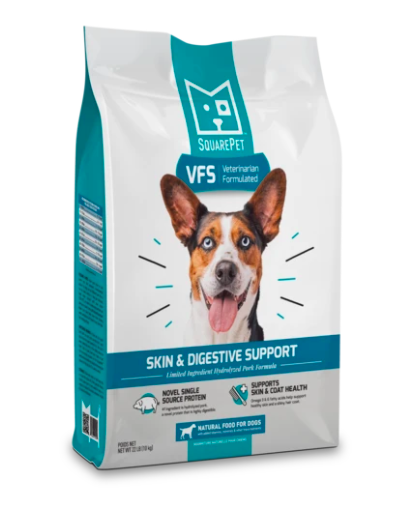 SquarePet's newest additions to its VFS line of premium solutions-based nutritional pet food options is the VFS Skin & Digestive Support. It is an all-natural formula designed by SquarePet's team of veterinary professionals to support food sensitivities/ingredient intolerances. It's the perfect complete and balanced nutrition for pups of any age and breed – made with no artificial ingredients!
This formula is a unique, limited ingredient, hydrolyzed protein dog food. Similar to proteins used in some infant formulas, hydrolyzed proteins are proteins that have been broken down into smaller components. The result is an exceptionally digestible protein source featuring hydrolyzed pork with essential omega 3 & 6 fatty acids to promote healthy skin and a shiny hair coat
SquarePet's VFS® premium line of solutions based nutritional diets can be purchased at local pet specialty retailers across USA and Canada or online.
$21.99 (4.4lb bag) Buy now!
FurZapper
FurZapper is the ultimate fur, hair, lint, dander and other debris eliminator. All you have to do is toss it in with your clothes, dresses, blankets, sheets, and anything you wash and dry. It transfers from the washer to the dryer to keep clothes pet hair free. Often, users will find the FurZapper is so effective that it will fill the lint trap with pet hair, fur and lint no matter how much static cling the items you're washing might have.
Follow them on Facebook, Twitter, TikTok, and Instagram @furzapper
$14.99 (double pack) $10.99 (single pack) Buy now!
Mr. Soft Top
Let your furry BFF slay the walkways this season with the collection from Mr. Soft Top. The New Zealand-based brand offers high-end attire that would make any dog owner proud. From Merino tees and sweaters to raincoats and woolen coats, there's an outfit for every dog! An assortment of accessories, bedding, and dog slings round out the collection.The premium material includes wool, cotton, lycra fabrics, and yarn from New Zealand. Founder Rachael Staples designs all the pieces, originally offering custom hand-knitted sweaters and expanding into a full line. With an emphasis on wool sourced from local suppliers, it's the ideal layer of warmth for pups and a sustainable option. 
Follow them on Instagram @mrsofttop
Various Prices Buy now!
Take me to the table of contents
2022 Calendars
Mermaid Life 17-Month Wall Calendar for 2022
Inspired by the charming book of the same name and diving right into the current mermaid trend, this mer-mazing calendar celebrates salty breezes, flowing hair, and the joy of making waves. Artist Christine De Carvalho's mermaids and mermen are inclusive and body positive, representing diverse body types and skin tones. Her lush, hand-painted illustrations of life under the ocean are accompanied by hand-lettered mermaid mantras from "Avoid shallow living" to "Be the calm in the storm" to "Seas the day." Running a full 17 months with a practical and space-saving Wire-O bound format, and complete with 100+ stickers so you can declare your devotion to all things sand and sea, Mermaid Life is a delightful gift for a free-spirited friend or yourself as a daily reminder to embrace who you are. Printed on uncoated FSC-certified paper.
$16.99 Buy now!
2022 A Year of Gratitude – A Page-a-Day Calendar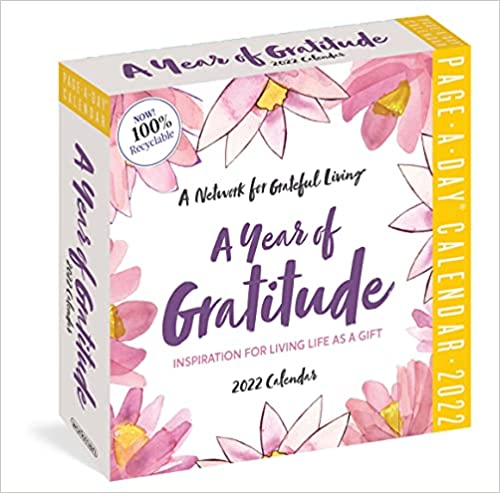 No matter what's happening in the world around us, there are always reasons to be grateful. Inspired by the book Everyday Gratitude by A Network for Grateful Living—a global nonprofit organization that promotes mindful gratitude—this calendar features a year of quotes, prompts to inspire contemplation, and Gratefulness Practices to lift your spirits. Write down your most meaningful experiences and keep them in a jar to reflect on later. Rather than look externally, tap into the happiness inside you. And ponder wise words from wise people, including Ralph Ellison: "Nothing, storm or flood, must get in the way of our need for light and ever more and brighter light. The truth is the light and light is the truth." Printed on FSC-certified paper and 100% recyclable.
$15.99 Buy now!
Original Sloths Mini Wall Calendar 2022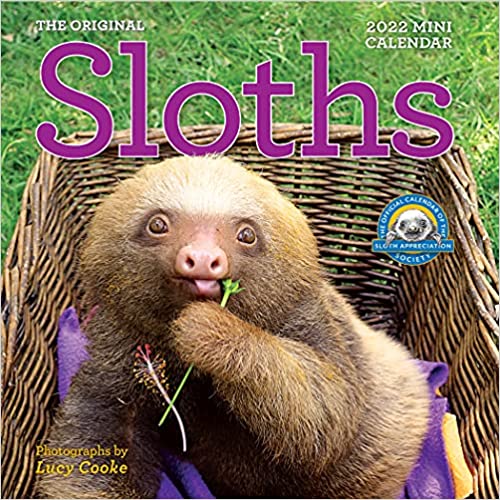 Sloths, with their big eyes, sly smiles, and unhurried pace, are the embodiment of cute—especially when showcased in the irresistible mini calendar format. Meet baby Pickles, posing in a basket of tasty fruit. Hero, peeking around a tree. George, nibbling a sweet jasmine flower—while hanging upside down. And buddies Rafa and Darien, side by side on a blanket. The irresistible photographs are accompanied by fascinating trivia. This calendar is the perfect way to add pure charm to a fridge, locker, or any small space. Printed on FSC-certified paper.
$7.99 Buy now!
Audubon Little Owls Mini Wall Calendar 2021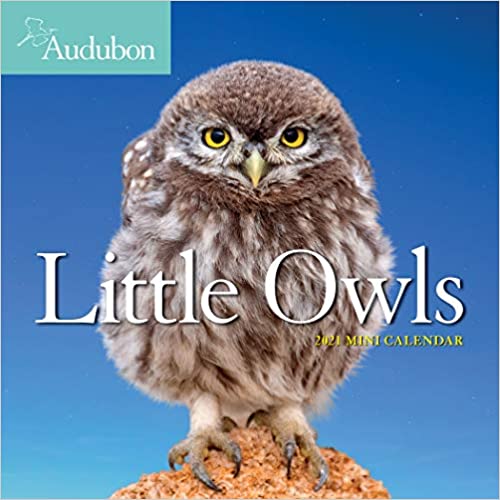 Round eyes, inscrutable expressions, and fluffy feathers all in an irresistibly tiny package (both the owls, and the calendar!). From Audubon, the organization committed to bird conservation, comes a year of diminutive owls, photographed in full color and perfectly showcased in the mini calendar format: A Northern Saw-whet Owl perched on a snow-dusted tree. A duo of adorable Great Horned Owls. Plus the aptly named Spectacled Owl, sporting a fluffy white head and black "spectacles." The photographs are accompanied by captions with information on scientific name, voice, habitat, and range. Printed on FSC-certified paper.
$7.99 Buy now!
Thanks for viewing our 2021 Holiday Home, Family & Pets Gift Guide. We will be updating it with new items through Dec 10, 2021, so be sure to come back for more inspiration!
Take me to the table of contents
*Photos courtesy of respective companies
*Feature image by Jakob Owens on Unsplash