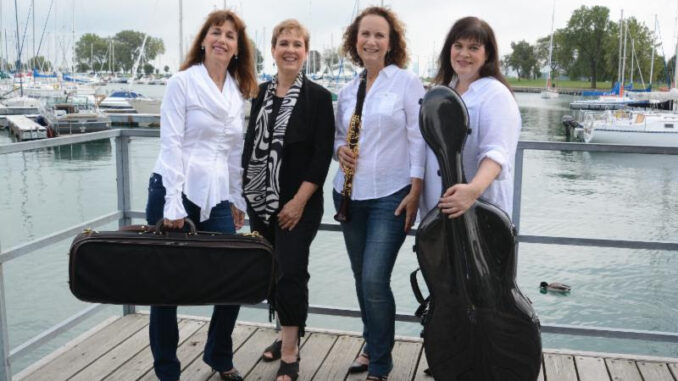 Heading to see the performance of the Orion Ensemble in Evanston on Nov 14, my friend and I were surprised when we were greeted with a large sign announcing a change of program due to an injury.  But then, we were surprised by a beautiful "new" concert that had been put together in 24 hours.  The audience was very appreciative. 
Each piece in this program was lovingly presented but the final number with guest violist Stephen Boe was a standout.
The new program:
Trio for Clarinet, Cello and Piano, Op. 11, Beethoven
Romance No. 2, Op 94 for Violin and Piano, Robert Schumann
Prelude No.1 arranged for Clarinet and Piano, George Gershwin
Vocalise arr. for Cello and Piano, Rachmaninoff
Piano Trio, Op.1, No.1, Beethoven
We felt that the program was even and balanced and the musicians were wonderful, obtaining exquisite tones from their instruments.  There was a lovely feeling of mutual appreciation between musicians and the audience.  It was a unique and special evening.
The Orion Ensemble, with guest violist Stephen Boe, continued its 29th season at two earlier performances of the original program: November 7 at New England Congregational Church in Aurora and November 10 at PianoForte Studios in Chicago. A recording of their work can be found here.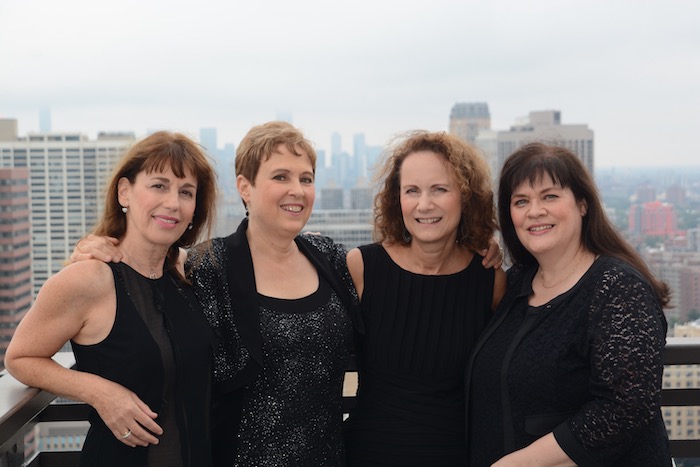 The recorded livestream performance includes:
Schubert's String Trio in B-flat Major, D471 – Allegro, a single-movement, unfinished work, offers a glimmering texture of expressions that point to a vision of eternity—at least, eternity as best as one's limited sight may envision. His lyricism is all-pervading and provides a sense of timeless beauty within. 
Schubert's Adagio and Rondo Concertant in F Major for piano, violin, viola and cello, D. 487 is a concerto piece in miniature for piano and strings. Schubert rarely wrote concerto-like works, and this remarkable exception has a poignant reason for its creation. Schubert wished to marry Therese Grob and composed this music at the request of her brother Heinrich. While the music unfortunately failed to yield an approval from the Grob family for Therese's hand, it has provided one of Schubert's rarest chamber gems.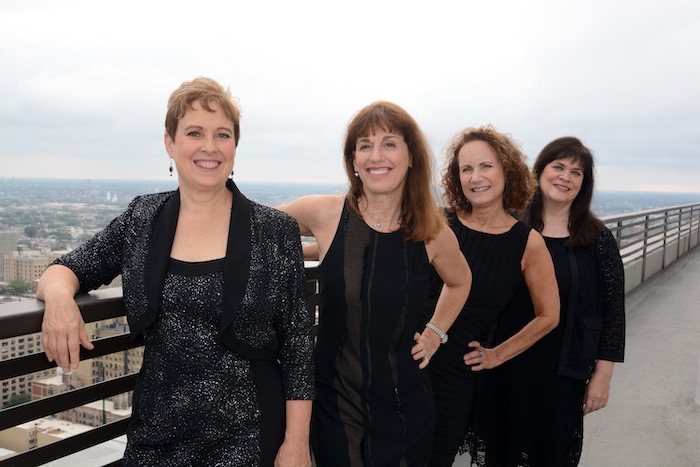 Paul Hindemith composed the Quartet for clarinet, violin, cello and piano (1938) in the winter of 1938 during his second visit to America. Hindemith's life in Germany was made unbearable by Hitler's rise to power. His wife was Jewish, endangering their safety. Two members of his string quartet were Jewish and had to resign. Coming to America, Hindemith renewed his inspiration with this quartet: "It is a considerable chunk of music, sounds very nice and ought to make a good impression."
Florence Price was the first American Black female composer to have her music performed by major symphony orchestras. Born in Little Rock, Arkansas, she established her career in Chicago. Her Fantasy in G minor for violin and piano (1933) combines the sounds of post-Romantic Era expressions with the folk music of Africa. A highlight of this work is during its final minutes, as the opening theme returns for a passionate conclusion. Per the state of Illinois's requirements, all audience members will be required to wear masks at all three
The Orion Ensemble Founded in 1992. 
The Orion Ensemble, winner of the prestigious Chamber Music America/ASCAP Award for Adventurous Programming for its critically acclaimed millennium celebration "An Inside Look at Contemporary Music," features a roster of four superb musicians—Kathryne Pirtle (clarinet), Florentina Ramniceanu (violin), Diana Schmück (piano) and Judy Stone (cello)—who have performed throughout North America, Europe and Asia, as an ensemble and individually in solo, orchestral and other chamber music roles. The Chicago Tribune called Orion "one of Chicago's most vibrant, versatile and distinctive ensembles," and the Chicago Sun-Times said Orion is "what chamber music should be all about: Individual virtuosity melded into a group personality." The Orion Ensemble is supported in part by grants from the Arts Work Fund–COVID-19 Emergency Relief Fund, Gaylord and Dorothy Donnelley Foundation, John R. Halligan Charitable Fund, Illinois Arts Council, Farny R. Wurlitzer Foundation Fund and generous donations from its patrons. For a brief history, click here.   ###
Photos are by Cornelia Babbitt.