In many parts of the world, immigration has become not only a pleasant future goal but often a mandatory journey to escape danger and even death. The award-winning Danish entry into this year's Oscar for Best Foreign Film, FLEE explores the physical and psychological trauma of one immigrant in a mesmerizing true tale exquisitely woven together by blending striking animation and live news clips. This creative production resulted from the real-life chance meeting years before between two teenage boys, filmmaker and radio documentarian Jonas Poher Rasmussen and Amin Nawabi (a pseudonym), in the small town in Denmark where Jonas grew up. Jonas never suspected Amin's compelling story until years later when both were adults.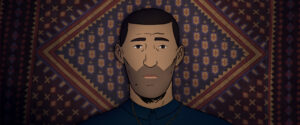 Amin was born in Kabul, Afghanistan. His long-held secrets about his circuitous journey to Denmark would prove intense, fascinating, and often terrifying. It took Amin 20 years to finally open up and tell his story, an account which his unsuspecting friend Jonas would document in his film, FLEE. In Amin's own words: "My heartfelt thanks go to my siblings who have sacrificed a lot in various ways so I could be where I am today…KR, you mean the world to me…(he) put up with four years of turbulence…and putting (his) dreams aside so I could pursue mine." A dominant question remained with Amin for years: What does "home" mean? On the surface, a simple question – but one which held deep significance for Amin: "It's someplace safe…you can stay and don't have to move on…it's not temporary."
For Amin was a youngster in a country on the brink of civil war, a country where his father was arrested and simply disappeared one day, a country where Amin lived in fear of the police and the daily risk of death. When his older brothers were to be conscripted to fight a war which they scorned, it was time to leave. But the family could only get a tourist visa for Russia, their sole possible destination – a country on the brink of disintegration marked by poverty and hunger. They couldn't return to Afghanistan – the Taliban saw to that – and they were constantly in fear of Russian police finding out that their "papers" had expired and sending them back. The only option appeared to be costly smugglers who could take them on the perilous journey to the West. Amin's sisters would be first in line to leave, followed by Amin, his mother, and his older brother. After aborted attempts, Amin's family finally decided that Amin would make the dangerous trip alone. By now, years had gone by, years which would leave permanent scars on Amin and his family.
FLEE is directed with compassion and careful attention to detail by Amin's old friend Jonas Poher Rasmussen. Framed as a psychotherapeutic venture, Amin slowly uncovers layers of experience defined by pain – but also by love and hope. Animation director Kenneth Ladekjaer based his approach on the artistic development by Guillaume Dousse from a screenplay by Rasmussen and Amin. FLEE is a beautiful film enhanced by the very artistic approach to his story. FLEE also delves into a variety of societal, cultural, and political issues, including Amin's homosexuality in a country like Afghanistan which does not even have a word for his sexual preference. Does Amin finally find peace? You'll experience the answer in FLEE, a must-see film – both for its artistry and for its probing socio-political themes. FLEE is scheduled to release on December 3, 2021.