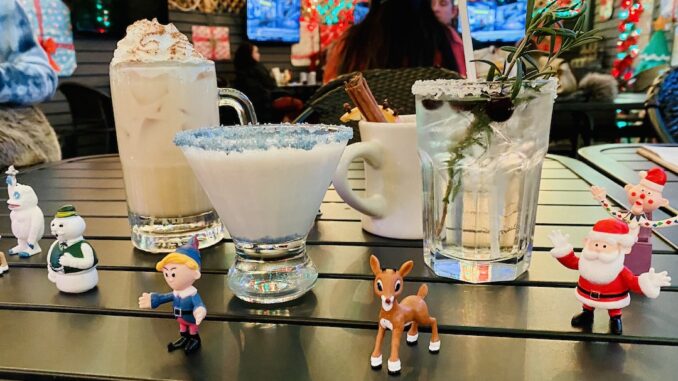 I am sure that many of us have our favorite holiday films and programs. One in particular that I remember watching as a child and is still broadcast, is the 1964 beloved classic Rudolph The Red-Nosed Reindeer television special and the Island of Misfit Toys. If you do too then you will want to visit The Rambler Kitchen + Tap in North Center which is hosting a "Misfit Christmas" pop-up through Sunday, January 2.
Owner Kyle Bagley said "The idea for our Misfit Christmas pop-up came about because we thought it would be fun to get together with our band of misfits to celebrate the holidays recalling old memories and honoring a classic from our childhoods." Manager Matt Nolen, who led me through this merry adventure says it is his favorite movie growing up. While the pandemic in 2020 put a hold on the pop-up, Matt is glad it was put in motion for this year.
Right as you get to the door, the adventure to the island of toys begins with 10-foot custom-painted wood characters of Rudolph and Hermey from the film made by local Chicago artist, Reaghan Murphy. You will then find the snow-covered forest where they first meet and sing "We're a Couple of Misfits." As you walk through to the next room, you find arctic mountain decor as they move through to the cave of the abominable snowman, Bumble and last but definitely not least, the Rambler's 600 square foot heated and covered beer garden transforms into Santa's workshop. No matter where you sit, everything is cheery and bright with lights and decor that brings back the nostalgia of tuning in to watch Rudolph and friends' journey.
The decor and fun doesn't end there. The Rambler has a special menu to complement the theme. You will find festive cocktails from $10 to $14 which include Silver and Gold with NOLET'S Silver Gin, Mionetto Prosecco and white cranberry juice with a cranberry and rosemary garnish which is smooth and made me think holly and jolly. The Skrewball Peanut Butter Whiskey, crème de cacao, and chocolate bitters topped with a Reese's Peanut Butter Cup was warm and gives you a peanut butter chocolate goodness without being overpowering, a Bumble-tini with Black Irish White Chocolate Irish Cream, Bushmills Irish Whiskey, crème de cacao white, and a blue sugar rim gave you definitely embodies the abominable snowman. If you like a rich drink with white chocolate goodness, this is for you or maybe the Elf Nog is also tasty with Dorda Seas Salt Caramel, Bushmills Irish Whiskey, eggnog, whipped cream, and nutmeg. Hot drinks will also be available like Hermey's Hot Chocolate and an Old Country Toddy.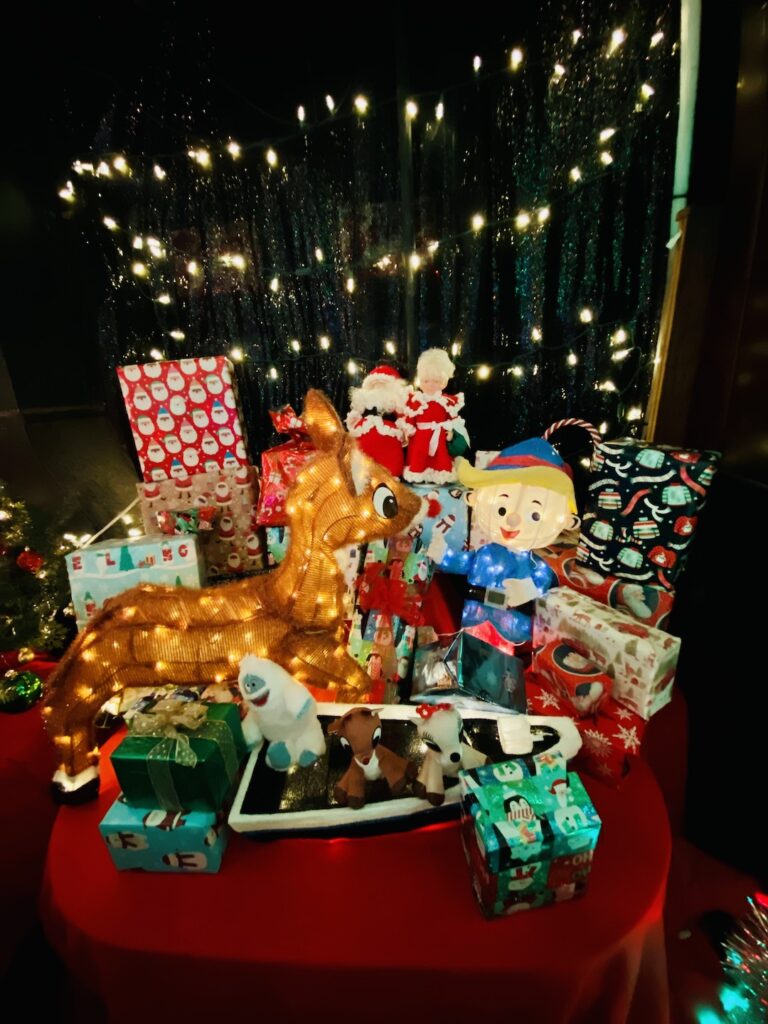 Moving on to the themed food, there are plenty of fun items which the inner child or sweet tooth in you will love; like warm baked Snickerdoodle Pretzels topped with cinnamon sugar and served with icing, Reindeer Food with rice cereal, chocolate, peanut butter, powdered sugar, and red and green M&M's, and Scoop The Snowman Skillet Cookie which includes a fresh baked chocolate chip cookie, peppermint ice cream, red and green m&m, and candy cane. Savory dishes will include a Toy Taker Turkey Sandwich with roasted turkey breast, stuffing, mashed potatoes, gravy and a side of cranberry sauce, and an Open Faced Chicken Pot Pie on two buttermilk biscuits with a side of sweet potato tots and frosting. Everything was delicious and while I don't plan on eating tots with frosting everyday, it is the side you didn't know you needed to try.
The best part of the experience is that you can share it with friends, family and the kiddos. Matt mentions that they also host Christmas Movies in the Garden every Wednesday in December at 4:30pm and 5:30pm for all to enjoy. You can make reservations at [email protected]. If you want to reminisce and have a sweet time with Rudolph and the Misfit Toys, make sure to stop by The Rambler Kitchen + Tap at 4128 N. Lincoln Ave, Chicago, IL, 60618 before it disappears. 
All photos by E. Juarez