St. Patrick's Day is going to be back in full celebration mode this year and Splash Magazines Worldwide has put together a few of the best places and cocktails to prepare to let out your Irish spirit.
THE LINQ PROMENADE TO CELEBRATE ST. PATRICK'S DAY WITH GREEN DÉCOR, FESTIVE FOOD, BEVERAGE OFFERINGS, MORE

WHAT:
The LINQ Promenade, the entertainment, retail and dining district located at the heart of the Las Vegas Strip, will be adorned in green décor while bars and eateries will feature food carts with festive St. Patrick's Day on March 17th, with offerings and traditional green beer all day. In addition, High Roller, the tallest observation wheel in North America, will also be illuminated in green during the evening. Visitors to the Promenade on St. Patrick's Day can also enjoy roaming bagpipers, as well as live, themed ice carving by ICEBAR ice sculptors.




Bagpipers roaming the streets from 12:30 to 4:30 p.m.
A live, themed ice carving will take place in front of ICEBAR by the talented ice sculptors starting at noon.
The High Roller, the tallest observation wheel in North America, illuminated in multiple shades of green during the evening hours.
ameriCAN Beer & Cocktails offering grab-and-go green beers and Jameson shots
Flour & Barley offering 16-ounce green Guinness lager beer.
Off The Strip Bistro & Bar offering Corned Beef and Hash, Corned Beef Sandwiches, Corned Beef and Cabbage, Irish car bombs, green beer, Guinness, Jameson and Proper Twelve.
I Love Sugar will feature three sweet cocktails including the caramel apple flavored Kiss Me I'm Irish martini for $19, the Shamrocks cocktail for $14 and the giant Chasing Leprechauns candy martini for $42.
Tilted Kilt Pub and Eatery featuring a guest DJ and a special Irish Hooley menu.
Virgil's Real Barbecue offers a Drunk Leprechaun Margarita – Party in the Jar for $55. The party in a jar, serves four to six people and includes Sauza Tequila, sour mix, Midori Sour and topped with Sprite.


WHERE:
The LINQ Promenade
3545 S. Las Vegas Blvd.
Las Vegas, NV 89109

ABOUT THE LINQ PROMENADE
The LINQ Promenade is the world-renowned, award-winning open-air district featuring more than 35 unique entertainment, experiences, retail and dining locations. Home to High Roller, the tallest observation wheel in North America, and Fly LINQ, the only zipline in the world to offer riders the ability to fly simultaneously on 10 side-by-side lines. With the addition of the only zipline on the Strip, The LINQ Promenade is now the center for world-class attractions. High Roller quickly emerged as an instantly recognizable part of the already-iconic Las Vegas skyline and consistently ranks as one of the best, "must-see" attractions by media outlets and websites around the world, ranging from Travel + Leisure to USA Today and Trip Advisor. For more information, go to TheLINQ.com 
Find @LINQPromenade on Facebook and follow on Twitter and Instagram. (Hashtags: #LINQLife, #RevolveVegas, #HighRollerVegas). Must be 21 or older to gamble. Know When To Stop Before You Start.® If you or someone you know has a gambling problem, crisis counseling and referral services can be accessed by calling 1-800-522-4700 ©2021, Caesars License Company, LLC.
JAJA Watermelon Lime Mashup Margarita
1 ½ oz. JAJA Blanco
2 oz. Limeade
Spiked seltzer
Watermelon (for garnish)
Directions: Combine all ingredients in a highball glass over ice. Garnish with a watermelon wedge and a salted rim. JAJA Hibiscus High Margarita
2 oz. JAJA Añejo
2 oz. hibiscus iced tea
Sparkling water
Blood orange (for garnish)
Directions: Combine all ingredients in a highball glass over ice. Garnish with a blood orange wheel. 1800 Cucumber Margarita
1 ½ oz. 1800 Blanco
¾ oz. Triple Sec
½ oz. cucumber juice
¾ oz. lime juice
Pinch of salt
Directions: Combine all ingredients (and pinch of salt) into a cocktail shaker with ice and shake vigorously. Strain into a rocks glass over fresh ice. Garnish with a cucumber ribbon on a pick.

This St. Patty's Day, there's no better place to celebrate than at Rì Rà Irish Pub inside the Shoppes at Mandalay Place. On March 17, Rì Rà will bring Ireland to Las Vegas for a St. Patrick's Day celebration unlike any other. With nonstop live entertainment featuring a variety of Irish bands, authentic Irish menu specials, bagpipers, dancers and more, Rì Rà will embody the true meaning of the holiday all day long. On St. Patrick's Day, Rì Rà will be open from 8:00 a.m. until midnight in celebration of the beloved holiday, so all St. Patty's Day lovers can spend the whole day celebrating the Irish way. Guests will be served on a first come-first serve basis.
Rì Rà will also offer a special St. Patty's Day menu, featuring Irish classics, to complete the holiday festivities.
St. Patrick's Day Menu Items Include:
Starters:
Deviled Scotch Eggs

Breaded and fried banger wrapped boiled egg, creamy deviled egg mousse

Corned Beef Wontons

Shredded House brined corned beef, cream cheese, honey crushed red pepper, wonton skin, Thai chili Sauce

Potato Cakes

Pan seared, mashed potato, green onion, cheddar cheese, savory sour cream, balsamic glaze drizzle
Pub Grub:
Publican Reuben

Beer braised corned beef brisket, sauerkraut, Swiss cheese, Marie Rose sauce, grilled rye

Dubliner Burger

Fresh rosemary-infused lamb patty, goat cheese, whiskey onions, curry aioli, toasted bun
Irish Classics:
All- Day Irish Breakfast (Only served from 8 a.m. to 10 a.m.)

2 Eggs, Irish bangers and rashers, black and white pudding, grilled tomato, mushrooms and toast

Beef and Guinness Stew

Tender Guinness stewed beef, barely and root vegetables, dollop of pub mashed potatoes

Fish and Chips

Lager battered haddock, hand cut fries, tartar sauce or Irish remoulade, lemon wedge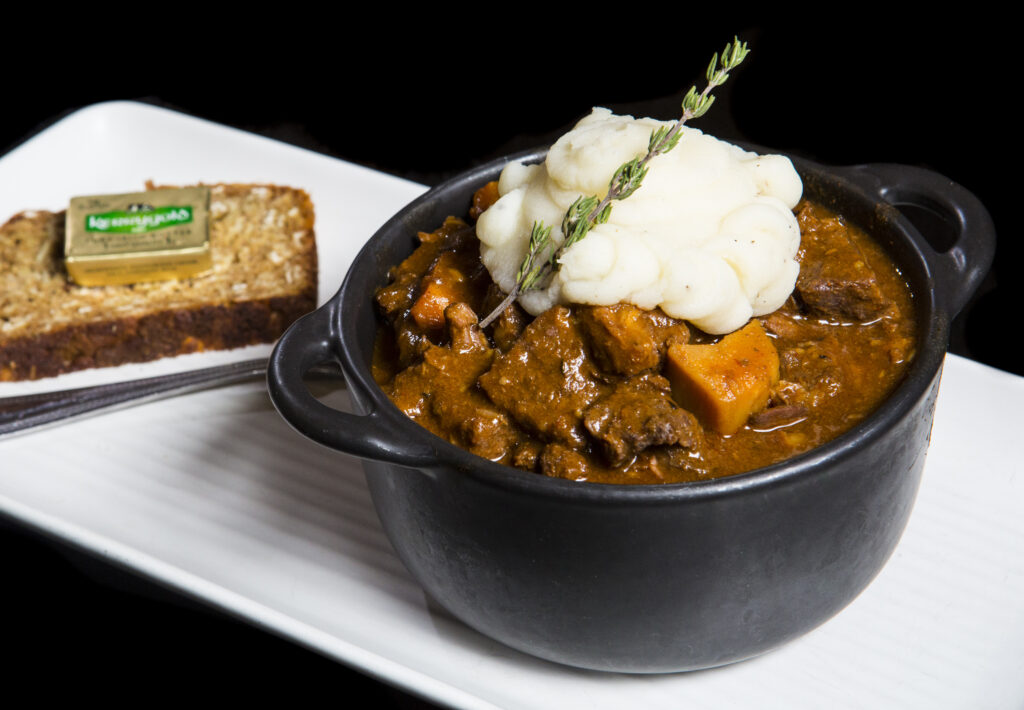 Velvet Taco, the trendsetting, elevated, taco restaurant serving unique, globally inspired recipes, announces the return of their once-a-year fan-favorite St. Patrick's Day WTF (Weekly Taco Feature). Celebrate St. Patrick's Day with Velvet Taco and try the WTF along with one of their boozy libations. Read below for details.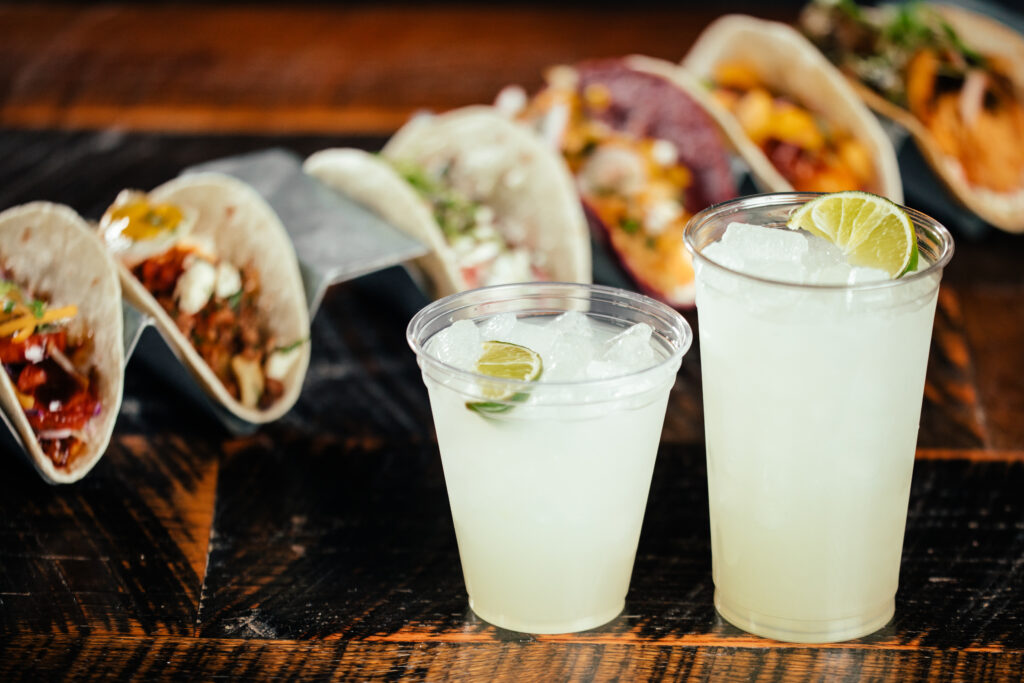 Velvet Taco locations across the nation announce their St. Patrick's Day themed WTF, the Rueben, with grilled corned beef, swiss cheese, velvet sauce, house-made sauerkraut, and house-brined pickles on a flour tortilla ($5.50). The St. Patrick's Day themed WTF represents the staple corned beef Irish dish served worldwide during the holiday.

Keep the party going with one of their boozy libations like the Kick Ass Margarita with Lunazul premium blanco tequila, orange liqueur, fresh lime juice, and agave nectar (rocks or frozen), the Ranch Water with Lunazul premium blanco tequila, lime juice, agave nectar, and lime, or the Paloma with Lunazul premium blanco tequila, Jarritos grapefruit soda, lime juice, agave nectar, and grapefruit.
WHEN:
March 16 – March 22
WHERE:
All Velvet Taco locations except Velvet Taco food hall locations
About Velvet Taco
Founded in 2011, the Dallas, Texas-based restaurant brand set out to elevate the taco through globally inspired recipes and the freshest ingredients. The acclaimed restaurant provides a broad sampling of international tastes and inventive combinations, delivering flavors that are as memorable as they are delicious. In addition to dozens of local and national accolades, in 2016, Velvet Taco was awarded Nation's Restaurant News "Hot Concept" and in 2020 they were named Nation's Restaurant News MenuMasters Award winner in the category of Best Limited Time Offer for their Weekly Taco Feature. Velvet Taco has over 30 locations in Texas, North Carolina, Georgia, Illinois, Tennessee, and Oklahoma. For more information, including a complete menu, visit velvettaco.com and follow the brand on Facebook and Instagram @VelvetTaco.   
With St. Patrick's Day fast approaching on Thursday, March 17th, JAJA Tequila is offering Los Angeles-based celebrants a unique way to celebrate with their Brew JAJA holiday deal!
Angelenos looking to celebrate the holiday without the traditional Irish whiskey offerings have the opportunity to take advantage of JAJA Tequila's beer-and-shot promotion, now available at The Brig and available at Santa Monica Room only on St. Patrick's Day! Celebrants can enjoy the Brew JAJA combination of a shot of JAJA Tequila and a glass of beer for $15.00 USD at Santa Monica Room and The Brig – perfect for tequila enthusiasts, or anyone looking to put a new spin on their St. Patty's Day festivities! The Brew JAJA tequila shot + beer combo will be available at the below:  Santa Monica Room1325 Santa Monica Blvd.Santa Monica, CA 90404(866) 687-4499   The Brig1515 Abbot Kinney Blvd. Venice, CA 90291(310) 399-7537 
For all those not in the LA area but want to enjoy the Brew JAJA experience for themselves, JAJA Tequila is available for purchase on Drizly and ReserveBar