Las Vegas is back and with summer approaching that means pools and enjoying the sunshine and the options are seemingly endless. There is a pool for everyone and for whatever reason you want to celebrate this summer. Splash Magazines Worldwide has put together some of the pool options for you to choose from on your next vacation.
Sapphire Pool & Day Club (SPDC), the world's only topless gentlemen's day club, introduces its 2022 pool season lineup commencing on April 22nd with a bevy of beauties and social media celebrities throughout the summer who will all host alongside hundreds of Sapphire's topless poolside entertainers every Saturday.
Starting Friday, April 22nd, SPDC turns up pool season with tops off! Enjoy brunch in the sun with items like Frittata-style Omelet, Strippin' Chicken and French Kiss Toast before washing it down with signature summertime cocktails like the Cucumber Cooler (Belvedere vodka, muddled cucumber, Citrus puree sweet & sour), Perfect Poire Fizz (Grey Goose La Poire, St-Germain, fresh lime juice & soda) and the Big Coconuts Colada (Malibu Black, coconut puree, muddled pineapple) to name a few. Tan lines beware, go bare! Ladies are welcome to go topless within the day club.
In celebration of opening weekend, on Saturday, April 23rd, SPDC dives into pool season with famed Instagram vixen Shantal Monique. The following weekend on Saturday, April 30th, Tahlia Paris will be on-deck while the sultry sounds of summer are enjoyed by partygoers. Day-ragers can salute the start to summer during July Fourth weekend at Sapphire Pool & Day Club on Saturday, July 2nd as Playboy bunny Kindly Myers hosts a patriotic backyard bash! The swimsuit model will lead a parade-worthy celebration filled with BBQ, babes and beach balls.
For the ultimate party, guests can purchase the following "pre-event" value packages including:
Daybed Package
Friday & Sunday –$300 (plus tax & gratuity)
Saturday – $420 (plus tax & gratuity)
Cabana Package
Friday & Sunday –$700 (plus tax & gratuity)
Saturday – $900 (plus tax & gratuity)
Lounge Chairs – starting at $90 (available on a first come, first served basis)
All package options include no cover, complimentary transportation and front of line admission. To book your reservation or for more reservation options including Sapphire Dayclub's "Private Pool with a View", please visit http://www.sapphirepoollv.com or call 702-869-0003.
Sapphire Pool & Day Club is open Friday-Sunday 12-6 p.m. and is located at 3025 Sammy Davis Jr Drive – Las Vegas, NV 89109. Locals receive complimentary admission with Nevada ID; regular admissionis $20. *Additional hosted parties to be announced soon.
ABOUT SAPPHIRE POOL & DAY CLUB
Sapphire Pool & Day Club is the ultimate daytime pool party in Las Vegas. Its Sin City bravado has made it one of the most popular bachelor/bachelorette party destinations due to its uninhibited environment, exclusive feel and tendency to draw in some of the hottest guys and girls on the Strip. Soak up the sun and action-packed atmosphere with the Sapphire Gems providing poolside cocktail service and entertainment amidst live performances every weekend. Guests can enjoy hosted poolside parties on the main deck, lounge in a luxury covered daybed, or indulge in a pitcher of your favorite signature cocktails as well brunch from the Sapphire Grill menu in an exclusive cabana overlooking the adult oasis. Its premium amenities include two full-service bars, two pools, a raised stage and a private entrance that offers valet parking. Sapphire Day Club is one of the few pool parties in Las Vegas where ladies can go topless with the help of the daytime club's complimentary pasties, of course! Sapphire Day Club offers 17 private cabanas complete with flat-screen TVs, surround sound and mini-fridges; the most exclusive of which includes its own private pool.
Resorts World Las Vegas offers a 5.5-acre pool complex with five unique pool experiences over nine bodies of water including an 1,800-square-foot infinity pool with spectacular views of the Las Vegas Strip.
Main Pool – A warm welcome to the largest pool complex on the Las Vegas Strip, the Main Pool features three luxurious bodies of water and an experience catered to every guest. Ideal for swimming, lounging and soaking up the sun, this pool area offers daybeds, wet-deck chairs and a retail store for all your sunning needs.
Family Pool – Guests of all ages are invited to enjoy some fun in the sun at the Family Pool. Splash in a shallow pool with fun water features, grub on your favorite poolside bites at the snack bar or relax in a cabana. It's fun for the whole family.
Bimini Pool – An escape from the hustle and bustle of the Strip, Bimini Pool is the lively Las Vegas pool experience you've been dreaming of. Emulating the tropical vibe of its namesake, the area provides two stunning pools and a jacuzzi, a large bar and a spacious grass area with interactive lawn games great for some friendly poolside competition.
Cabana Pool – Discover a new sense of luxury with a day at the Cabana Pool. From the comfort of your cabana, retreat from the sun in style with elevated service and a true Forbes Five Star pool experience. An exclusive area of the pool deck will be dedicated for Crockfords guests to enjoy.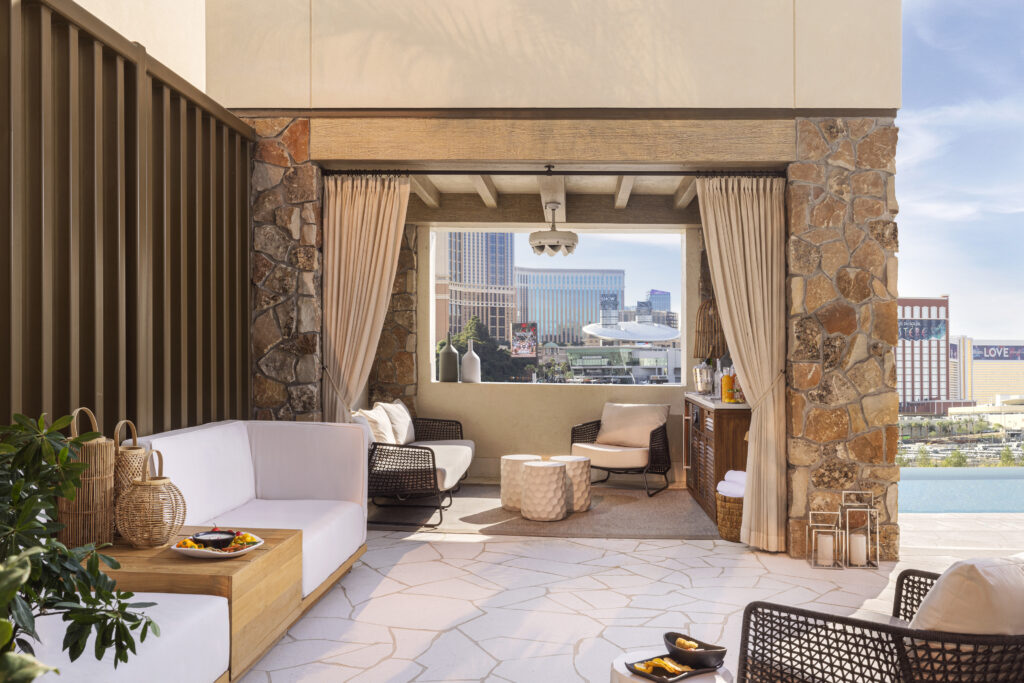 VIP Pool – Indulge in relaxation at the Resorts World Las Vegas VIP Pool. This adult-only experience features two mesmerizing pools, including the Las Vegas Strip's only infinity pool with stunning skyline views. Lounge in this luxurious oasis with daybeds, cabanas and a bar for all your poolside desires – all paired with lively music and dancing. Guests must be at least 21 years of age and reservations are required.
Station Casinos
Red Rock Casino Resort & Spa
The pool season at Red Rock Casino Resort & Spa begins Thursday, March 17. The Red Rock pool complex is one of the most dynamic in the city. Boasting 19 private cabanas, chair-side service, and poolside gaming, whether guests are seeking uninterrupted serenity or endless action, the Red Rock pool offers an atmosphere for every kind of pool day. Guests may enjoy hand-crafted cocktails and fresh eats at Sandbar café as well as an incredible sense of relaxation Live DJ performances begin on Friday, April 1st.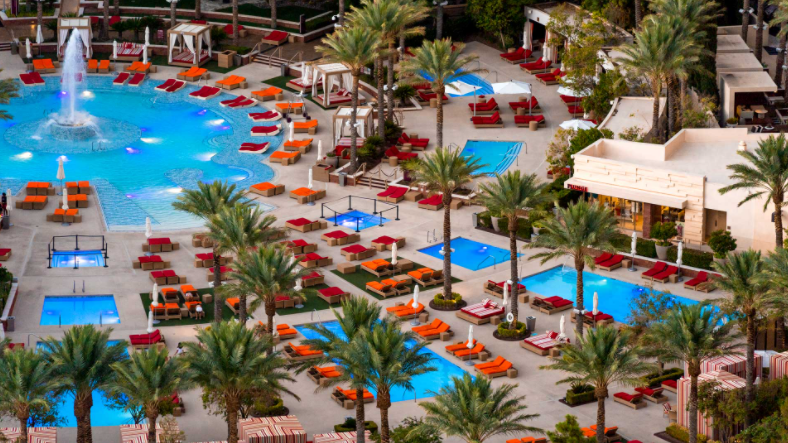 Admission:
· Admission applies to non-registered hotel guests, locals and guests that don't have a cabana or daybed reservation; $25 adults / $10 kids per day – to be paid at time of arrival at main veranda entrance or Towel Hut
· Children 3 years old and younger will receive complimentary admission; kids are classified as ages 4 – 16 yrs; 16 years and older is considered an adult
Reservations:
· All reservations are made through the concierge team cabana hotline 702.797.7873
· Guests are directed to towel hut for cabana check-in
· Cabana/daybed check-in is up to two hours after opening or reservation will be forfeited and placed on waitlist unless otherwise stated in reservation notes.
For additional information on all Red Rock pool offerings please click here
Green Valley Ranch
The pool at Green Valley Ranch opens for the season on Saturday, March 12. The pool offers some of the best views of the Las Vegas Strip, personalized food-and-beverage service, and plush loungers and daybeds. With a sand-bottom beach-entry pool, private cabanas, and a laid-back vibe like nowhere else in Las Vegas, the pool at Green Valley Ranch surpasses all expectations. With refreshing hand-crafted cocktails delivered directly to guests' loungers or daybeds, impeccably manicured lawns, and plenty of space to spread out, the Green Valley Ranch pool serves uninterrupted serenity in a seriously stunning setting.
Reservations
· Hotel guests are welcome to access the pool by showing their key-card upon arrival.
· Non-hotel guests (ages 21 and older) may reserve cabanas by calling 702.617.7744.
The Pond
Opening Saturday, May 7 through Sunday, Sept. 4, The Pond offers an alternative option to the pool. Tucked away amongst towering palms, the Pond at Green Valley Ranch offers an adults-only pool experience perfect for secluded sun-worshiping. Guests may enjoy a private bar, live DJs, a stunning waterfall area, and bottle service —all amongst an incredible atmosphere. Must be 21 or older to enter.
Hours of operation:
· Every Saturday and Sunday from 11 a.m. to 7 p.m.
· Live DJ from noon to 6 p.m.
For additional information on The Pool at Green Valley Ranch and The Pond please click here.
Palace Station
The pool at Palace Station is the perfect place to soak up the sun this summer. Opening on Friday, March 18, the pool offers personalized food-and-beverage services while providing a luxurious get away from the hustle and bustle of Las Vegas. The pool also offers a happy hour during the week that includes beverage and food specials.
Admission
· Sunday through Thursday: $15 for adults, $10 for children under 16 (must be accompanied by an adult at all times)
· Friday and Saturday: $25 for adults, $15 for children under 16 (must be accompanied by an adult at all times)
· Complimentary admission:
o Hotel guests, up to four additional guests
o Season pass holders
o Chairman guests, up to four additional guests
o Children under 3 years of age
Reservations
· All reservations can be made by calling 702. 253.2906 or via email at Pa********@st************.com
Happy Hour
· Monday – Thursday, 3 to 5 p.m.
· Food specials – starting at $5
· Beverage specials
· Draft Beer [Bud Light $5, Stella $8, Elysian Space Dust $8, Goose Island 312 $8, $7 well cocktails
Food and Beverage menu can be found here https://www.palacestation.com/see-do/pool/ – and is served open to close
Palace Station Pool Season Pass
· $150 from date of purchase to the end of the 2022 Pool Season
· Must be 21 or older to purchase
· Free gift with purchase of one season pass
· Admission seven days per week, including holidays.
· $25 off daily cabana rates, based on availability/exclude holidays.
· 10 percent off food
For additional information on The Pool at Palace Station please click here.