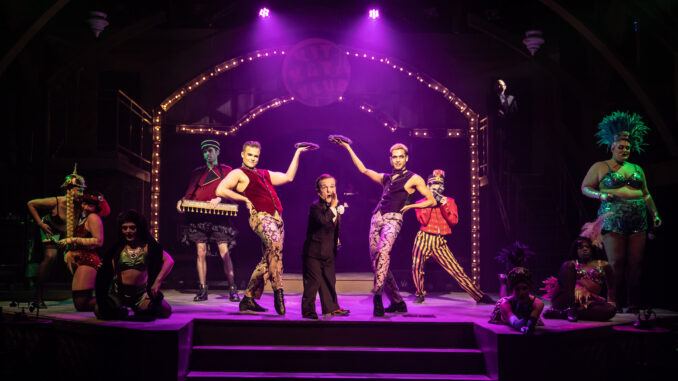 Porchlight Music Theatre presents the Tony Award-winning landmark musical Cabaret, at the Ruth Page Center for the Arts, 1016 N. Dearborn St., January 14 – March 19, 2023. Based on the 1951 play I Am a Camera by John Van Druten and the novel "Goodbye to Berlin" by Christopher Isherwood, Porchlight's production is directed by Artistic Director Michael Weber, associate directed and choreographed by Brenda Didier and music directed by Linda Madonia.
Bold and provocative, this winner of seven Tony Awards, including Best Musical, shines a spotlight on Berlin in the late 1920s and the colorful, gritty and hedonistic lives found there. Filled with iconic songs and electrifying dance, Cabaret tells the story of the American writer Clifford Bradshaw, and his relationship with English cabaret performer Sally Bowles on the eve of the Nazi party's rise to power. Overseen by an ominous Emcee at the fabled Kit Kat Club, Cabaret is a cautionary tale that has renewed resonance in today's political climate.
The cast for Cabaret, in alphabetical order, includes Neala Barron (Fraulein "Fritzie" Kost); Frankie Leo Bennett (standby The Emcee and Max); Jordan Beyelery (swing); Anna Brockman (Lulu/ensemble); Morgan DiFonzo (Texas/ensemble); Gilbert Domally (Clifford Bradshaw); Julia Fleckenstein (Helga/ensemble); Tim Foszcz (Herman/ensemble); Haley Gustafson (Frenchie/ensemble); Josiah Haugen (Ernst Ludwig); Natalie Henry (Rosie/ensemble); Mark David Kaplan (Herr Schultz); Darren Patin (Victor/ensemble); Shane Roberie (Max/ensemble); Mary Robin Roth (Fraulein Schneider); Erica Stephan (Sally Bowles); Cam Turner swing/Dance Captain); Josh Walker (The Emcee); Shaun White and Evan Wilhelm(Hans/ensemble).
The Porchlight Theater always showcases incredible theater. This season's version of the classic, Tony award winning musical, Cabaret, is no exception. It is a visually stunning and pleasing production with rich, timeless music and a stellar cast. If you have never seen Cabaret, you must come see this production. If you have seen Cabaret, then you still must see this production!

The entire cast carries the show, especially Stephan, whose performance as the spotlight craving Sally Bowles, who refuses to settle. She will impress you long after you have witnessed her remarkable voice, dance and acting skills.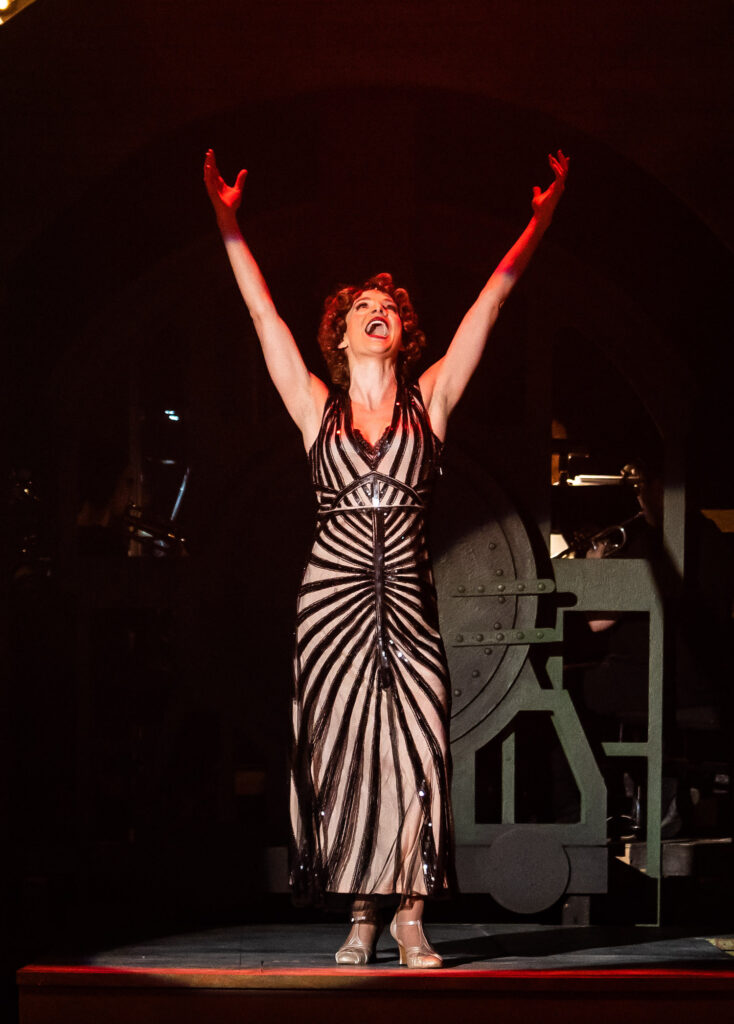 Equally impressive is Walker, as the Kit Kat Club's seedy, playful and energetic Emcee. His singing and interpretation of the other lead role helped bring the musical to life onstage. There is also the supporting and powerful vocal talents of Roth (Fraulein Schneider), as the elderly owner of the boarding house in Berlin that Clifford stays at while writing in Berlin. She starts a romance with her Jewish neighbor, Herr Schultz (Kaplan), who runs a fruit store in town.
The supporting ensemble is also the star of the show. Without the plethora of amazing, talented performers for this production, this would not be a show worth seeing. Something I noticed worthy of celebrating, yet iconic, involves the entire casts' diversity of various ethnicities, body types and sexual orientations, which were not celebrated in Nazi Germany.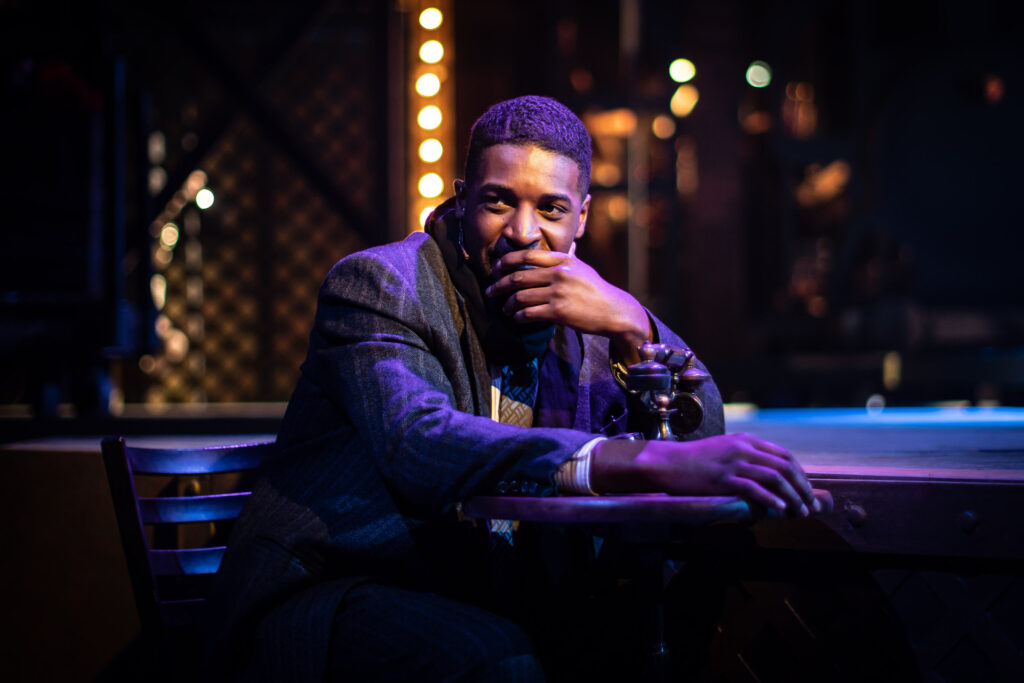 Cabaret's set and costume design were historically impressive, while taking the audience back in time to 1929, during the time when the Nazis were starting to take power. The Kit Kat Club stage was the center focus with an intimate appeal, while the show's band performed live in the background. The show's dance numbers showcased incredible choreography as well, which helped give the musical a fresh perspective of the original classic interpretation.

Cabaret constantly entertains, offering a juxtaposition of sad moments in the storyline, while also adding humor and constant entertainment. It is a timeless musical with a story with musical numbers, lyrics and themes, that echo relevance with today's struggles and world issues. Porchlight's new version of Cabaret will stay with you long after you have left the theater. Do not miss this show!
Current running time, including the 15 minute intermission, is 2 hours and 30 minutes.
Photos: Liz Lauren
Please note: Cabaret contains depictions of smoking, violence, simulated sexual acts, mentions of abortion and suicide, Nazi imagery and references to Antisemitism. Flashing lights and water-based haze are used during the performance.
Tickets start at $25. Please the website for more information.