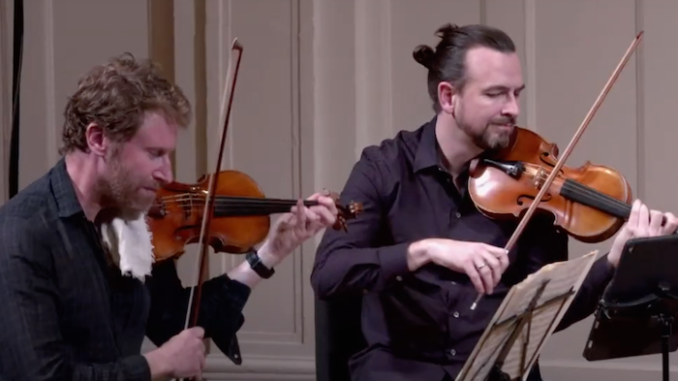 Chicagoland is in for a real treat whether in person or streaming. Don't let Mad March get away.
Watch this video and be enthralled.
The Mad Decade
March 10, 7:30pm, The Cliff Dwellers | March 12, 3:00pm, Nichols Concert Hall
"It was an age of miracles, it was an age of art, it was an age of excess, and it was an age of satire." – F. Scott Fitzgerald
Experience the vibrant energy of the Roaring Twenties with Rembrandt's The Mad Decade. Enjoy the powerful sounds of MAHLER, the enchanting dreamscapes of PROKOFIEV, and the innovative modernism of DOHNÁNYI—all woven together to evoke the fascinating feel and history of the 1920s.
The first decade to have a nickname, the "Roaring Twenties" is synonymous with brash excess, yet it holds within it a remarkable degree of nuanced complexity. The end of World War I ignited a rush of cultural and social changes inherently filled with tension. Women earned the right to vote when the 19th Amendment was passed in 1920, and "flappers," with their short skirts and even shorter hair, challenged established norms. The economy flourished, accompanied by groundbreaking technology like the telephone and movies, and electronic microphones, amplifiers, and loudspeakers revolutionized the sound and recording industry. Freewheeling bootleggers and speakeasies countered prohibition. At the same time, Jim Crow laws and anti-immigration sentiment continued to fetter individual freedom, leading Black people to move from the South to the cities in what we know today as the "Great Migration." And economic gaps started to widen, creating an ever-increasing chasm between "haves" and "have-nots" that the Great Depression in 1929 made painfully clear.

While a complete survey of this heady, complex era would be impossible, the works on this program— ranging from a late 19th-century quartet movement by Gustav Mahler to Ernö Dohnányi's jazz-infused Sextet—highlight a few significant historical strands, from the music that preceded this "mad decade" to the influence of the 1920s on what came after.

Artists: John Macfarlane, violin; Carol Cook, viola; Calum Cook, cello; Eoin Andersen, violin; Fritz Foss, horn; Ilya Shterenberg, clarinet; Victor Santiago Asunción, piano
Program:
MAHLER: Piano Quartet in A Minor, Nicht zu schnell
PROKOFIEV: Sonata for Two Violins in C Major, op. 56
DOHNÁNYI: Sextet in C Major, op. 37
Splash Mag Discount:
15% Off Code: Splash23
Ticket link for automatic 15% off General Admission Tickets for The Mad Decade:
Livestream Only (Sunday) available for $15.00
Discount also applies to livestreams from prior concerts in our 22-23 season! Just 15.00 to watch any of these concerts from home.
Photos are courtesy of Rembrandt Chamber Musicians