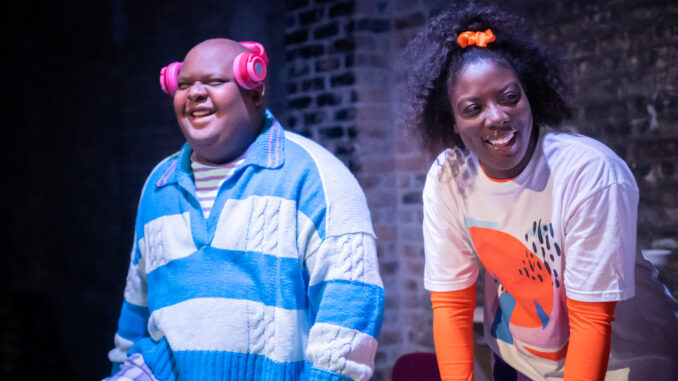 As a children's librarian, I have firsthand experience with the ongoing popularity of the Choose Your Own Adventure books. Children gobble up these stories like candy, thrilled with their ability to determine the course of the story. This same concept is applied with great success in Think Fast, Jordan Chase!, a world premiere production at Filament Theatre, developed by young people and playwright Sonia Goldberg.
The play opens with an utterly charming scene: best friends Jordan and Mahari spin a yarn together in what feels like an often-repeated storytelling game. However, when new kid Ryan tries to jump in, Mahari reacts with anger, and Jordan suddenly finds herself in the middle of an ugly argument. The audience holds up different colored cards to vote on different choices Jordan can make as the story progresses. Eventually, the ultimate decision is made: treasure chest, astronaut, or dragon. This choice leads to the fantastical section of the play, in which the same complicated bullying scenario plays out in a kid-friendly version of (at my performance) a fantasy world (presumably, the other options will take the audience aboard a pirate ship or into outer space). After learning more about the situation with Mahari and Ryan, Jordan returns to the opening scene with new knowledge and a better ability to handle the conflict.
Think Fast, Jordan Chase! is wonderfully inclusive. Jordan and Mahari are Black, Mahari is nonbinary, and Ryan is disabled and uses a cane. These aspects of their identities are woven with great care into the plot, and the result is a specific story with universal application. The characters are colorful and full of life; my particular favorite is kooky Grandma Nikki, who appears throughout the show to guide Jordan. Grandma Nikki is played with great aplomb by RjW Mays. Christabel Donkor is a fun and energetic Jordan, interacting with the audience with enthusiasm and ease. Julian Stroop is fierce and compelling as the troubled Mahari, and Xela Rosas is pitch-perfect as the spirited Ryan. Rounding out the cast is Brittany Ellis, whose time as a sorceress in the fantasy world endeared her to me thoroughly.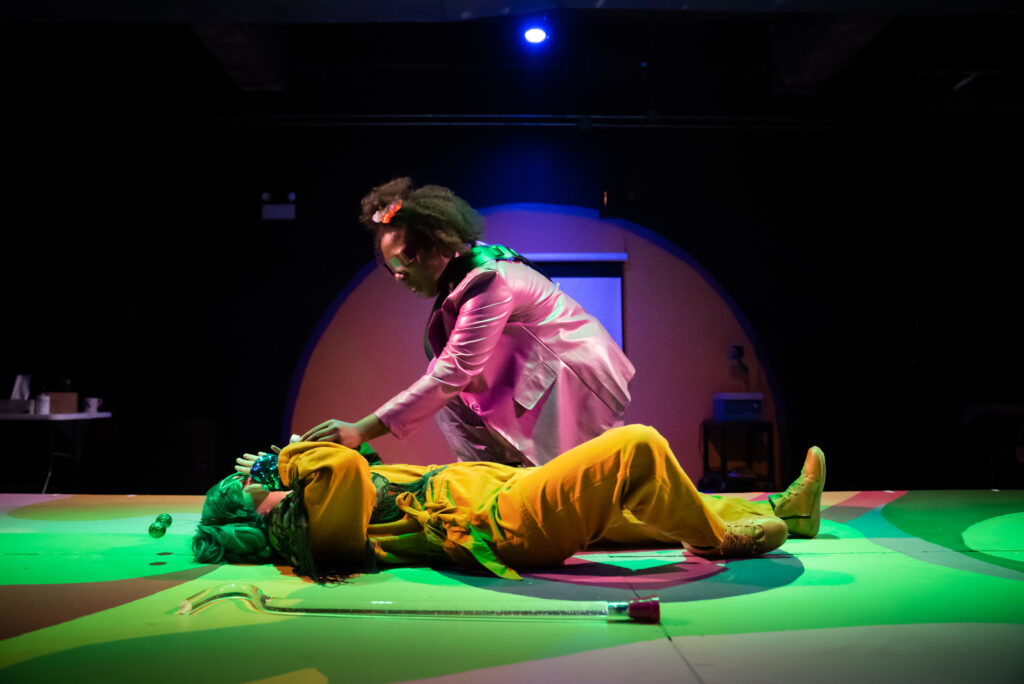 The audience is seated in four sections, each in a corner of the theatre, which allows the action to take place not only center stage, but also in between each section of seats. The result is an utterly immersive experience, which is lots of fun. Bright colors draw the eye to the central set piece, while a few additional touches indicate the difference between the fantastical and real worlds. Most impressive at my performance was the execution of the dragon, a costume that worked perfectly with the performer's body to create a realistic, readable dragon without weighing them down so much that movement became difficult.
Choosing your own adventure, it turns out, is just as fun on the stage as it is on the page. Think Fast, Jordan Chase! is a meaningful story packed with humor and heart, a delight for all ages. Bring the young person in your life to see this fantastic show (recommended for ages eight and up), or just come by yourself. You'll be glad you did.
Ticket Information
Location: Filament Theatre, 4041 N. Milwaukee Ave. Chicago, IL 60641
Dates: Saturdays and Sundays at 2pm, March 11th – April 16th, 2023
Tickets: $15. Visit the Filament Theatre website for tickets and more information.
All photos by Willow James.