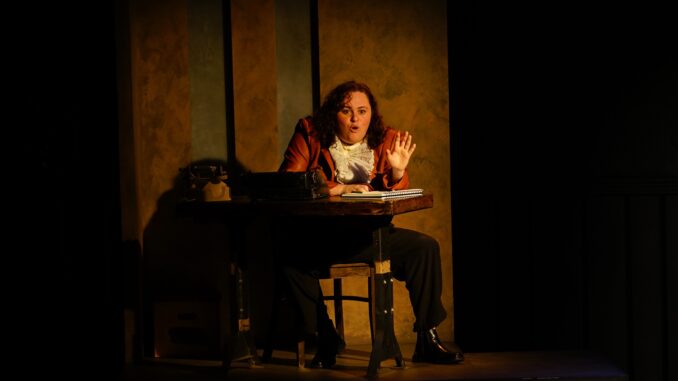 Through a collection of original vignettes directed by Shaan Dasani, TALES OF THE TRANSCESTORS is based on true accounts of transgender stories across history. The multi-genre experience embraces music, poetry, one act scenes, and six artists of intersectional transgender experience who bring their interpretations to the stage. To quote director Dasani, "I believe that the beauty of humanity lies in our diversity. When we explore our history, it's a beautiful thing to see that gender expansive people have always been a part of the fabric of society. There is much we can learn from people who dare to live life on their own terms if we're brave enough to listen." The limited return engagement is presented by Celebration Theatre and Greenway Arts Alliance at the Greenway Court Theatre in Los Angeles.
During the performance, Dasani also revealed that, when he auditioned possible cast members, he asked that they select a real individual from transgender history who most interested them – and then write a short one-act play depicting that individual, whom the writer would then perform, thus blending multiple skills into each presentation. Chronologically, the following are the results of this creative process.
Mallery Jenna Robinson as Mary Jones – Photo by Tyler Vess
Born in 1803 to an enslaved family who later gained their freedom, Mary Jones (Mallery Jenna Robinson) spent much of her adult life as a sex-worker. She is known for being one of the first recorded transgender people in recent American history – although, of course, there have likely been transgender individuals throughout history for whom no records exist today.
Felix Garcia as Jose Manuel Paccini – Photo by Tyler Vess
Born in the 1890s, Jose Manuel Pachini (Felix Garcia) lived in Venezuela and worked in a variety of jobs. He lived quietly and presented as a man from the age of 15 – but later became the subject of a public trail when his wife accused him of fraud. Finally, public attention faded with the advent of World War II.
Amir Levi as Claude Cahun – Photo by Tyler Vess
Born in 1892, Marcel Moore (Nicole Deisack) was a French illustrator, designer, and photographer. With her romantic and creative partner Claude Cahun (Amir Levi) – born in 1894 – Marcel used art to fight Hitler's regime during World War II. The pair turned tweaking Hitler's nose into a fine art.
B. Alexander as Pauli Murray – Photo by Tyler Vess
Born in 1910, Pauli Murray (B. Alexander) – American civil rights activist advocate, legal scholar and theorist, author, and finally Episcopal priest – was in the forefront of the civil rights movement and expanded legal protection for gender equality.
Alexia Jasmene as Dawn Langley Simmons – Photo by Tyler Vess
Born in 1922, Dawn Langley Simmons (Alexia Jasmene) was a prolific English author and biographer who challenged social norms and demanded civil liberties during the 1960s and 1970s.
The vignettes were uniformly well-written and presented – even with the issues raised by an acoustically challenged venue. Niall Sulcer's lighting and Michael O'Hara's properties design enhanced the spare staging and kept the focus right where it belonged – on the historic figure represented by the talented actor.
TALES OF THE TRANSCESTORS runs through June 26, 2023, with performances at 7 p.m. on 6/17 and 6/26, at 6 p.m. on 6/18 and 6/25, at 8 p.m. on 6/22, at 2 p.m. and 7 p.m. on 6/24. The Greenway Court Theatre is located at 544 N. Fairfax Avenue, Los Angeles, CA. Tickets are $25. For information and reservations, go online.