Festival Napa Valley Announces Carrie Underwood, Matteo Bocelli, Pablo Sáinz Villegas, Lucas Meachem, and Time for Three Headline 2023 Summer Season, July 8-23
Additional highlights include Reunited in Dance with soloists displaced by the war in Ukraine, Gordon Getty's Annie Laurie, Lera Auerbach's Vessels of Light, Donizetti's Don Pasquale, and more than 60 concerts and events at iconic venues
California wine country's flagship festival, Festival Napa Valley, returns for its 17th season with a rich lineup of music, food and wine events for every taste and budget, July 8-23, at venues throughout Napa Valley.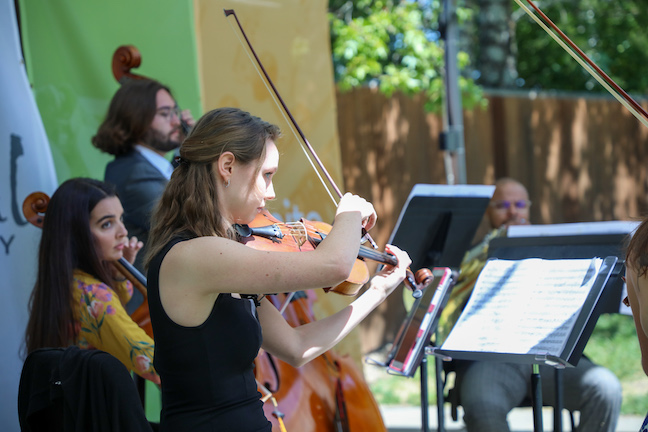 "Our 2023 summer season features one-of-a-kind performances and events surrounded by the incomparable beauty and enchantment of Napa Valley," said Festival President & CEO Richard Walker.
"This year's Festival features an incredible diversity of artists and programs from around the world," added Robin Baggett, Chairman of the nonprofit Festival's Board of Directors. "We are thrilled to offer affordable programming and food and wine events that showcase the very best of Napa Valley."
Furthering Festival Napa Valley's commitment to making the arts assessable to all, admission to daytime concerts is free, including the daily Festival Live! series, the Bouchaine Young Artist series, and the family-friendly Novack Concerts for Kids.
The Festival continues to play a leading role in arts education with two tuition free pre-professional summer training programs: the Frost School at Festival Napa Valley's Blackburn Music Academy for orchestral and chamber music, and the Manetti Shrem Opera Program for vocalists.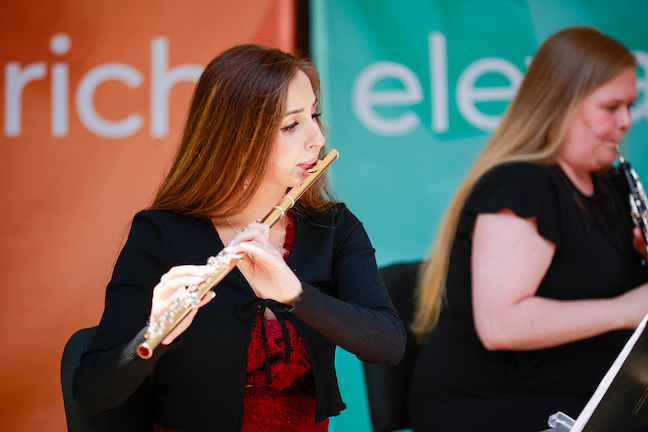 Festival Napa Valley 2023 highlights include:
● Eight-time GRAMMY® award-winner Carrie Underwood headlines the Arts for All Gala, benefiting arts education and the Festival's community programs at Nickel and Nickel, with an elegant dinner prepared by Michelin-star chef Charlie Palmer paired with exquisite offerings from the Far Niente and Nickel & Nickel family of wines
● Opening night with Festival Orchestra Napa features guitarist Pablo Sáinz Villegasperforming Joaquin Rodrigo's iconic Concierto de Aranjuez, pianist Alexander Malofeevcelebrating Rachmaninoff's 150th anniversary with the Piano Concerto No. 2, and this year's Maria Manetti Shrem Daniel Brewbaker Composer Prizewinner, Yang Bao, unveiling a world premiere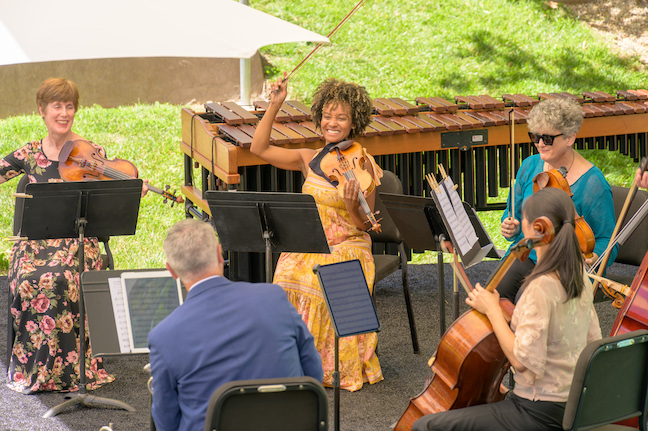 ● Matteo Bocelli in concert with Festival Orchestra Napa conducted by Eugene Kohn, anOlivia Decker Power of Music concert
● 2023 GRAMMY® winning trio Time for Three makes its Festival Napa Valley debut
● Festival Napa Valley Dance Gala: Reunited in Dance, directed by Xander Parish, features Ukrainian and Russian ballet soloists displaced by the war
● World premiere of Gordon Getty's Annie Laurie and the presentation of his monumental cantata Joan and the Bells. Screening of Getty's acclaimed feature length opera filmGoodbye, Mr. Chips at Cameo Cinema
● Northern California premiere of Lera Auerbach's Symphony No. 6, Vessels of Light, featuring cellist Kristina Reiko Cooper, dedicated to Chiune Sugihara, the Japanese diplomat who saved thousands of Jewish refugees during WWII
● 2023 Manetti Shrem Opera: Donizetti's Don Pasquale directed by Jean-Romain Vesperini with Constantine Orbelian conducting, featuring baritones Lucas Meachem and Alexey Lavrov, soprano Serena Sáenz, tenor Xabier Anduaga, and participants of the Festival's Manetti Shrem Summer Vocal Conservatory
● Taste of Napa, Festival Napa Valley's signature celebration of food, wine and music at The Meritage Resort and Spa
● Jazz @ Charles Krug featuring the Frost School of Music All-Stars performing Mancini and Gershwin at the Festival Napa Valley Stage at Charles Krug
● Women in the Arts Dinner with celebrated flutist and professor Jennifer Grim at The Meritage Resort and Spa
● Admission-free Kaiser Permanente Thrive Community Concerts at the Festival Napa Valley Stage at Charles Krug
● Daily admission-free Festival Live! concerts featuring participants from the Frost School of Music at Festival Napa Valley's Blackburn Music Academy
● Three Bouchaine Young Artist Concerts featuring siblings: violinists Hina and Fiona Khuong-Huu, twins Harper and Cole Randolph on viola and cello, and the Breshears String Quartet
Festival Napa Valley 2023 Venue and Event Hosts include ADAMVS, Alpha Omega, B Cellars, Beringer Vineyards, Bouchaine Vineyards, Cameo Cinema, Castello di Amorosa, Charles Krug, Cliff Lede Vineyards, Culinary Institute of America (CIA) at Copia, Dana Estates, Darioush, Duckhorn Vineyards, Frank Family Vineyards, HALL St. Helena, The Meritage Resort and Spa, Napa Valley College, Nickel & Nickel, Odette Estate Winery, ONEHOPE Winery, Quintessa, Stanly Ranch, Trefethen Family Vineyards, Trinchero Family Estates, the Green Car Barn, and Boisset Collection/Wappo Hill.
Performances take place on the Festival Napa Valley Stage at Charles Krug in St. Helena, the Jackson Family Wines Amphitheater at CIA at Copia in Napa, Nickel & Nickel in Oakville, and at wineries, resorts, and estates throughout Napa Valley. Concert tickets are priced from free to $35. A limited number of Patron Passes are also available and provide access to special events including Vintner's Luncheons, Patron Dinners and the Arts for All Gala. Taste of Napa general admission tickets are $150 and $295 for reserve salon access.
Festival Napa Valley 2023 Premier sponsors are Bouchaine Vineyards, Kaiser Permanente/Thrive, Audi, Pomellato, and The Meritage Resort and Spa.
To view the full schedule and purchase tickets or passes, visit www.festivalnapavalley.org.
About Festival Napa Valley
Festival Napa Valley celebrates music's unmatched power to uplift and inspire. Napa Valley's flagship festival presents international stars and emerging talent in free and affordable concerts in iconic venues, and through year-round presentations in the Bay Area and beyond. With inspiring education programs for youth and seniors, tuition-free academies for vocalists and instrumentalists, and scholarships for talented students, Festival Napa Valley plays a vital part in creating a thriving, healthy, and engaged community, fulfilling its mission to bring the arts to all.
The 17th edition of Festival Napa Valley's Summer Season takes place at venues throughout Napa Valley, July 8-23, 2023.