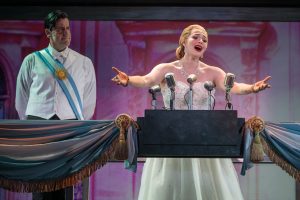 BY Kathy Carpenter
"Where there is a worker, there lies a nation." Eva Peron. Cygnet Theatre presents "Evita," First Lady, actress, icon with music by Andrew Lloyd Webber, lyrics by Tim Rice, directed by Sean Murray. "Evita" is a symphony of emotions, orchestrating a powerful drama while weaving together politics and humanity.
Born Eva Duarte, she evolved into an icon referred to as Evita, as the Argentine people added 'ita' – a term that can evoke endearment or disdain. As an actress, she ascended to power as an ambitious mistress, embodying qualities of ruthlessness, manipulation, aggression, and danger. Yet, as First Lady, Eva Perón embodied goodness, sainthood, motherhood, supportiveness, and a she was a devoted wife. Whether loved or loathed, she was undeniably captivating.
The musical commences with the death of Eva Perón, eliciting overwhelming emotions among the people of Argentina. The stage is dominated by a powerful opening as the coffin takes center stage. The narrative then rewinds to delve into Eva's life. A.J. Mendoza brilliantly embodies Che, serving as both narrator and astute observer of the unfolding events in Eva Perón's life and Argentina's political landscape. As a representation of the people's voice, he offers a counterpoint to Eva's ascent to power.
Che's role is multifaceted; he provides commentary, criticism, and skepticism about Eva's actions and the impact of her political influence. Through his interactions with Eva, he embodies the skepticism and doubt that certain segments of the population held about her motives and methods. He questions the authenticity of her altruism, pondering whether her actions stem from a genuine desire to help or a personal ambition.

At the heart of the musical is Eva's skill to mesmerize the masses with her charisma, forming a fervent following known as the "descamisados." Yet, as her influence burgeons, so does the controversy surrounding her. The show adroitly delves into the intricacies of her character, portraying both her commendable attributes and her manipulative strategies.
Ariella Kvashny adeptly captures the multifaceted layers of Perón's character in her portrayal of Eva, emanating a captivating grace. Berto Fernandez, exceptionally talented, embodies Perón with the gravitas of a true leader.
The musical score, composed by Andrew Lloyd Webber with lyrics by Tim Rice, merges dramatic ballads and dynamic Latin-infused melodies. Iconic tracks like "Don't Cry for Me Argentina" and "Buenos Aires" serve as standout moments, embodying Eva's emotional odyssey and the prevailing political climate.
The score is further enriched by beautifully choreographed Argentine Tangos, enhancing the overall ambiance and my personal enjoyment. These moments contribute to the depth of the production's tone.
In conclusion, "Evita" is a musical that intricately intertwines history, politics, and human sentiment to give a thought-provoking theatrical experience. The production delves into Eva Perón's life, leaving the audience introspective about the nature of power and the sacrifices made for ambition.
EVITA
Thru October 1., 2023
Cygnet Theatre
Old Town
"
EVITA
Thru October 1., 2023
Cygnet Theatre
Old Town