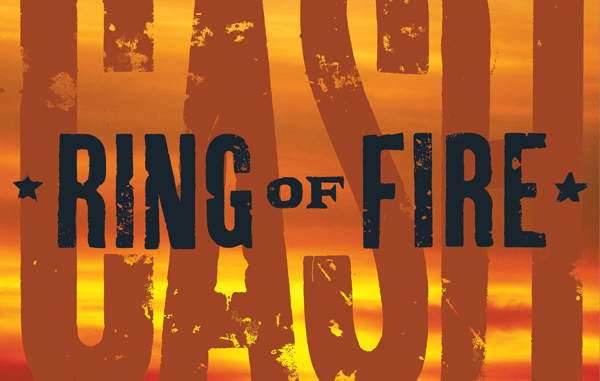 Ring of Fire is a jukebox musical revue celebrating Johnny Cash's iconic music. It is a country love fest loosely based on themes from June Carter and Johnny Cash's life. You do not have to love Country Music or even be a fan of Johnny Cash to thoroughly enjoy this foot stompin', loud clappin', crowd pleasin' hootenanny musical good time.
Conceived by William Meade from Johnny Cash's extensive songbook, this Drury Lane production is adapted from the 2006 Broadway staging directed by Richard Maltby, Jr., who directed the only two musical revues to win Tony Awards for Best Musical (Ain't Misbehavin' 1978 and Fosse 1999). Actor and director Jason Edwards, who worked with Maltby on the reconception of Ring of Fire, said that Maltby didn't want someone impersonating Johnny Cash. He wanted to get beneath his image and down to his words. Maltby and Edwards present an honest, authentic, common man poetic soul in their rendition of Johnny Cash.
The original orchestrations by Steven Bishop and Jeff Linsby and additional arrangements by David Abbinanti are truly on fire. The six musician actors are phenomenal. They play various instruments with a vim vigor that rocks the audience with a double bass, a banjo, guitars, a dulcimer, and percussion instruments. Roy James Brown (Marshall), an alum of Million Dollar Quartet, is outstanding on the double bass and guitar. I did, however, miss the Mexican trumpet prelude to "Ring of Fire." There are songs you will be familiar with and many that you may not have known. Elleon Dobias (Viv) plays a mean fiddle and percussion. Michael D. Potter (J.R.), fresh from playing Johnny Cash in Million Dollar Quartet, has the Bass-Baritone voice and moves of the music legend down pat. Ron E. Rains (Johnny) is a well-known, beloved Chicago star of theater, film, and television who aptly portrays an older Cash's poetic soul. He delivers monologues tying the music to the story. Reese Witherspoon has nothing on Aja Wiltshire. She shines as June Carter, who wrote the love song "Ring of Fire." Wiltshire is saucy and exudes personality and charm. She is a stand-out on stage.
Anthony Churchill's projection design sets the mood for a past rural America that reflected Cash's humble beginnings and his deep understanding of men's trials and tribulations. Director Scott Weinstein gets it right when he says, "This music means so much to so many people and it's been a remarkable experience getting to live inside the Man in Black's world these past months alongside these incredible collaborators. I'm thrilled to welcome you to celebrate of the life and music of Johnny Cash." I hope you take him up on this invitation.
The creative team of Chuck Mead (music director), twenty-nine songs in the repertoire, Angela Weber Miller (scenic design), Izumi Inaba (costume design), Cassey Schillo (properties), Lee Fiskness (Lighting Design) perfectly recreated the government resettlement colony in Dyess, Arkansas, established for struggling cotton farmers and later venues of success like the Grand Ole Opry. The train tracks, fog, lighting, sound, and costumes evocate the storyline and music. The revolving stage platform was an innovative technology for easy transitions throughout the different highlighted phases of Cash's life.
On opening night, the packed house with a very diverse audience, clearly enjoyed the performances, clapping in time to the music. There was a Johnny Cash and June look alike, Cowboy dudes, and both young and mature patrons. The performers received two resounding, well-deserved standing ovations.
Drury Lane Theatre's performance schedule for the 2023/2024 season is as follows: Wednesdays at 1:30 p.m., Thursdays at 1:30 and 7:00 p.m., Fridays at 7:00 p.m., Saturdays at 3:00 and 8:00 p.m., and Sundays at 2:00 and 6:00 p.m. The show runs 1 hour and 45 minutes, including one intermission. Parking: Drury Lane Theatre offers complimentary valet parking to all patrons. For more information, please contact www.drurylaneoakbrook.com
Photos: Courtesy of Brett Beiner